Kalamaja district in Tallinn
Kalamaja is trendy, bohemian, artsy, and the real estate prices are through the roof. It is a great place to visit as it is only a 10-minute walk from the Old Town. The cute wooden houses of the area look like they have jumped out of a cartoon. Kalamaja is the best place in Tallinn to fill your instagram feed with trendy food-pics and street art.
Things to see and do in Kalamaja
Wander around the area to see lovely wooden architecture and promenade by the seaside. The area is still developing, so you can find well-restored and new buildings right next to old, crumbling, slightly fire-damaged ones. It is quite a contrast. Many of the houses were built not only before the Second World War but also before the First World War. These homes were meant for workers who came to Tallinn as industrialization finally reached here in the early 20th century. Now, Kalamaja is home to well-off young families and trendy hipsters.
EKKM – the Contemporary Art Museum of Estonia is not only known for art exhibitions but also for outdoor parties with great music and an awesome atmosphere. Right next to it is also the Kultuurikatel – an old power plant that became a concert and event venue. There are design fairs and street food festivals here – make sure to check out if something is happening while you are in Tallinn.
Check out Heldeke theatre-bar for your cultural intake – open-mic nights, comedy shows, stand-up, burlesque, magic, and much more, often also in English. And, some evenings, they have a sauna night where everyone is welcome. Heldeke is a cozy space with friendly people, and a good place to go to meet new people and have fun.
Seaplane Harbour is a maritime museum with loads of ships, a submarine to climb into, and many interactive things to do. Probably one of the best museums in Estonia, don't be scared off by the size of the building; it only needs to fit a whole submarine inside along with everything else. The museum has also recently reopened a second half in the Old Town – the Fat Margaret Museum, don't miss that either.
Patarei Prison is Estonia's very own Alcatraz. Originally a 19-century sea fortress, it became a prison in the 20th century. Used by Estonia, Soviet Union, and the Nazis, to say that the Patarei Prison has a dark history is an understatement. The complex was finally sold recently, and plans for development are in the works. The museum part will be re-opened in 2026.
Opened in 2020, the neighborhood has its own museum – the Kalamaja Museum. Close to the Old Town, this museum is a great first step to learning more about Kalamaja and its locals. The museum has taken over some of the walls and fences of the area as well by putting up historic photos and telling the stories behind them – just wander around all over Kalamaja to find them.
Where to eat and drink in Kalamaja
Where there are hipsters, there is also food. Let's start right at the entrance to Kalamaja – the Balti Jaam Market (Balti Jaama Turg). It has gone through a refreshing remodeling and has become the gateway to Kalamaja. On its ground floor, you find the Food Street that offers some of the best street food in Tallinn and is bursting with different options from authentic Italian to vegan burgers. One floor up, and you will find a brewery, Humalakoda, with a chill vibe, good food, and an even better beer selection.
Burger Box next to the market is a strange place – the floor is a little sticky, there is barely enough space to turn around, and we keep coming back again and again. Why? Because the burger is just that good. And the kimchi fries are a stroke of brilliance.
Speaking of burgers – Uulits on Soo Street (they also have a booth at the Balti Jaam Market) is the place to grab one. They have wide variety of burgers, all good, big and filling. The place is a little off the usual paths in Kalamaja and so mostly reserved for locals who want to have a burger in peace.
TOPS was in Kalamaja before Kalamaja was cool. TOPS will probably be here after Kalamaja has ceased to be cool. TOPS is a no-nonsense bar – a great place with an artsy and nostalgic vibe.
No neighborhood is complete without a good bakery. So Kalamaja Pagarikoda fills an ever-important niche. Pastries are great, cakes are wonderful, and the bread is fresh – what more do you want?
For a great restaurant visit Moon. Moon is hidden away on a very small street and offers locals an amazing place for dinner. Well priced and great cooking – Moon offers the traditional Russian kitchen, which includes probably the best dumplings in Estonia. Moon has also been mentioned in the Michelin Guide, so you better believe that it is good.
For drinks, you should check out Pudel and Sveta Bar. Pudel is a laid-back spot with an extensive beer selection and a great atmosphere. Sveta is where you go for great cocktails and a party that goes on until morning. Side by side near the train station, both are Kalamaja must-hang-out places.
What to buy in Kalamaja
Balti Jaam Market – train station market is a great place for Soviet treasure hunters! This place sells the regular fruit and vegetables but also the weird and wonderful old stuff. Since the market was upgraded, so was the Soviet stuff – to "Antiques." Follow the signage for "Antiques" on the top floor and find mostly old badges, posters, and toys from the USSR. The market is also perfect for local and fresh food – try the strawberries and blueberries, look out for wild mushrooms, and sample the cheeses, sausages, breads, and so much more available.
There are never enough socks. To get more, go to SUVA. SUVA has been an Estonian sock maker since 1919. They make nostalgic socks, colorful socks, simple socks, to name a few. All sock-needs are met here.
All this shopping is thirsty work, so to try some local drinks you can check out Sip a wine and beer shop or Tiks – a wine shop with a little bar for sampling.
---
Telliskivi Creative City in Tallinn
Telliskivi Creative City is located in an old factory area in Kalamaja and has so much going on it needs its own section. Before there were bars, restaurants, and galleries, there was industry. In Soviet times, they made electronics here. Production stopped in the 1990s, and gates were closed. They reopened for something quite different in 2010. Maybe here is where the hipster infestation hit Tallinn first? And from Telliskivi, it spread to Kalamaja right next to it, and the rest was history.
What to do and see in Telliskivi Creative City
Well first, Telliskivi Creative City is probably the best place for people-watching in Tallinn. The area is quite small, and from a right vantage point, everyone will walk by you. Firstly though, you should walk around yourself and admire some of the best street art in Estonia. Telliskivi walls are a gallery bringing together local and foreign artists.
Visit the Fotografiska Gallery – a world-class photography gallery that exhibits the very best artists from around the world. What's on show changes frequently – there is always something new to see here. The gallery also has a restaurant on the top floor with great food and an even better view – straight at the Old Town over the train tracks. Telliskivi also houses often pop-up galleries and exhibitions – keep an eye out for signs pointing you to something new all the time.
Sõltumatu Tantsu Lava (STL, Independent Dance Stage) is a dance performance and development center that has many great shows you can take part in. If modern forms of movement and dance excite you, then this is the best place for it in Tallinn.
Most of the outdoors things happen in summer, when the weather in Estonia is potentially good enough to survive it. So over the summer, look out for Street Food Festival, a weekly flea market, and concerts.
Where to eat and drink in Telliskivi Creative City
There is always something new in Telliskivi, but some places have survived longer than others. So first and foremost, try the F-hoone. F-hoone opened when this whole Telliskivi thing seemed like a bad idea, and no one was ever going to come here. This was back in 2010. And boy, were we wrong. F-hoone is full most nights. The food is good, there are plenty of options if you are a vegetarian, and if you are not, the drink list is long, from local beers to quality wines. F-hoone opens for breakfast, does a lunch-hour special, and carries on until late into the evening – in theory one can spend a whole day here. Maybe you should?
There are a lot of small places in Telliskivi to try interesting things, one such is La Muu Ice Cream Shop. La Muu is an Estonian organic ice cream maker; they have interesting new flavors and well-known old classics – both available in their Telliskivi location.
The place to go in Telliskivi is Fotografiska. Fotografiska is where you go to be seen. Have your morning coffee in the cafe, move to the restaurant by dinner or have drinks at the roof-top bar. The food and drinks are amazing, the art at the gallery is stunning, Fotografiska is an all around experience.
Another great place for a drink is Junimperium distillery's bar. Junimperium makes gin. They make really-really good gin. How do we know that? They have won so many awards from around the world that it sounds a little ridiculous. So if you like gin and you are in Tallinn, then this place is an absolute must-visit.
Next to Junimperium is another must-go spot – Nudist Winery. You might not think there is much local wine in Estonia, but you would be wrong. We just don't always make it out of grapes (grapes can be a little challenged in our climate) but out of rhubarb instead, for instance. Try Nudist's sparkling rhubarb wine and be converted to a whole new world of wines.
Literaat combines some of the best things in the world – books and great food. Literaat is part of the Rahva Raamat (a legendary Estonian bookshop) chain and a superb place for reading and eating. Over time, this place has also become a very popular space for remote working, so they now have a separate section where no laptops are allowed.
There are many more places in Telliskivi and nearby where to eat and drink. All good and worth trying. Maybe we missed your favorite, let us know in the comments.
What to buy in Telliskivi Creative City
Shopping is made easy in Telliskivi. Ground floors of the two main buildings are filled with little shops, it is called the Telliskivi Shopping Street. There are more shops scattered throughout the Telliskivi area, keep an eye out for them. Also Telliskivi Creative City features many pop-up and temporary shops – so there is something for everyone and you can always find something new and fresh. We'll just point out a few personal favorites.
For Estonian design visit TALI concept store. TALI carries a wide selection of locally made jewelry, clothing, and home design. This place covers all your needs for vegan, organic, eco-friendly produce. The selection of some of the best designs Estonia has to offer changes often, so there is always a reason to pop back in.
For local clothing there are many shops in Telliskivi where you can find exiting Estonian designers selling their wares. Let's start with the most famous of them all – Reet Aus. This internationally acclaimed Estonian designer is all about sustainable and repurposed – her looks are always a statement.
Eerin is a brand that offers clothes for all ages and all sizes, ethical materials, local production – this is a great place for expanding your wardrobe.
As the winter is always cold, you should stock up at Kelpman Textile because there is nothing warmer than their 100% wool scarves, coats, and everything else.
For vintage finds try the Kopli Couture. This place offers vintage clothes, shoes, bags, and jewelry.
---
Noblessner Port Area in Tallinn
Noblessner Port is probably the poshest area in Tallinn (besides Rotterman Quarter). Noblessner was an old shipbuilding yard, and like Telliskivi not too long ago, it was recently falling apart and mostly abandoned. Today Noblessner is completely transformed – modern meets old, sea meets the city.
What to see and do in Noblessner Area
Kai Center is a modern art gallery, but at the same time more than just that. Kai Center welcomes international projects, provides not only gallery space but also movie screening options and conference spaces. In summer, Kai Cinema hosts popular outdoor film screenings of new movies and old hits.
Do you like steampunk? Or virtual reality and hands-on interactive exhibitions? Who doesn't, right?! Head to PROTO Invention Factory, this is the must-see and must-do thing in Tallinn, especially with children. Combining the enthusiasm for new inventions and discovery from more than a hundred years ago with modern possibilities – PROTO invention factory offers something for all ages.
Looking for a place to dance? Probably the best nightclub in Tallinn is here – Hall. Keep an eye on their Facebook page and join some of the coolest parties in this city. This is a repurposed old industrial facility that provides a cool edge and atmosphere to all events.
A unique place to hang out is Iglupark right on the waterfront. It's an area of igloos inspired tiny houses. You can rent a private sauna just for your group, stay overnight or get an office for a day. The houses overlooking Tallinn Bay provide a unique sauna or work experience.
Where to Eat and Drink in Noblessner Port Area
There are many great places for food in Noblessner, some of them right by the water. Like Lore Bistroo, where you come with your gang, your people, your family, for community, and you share the food. Dishes are for sharing, so you don't have to sneak a fork-full from someone else's plate if it looks good. Though everything here looks good…
One of the coolest things in Noblessner is beer. Not just any beer – the flagship of craft beer in Estonia – Põhjala Brewery. Põhjala has moved its production to the old welding yard for submarines and opened a taproom above. Not only can you sample some of the most daring and interesting beer in Tallinn, but you can also eat some great food in a super chill atmosphere.
Last but not least – 180° by Matthias Diether. 180° is a fine dining experience from Michelin-starred chef Matthias Diether. 180° is the only restaurant in Estonia honored with two Michelin stars – so you know, the food is amazing. You can choose between a six-course tasting menu or a shortened four-course menu, and with the food comes probably the best sea-view in Tallinn.
---
Kopli and the rest of Northern Tallinn
Kopli and Northern Tallinn are up and coming areas in Tallinn. They are now what Kalamaja was before it became mainstream, it is the alternative to the alternative scene. Walking around Kopli gives you a true vibe of Northern Tallinn – here is a burnt down old house, there is a brand new millions-of-euros worth development, next is a Soviet-era housing block and behind it a sprawling semi-abandoned factory complex. There are a lot of cool and interesting things happening around here, so keep an eye out for Kopli and Northern Tallinn.
What to do in Kopli and Northern Tallinn
Go swimming. No, really. One of the best beaches of Tallinn is all the way out here. Pikakari beach is a fairly small beach on the tip of Paljassare peninsula. Pikakari beach, unlike most other beaches in Tallinn, goes deep fast, has sand dunes to hide behind if it is windy, and provides a great view to Tallinn. Also, nearby is the beautiful Paljassare nature trail that is a great opportunity to take a break from city-life and have a nice little hike.
Check out improv theater Impeerium that puts on great shows and provides a space for many visiting artists and shows. This is, as it happens, the only improv theater space in Estonia. There is always something interesting happening in this theater, so check out what is new and exciting on the stage when you are in Tallinn.
If you are looking for a work-shop or would like to craft something for yourself then look up Naked Island. This is a space by artist for artist. Not everyone can do welding in their basement or fit their hobby into their bedroom. Naked Island provides tools, mentors if you need it, and support to carry out your wildest dreams. Come alone, with a group of friends, or with colleagues for a fun day of crafting, building, and creativity.
Paavli Culture Factory is one of the coolest places for events and parties in Tallinn. Paavel is another old industrial space repurposed now for music, events, and shows. Be it winter or summer, Paavli is always busy and cool events are happening all the time.
Where to eat in Kopli and Northern Tallinn
Põhjala Factory is one of the first places you should look up in Kopli. This factory complex is massive and a lot of really exciting food is happening here. Let's start off with Karjase Sai – this bakery has a line out the door every weekend, and for a good reason. They make awesome breads, bake first class pastry, and serve great coffee.
Karjase Sai is the day-time front to an evening-time Micheline recommended restaurant Barbarea. They source as much as they can locally, preferring small farmers in Estonia, and get inspiration from all over the world. Their wines are all organic and well combined with the dishes. Also, gaining Michelin attention, has not sky-rocketed their prizing.
Kopli köök does daily specials on weekdays and brunch and dinner over the weekend. Their interior alone is worth checking out because there are not a lot of places that manage to do Soviet-nostalgia with a modern twist. The food is fresh, modern, and often vegan. The menu is always changing so you are never bored when you eat here.
Another must-try is VLND Burger. What once started out as a cook-out for friends in Viljandi, a beautiful city in the center of Estonia, grew into one of the most successful burger places in the capital. These burgers are fabulous and many consider them the best in Estonia.
Botik Garden Bar is one of the first places to open up in Põhjala Factory. They call themselves a community bar where the whole family is welcome for food, drinks, and a good time. Botik refers to rubber boots that this factory, among many other rubber related things, produced during Soviet time. Today Botik combines inside and outside, local and fresh. Since in winter it is hard to dine outside or locally fresh in Estonia, then Botik is open seasonally or for special events, so keep an eye out on opening times.
Another bakery that will have locals trekking over from literally the other side of the city, is Bekker Bakery. Bekker makes beautiful cakes and amazing kringles. If you have never had kringel, then it is a twisted sweet or savory bread that usually features at every birthday (or should). Bekker Bakery is great for a morning coffee and pastry, or a slice of fabulous cake if you need it the most.
True local favorite is Kohalik (literally means "local"). Kohalik is always welcoming with a seasonally changing menu and great service. In supper you can sit outside, under the apple trees and in winter you can cram inside of the small guard house that is the home for this little restaurant.
One more for the road, the Kurze. Blink and you will miss this place. Well hidden away between railroad tracks and tram-line in a tiny little building is some of the most beautiful food. As they say themselves "Dagestani cuisine befriends Georgian cuisine" is this place. And, whatever you do, don't say "pelmeni" here. Oh, and book a table, the food is too good and the space too small to leave anything to chance when coming here.
Where to shop in Kopli and Northern Tallinn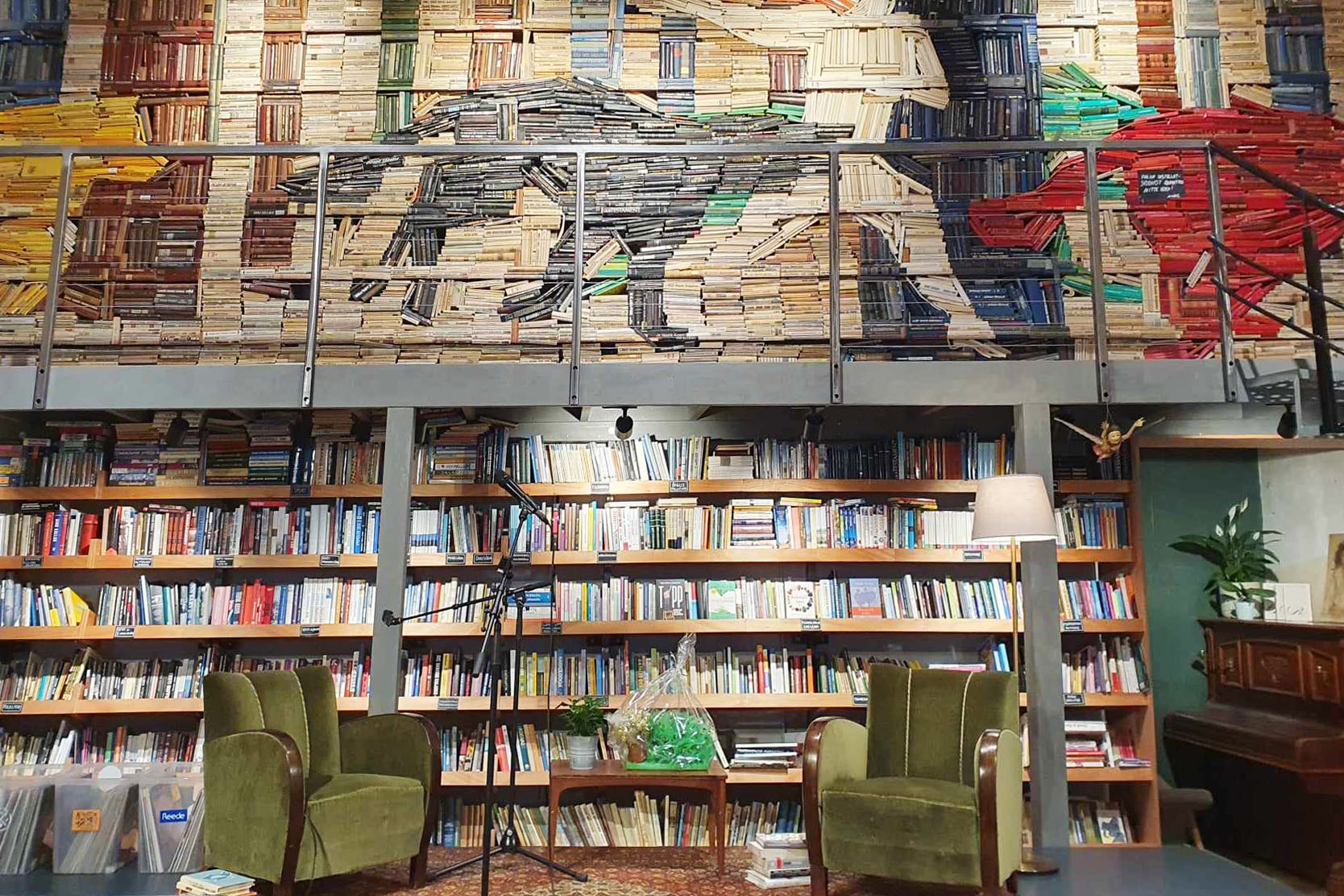 In the maze of the old Põhjala Factory is hidden away a bookstore – Põhjala REaD. With little effort you can find yourself at one of the best used books stores in Estonia. Põhjala REaD not only sells used books in many languages but also hosts cool events and has a lovely little cafe attached. You can easily lose a whole day reading in this place.
If you are looking for some slow fashion then look up Urbsill in Põhjala Factory. Urbsill believes in making things to order and not over stocking, so visit their showroom and order something special. The style here is very Nordic inspired and monochrome, with a humorous touch – well worth checking out.
A must-visit for shopping is Paavli kaltsukas – Paavli second-hand shop. This legendary second-hand clothing shop has provided more fashion forward and conscious consumers in Tallinn with vintage and used clothing for many years. The shop is huge, there is always something new, and rarely do you walk away with empty hands. Also, being a second-hand shop, it is also really affordable.
* Cover photo Rasmus Jurkatam / visittallinn.ee