Lahemaa National Park is a treasure trove of nature, village life, gorgeous manors, and hidden Soviet stuff. It's a beautiful place to visit for a day or even more. The 725km2 area is about an hour from Tallinn and can be accessed by public transport with some planning ahead or simply by car.
The national park was the first one in the whole Soviet Union created in 1971, thanks to the active work of local conservationists. Nowadays, Lahemaa National Park has received a quality label from the European Union of Protected Areas and is recognized for its sustainable development of nature tourism in the region.
The best time to visit Lahemaa is spring and summer. Still, even darker autumn and winter make for a unique travel experience. Just keep in mind the sun sets earlier. The sights and places mentioned here are the most unique, often visited, and famous places at Lahemaa. Of course, there are many other sights to see, and this list is inconclusive.
Lahemaa National Park is known for its nature, beautiful fishing villages and quiet life, but keep in mind that finding food here without proper research is more difficult. With some taverns and very few restaurants in the area, pack some snacks and Google ahead to make sure you know where to stop for food. We have mentioned some restaurants here as well.
A lot of the sights at Lahemaa can be accessed by public transport. Still, getting from one stop to another is pretty much impossible using public transport. The bus schedule is very scarce, with buses sometimes only running once a day. So the easiest way to discover Lahemaa is by car or joining the Lahemaa National Park Day Tour.
Viru Bog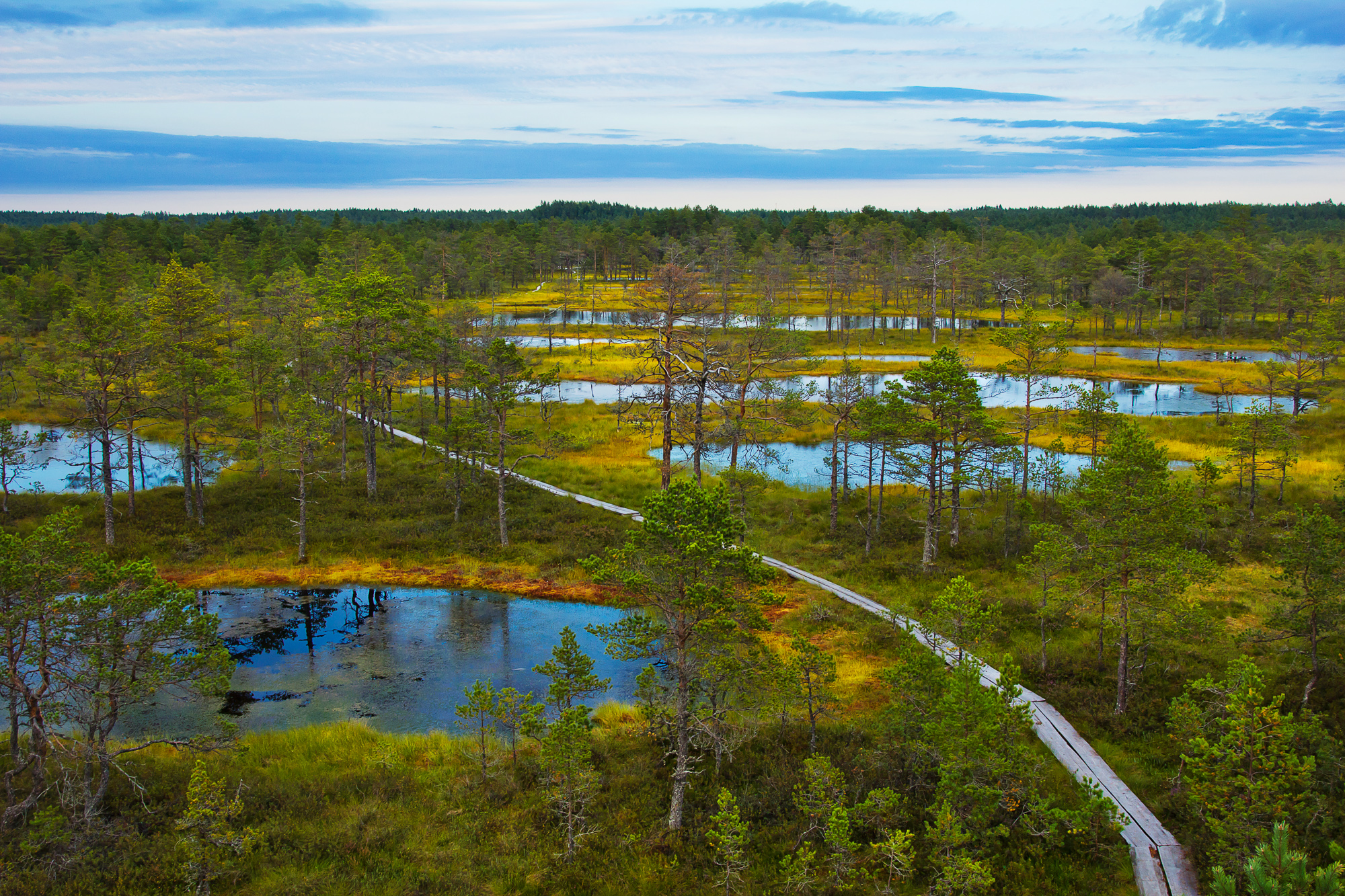 The highlight of Lahemaa National Park is a wetland spanning around 235 hectares. With a six-meter-thick peat layer, this strange landscape is a stopping ground for wildlife big and small.
You will probably not see animals in the bog, as they are very shy in front of humans. However, occasionally, you can spot different footprints next to the walking trail. Moose like to take naps under small stunted pine trees, foxes, and common raccoon dogs like to hunt for mice and bird's nests.
The bog has many different species of plants trying to survive in this acidic environment. It is also home to one of the few bug-eating plants in Estonia. There are edible berries and mushrooms in the forest next to the bog, but only eat something if you know what you are doing.
The pathway through the bog is 3.5 kilometers, and a full circle all the way back to the car park is 6 kilometers. It should take 2-3 hours at a really relaxed pace. On the pathway, you can find swimming spots, so if the weather is good – feel free to jump into the bog lakes. Keep in mind the water is bottomless.
Bus no 155 goes by the Viru bog a few times a day, so with planning and checking the schedule beforehand, it is accessible by public transport. The closest stop is "Loksa tee".
Käsmu Captains' Village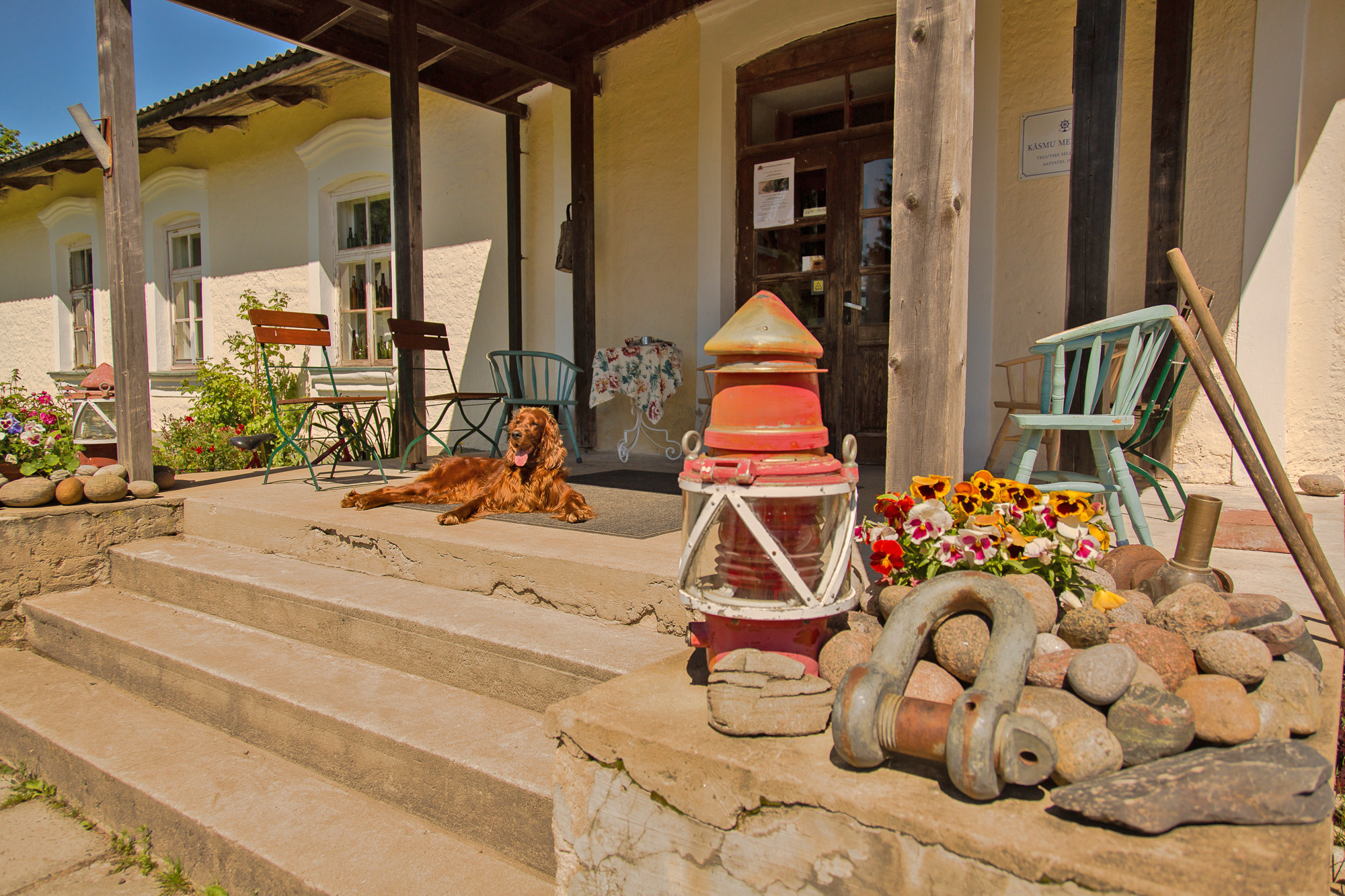 Estonians love to quote Hemingway, who wrote, "In every port, you can find at least two Estonians" in his book "To Have and Have Not," published in 1937. Truth be told, his exact wording was a longer paragraph, and the quote has been paraphrased, but the point remains.
Since most Estonian captains got their education in a maritime school that operated in Käsmu village from 1884 til 1931, you could say that Estonians Hemingway met at ports probably studied here at Käsmu.
The maritime school was the heart of Käsmu. Now, a privately run naval museum is located in the same building, exhibiting objects regarding fishing, smuggling, the sea, nature, and all sorts of curiosities.
Local hiking trails range from 4.2 to 15 kilometers and go through nearby forests and the seaside, and some pass by the village. You can look at the different options at /www.loodusegakoos.ee/en and type in Käsmu.
Numerous concerts and festivals are happening at Käsmu village throughout the summer. Käsmu captains' village is accessible with the Harjumaa line bus nr 277 running once a day to the bus stop named "Käsmu".
Viinistu Village & Art Museum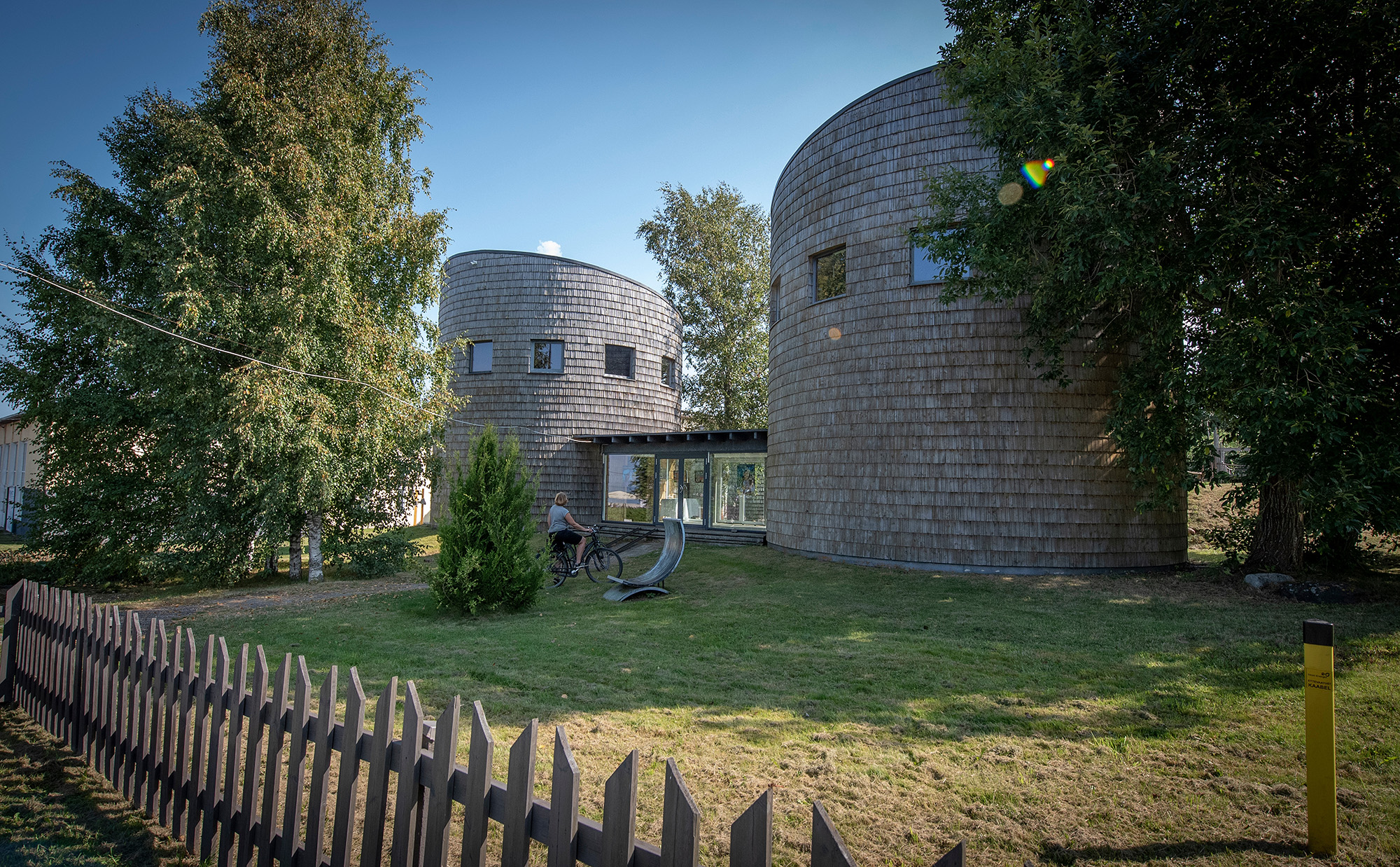 Located on the northern top of a peninsula at Lahemaa National Park, the waves of the sea create the rhythm of this fishing village and harbor. To capture the unique atmosphere of the closeness of the wild sea, a private art museum was opened here in 2002, and the rest followed.
Viinistu Art Museum is one of the most unique art museums in the country. It is the private collection of Estonian businessman and politician Jaan Manitski. The collection displayed in an old harbor building by the seaside is an excellent overview of Estonian art from the 19th century to contemporary times. It is also possible to spend the night at a hotel in the harbor or have lunch or dinner in a nearby restaurant.
Viinistu is accessible by bus – buses operating in Harjumaa 151, 151A, 152, 153, and 155 all go here. The nearest bus stop is called "Viinistu". The schedule is fairly scarce, with a few departures every day. The bus here takes around two hours and one hour with a car.
Altja Fishing Village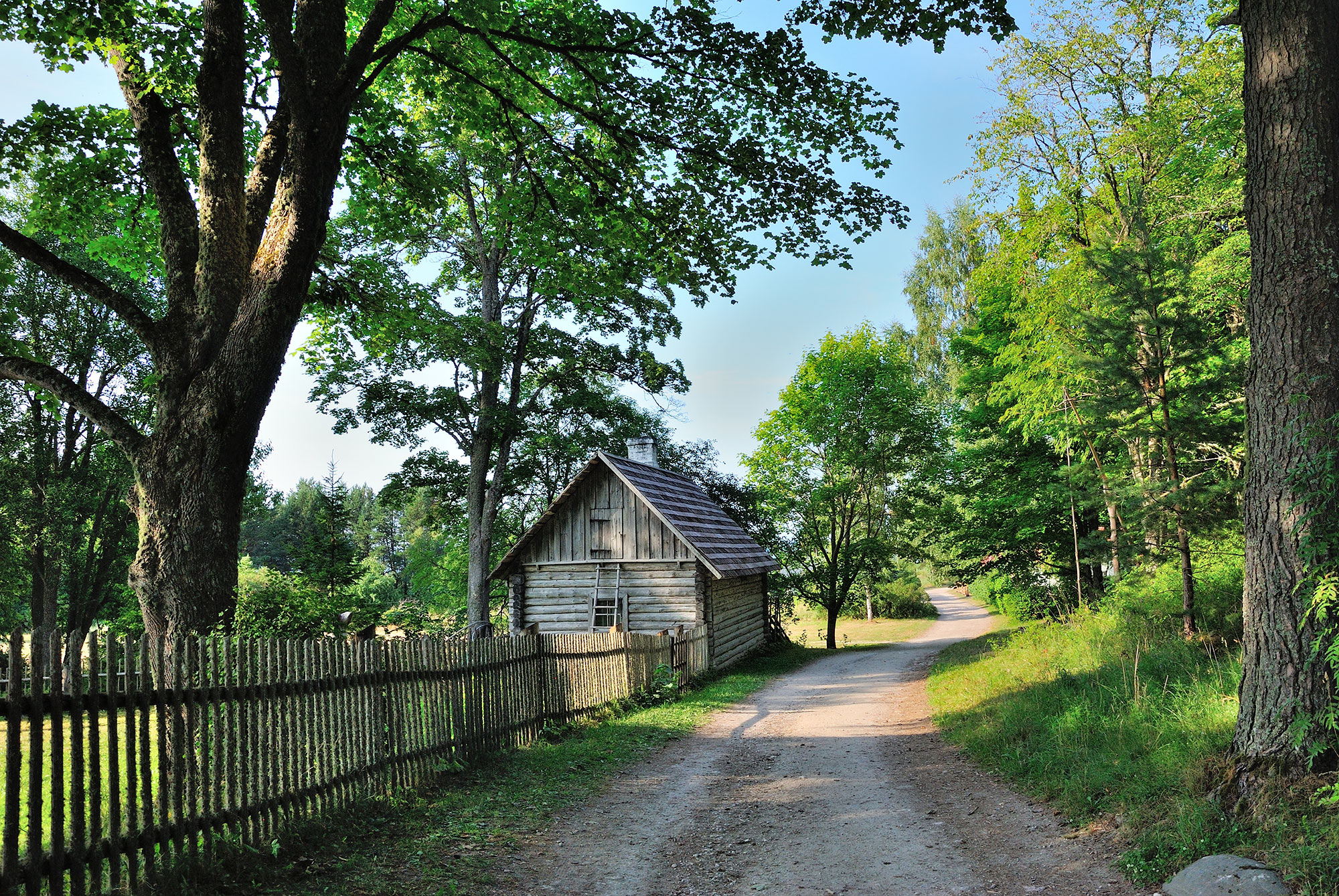 One of the more beautiful fishing villages on the coast, Altja is a typical fishing village with most of its houses stretching on one street. There are fishing sheds on the coast that are a gorgeous sight – these were brought here and reconstructed to show traditional coastal net houses used to look. The village swing is also worth a try if you are brave enough to test out this national pastime of Estonians. There is a tavern in Altja where you can eat simple and hearty meals. The tavern is open during summer.
Altja is very difficult to reach by public transport and requires multiple different buses. The best way to get here is by car, it is around 90 kilometers from Tallinn.
Hara Submarine Base
A secret submarine base seems like something from the movies, but here it is. Between the pine trees of Hara village, you can find a secret submarine base. The base started working in 1956. The area was, of course, closed to the public during the Soviet times, with even locals not knowing what was happening there precisely. The base was used to demagnetize submarines so they would be less susceptible to mines and more challenging to spot on radars.
Nowadays, there is a beautiful harbor with a cafe here that you can enter with a ticket. This ticket also lets you wander around the abandoned submarine base, which is quite a unique experience.
It is possible to get there with bus no 154 in the morning, finishing the ride at "Hara side" bus stop, and take the same one back in the afternoon. The bus only goes two times a day.
Sagadi Manor Complex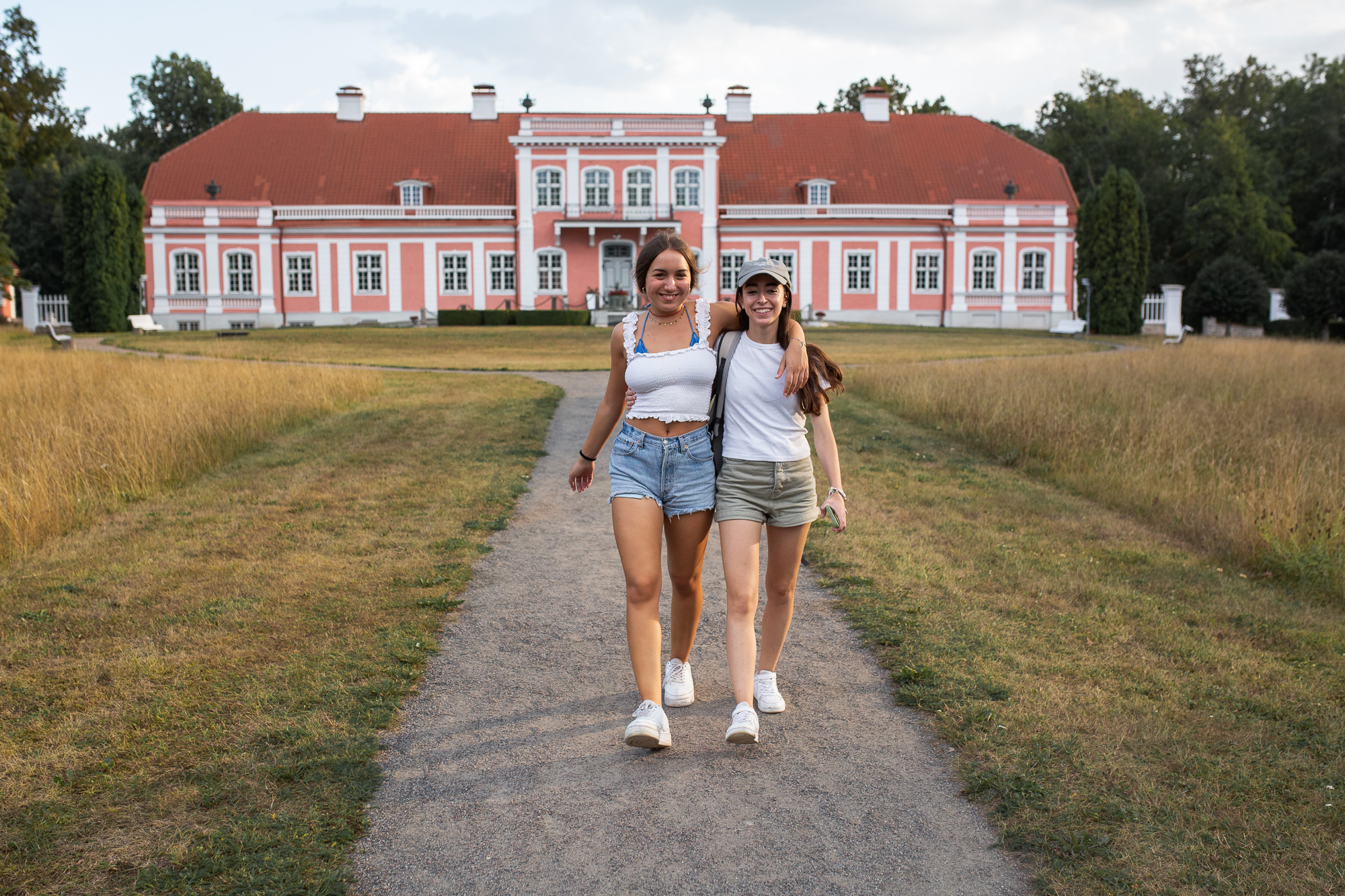 During the feudal times, Estonian lands belonged to mostly Baltic German landlords who owned masses of lands where Estonian peasants worked. The whole country was full of manor houses along with workshops, distilleries, and other types of factories.
The manor house ensemble, complete with 20 outbuildings and a park, remains one of the most well-kept manor house complexes in Estonia. In the main house, numerous details, such as painted ceilings and carved wooden stairs, have been restored, and the main house is historically furnished.
Since the 13th century, the local administration of Estonia was feudal – more than 1000 castles and manors belonging to German and Russian landlords organized local farming, commerce, and production in the countryside of Estonia.
Only a few hundred of these manors remain in the country, and even less have been restored to their former glory. The manor house ensemble of Sagadi, complete with 20 outbuildings and a park, remains one of the most well-kept manor house complexes in Estonia. In the main house, numerous details, such as painted ceilings and carved wooden stairs, have been restored, and the main house is historically furnished.
The Sagadi manor complex now operates as a hotel and restaurant with a museum, various activities, a bicycle rental, and nature tours. Bus 18V takes you to the manor once a day. The closest stop is "Sagadi mõis". It's also very easily accessed by car, it's only an hour away from Tallinn.
Vihula Manor Country Club & Spa
Vihula manor was first mentioned at the start of the 1500s. The baroque-style manor complex is also one of the best-preserved manor complexes in Estonia. Similarly to Sagadi, the manor now operates as a hotel.
In 2020, it received recognition from the European Hotel Awards as the Historic Hotel of Europe. There are numerous ways to spend time here – take tours of the local area or go hiking by yourself, rent a bicycle, have a boat ride on the river, or just enjoy leisurely activities the hotel has set up, from golf to spa treatments.
Vihula manor also has one of the only fine-dining restaurants in the area with a separate room for families with children. The Vesiveski cafe in the manor offers quick sandwiches, pastry and a refreshing cup of coffee for the weary traveler. The manor also operates Kaval-Antsu Tavern that is mostly opened during winters for any passer-by and caters to larger groups during summertime.
Oandu Beaver Trail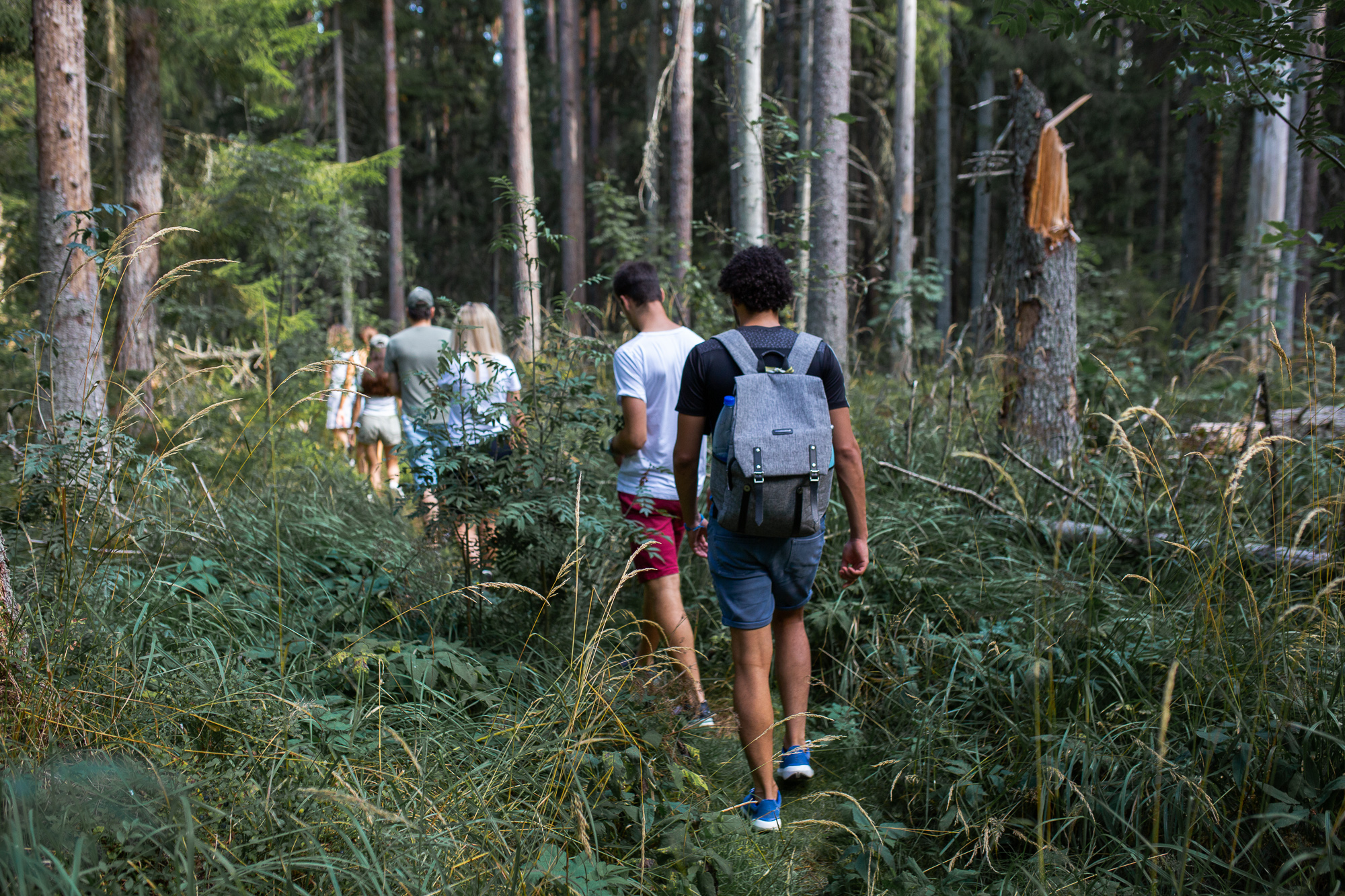 Beavers were extinct in Estonia for roughly a hundred years from the middle of the 19th century due to overhunting. In the middle of the 20th century, beavers were reintroduced to the wild by man and returned to the country of their own accord.
Here at a short but sweet 1-kilometer-long hiking trail in Oandu, you can see the beavers' work. The trail takes you to a river valley with lovely scenic views of the untouched nature along the riverbed. The old-growth forest surrounding the beaver trail is full of different plants and animals that don't live in young forests, making it more biodiverse and enjoyable to experience.
This place cannot be accessed by public transport. There is a possibility of renting bikes from Võsu, 10 kilometers away, or the Sagadi manor, 5 kilometers away, and seeing the surrounding areas, including the beaver trail, on a bike.
Majakivi-Pikanõmme Hiking Trail
This 7 kilometer study trail takes you on a beautiful walk through forests, marshland beach ridges and sand dunes. It takes 2-3 hours to complete the trek at a relaxed pace and it is a fun little hike the locals love to do during weekends.
One highlight of the trail is a large boulder that was pushed here by melting glaciers during the last ice-age. This gigantic boulder is 7 meters in height and invites the adventurous traveler to climb on top. The view doesn't get much better, but hey, you're on a big rock. That's fun!
The hiking trail is very difficult to access by bus and requires taking two different buses with vastly different schedules. It is roughly an hour away from Tallinn by car.