Kopli – a vision of smelly trams, deteriorated wooden houses and not so well-off life pops into the heads of Tallinn locals when someone mentions this area. If it were Hunger Games and the city center of Tallinn was the Capitol, Kopli would be District 12. The area does have quite a dodgy reputation – some of it deservedly due to various car bombs and mafia turf wars during the 90s, some unjustly as an echo of the tough times. I myself am a patriot and a fan of the district, most people try to stay away, though.
On a not so cold December Thursday night, the bravest of Traveller Tours decided to celebrate the end of a good year by taking a tour to Kopli's finest drinking establishments. We headed out for a pub crawl mostly using Baarimies Tallinnassa as a guide through the mysterious land of Kopli's bars.
The bars are so local only two of them are on Tripadvisor and two on Like A Local – a website aimed at introducing local places to travelers. Maybe those bars are a little too local to recommend to tourists, though…
Quite familiar with the area myself, I accidentally became the map reader for the journey. We got around with a car, but it is totally doable with just using the tram to get you from one place to another.
If you are looking for an adventurous bar hopping night, follow some of these instructions. Even we didn't stick to our initial plan but did end up having a fun night full of cheap drinks and food, random conversations sometimes in not so understandable languages, an accidental stop at a local's home, some broken beer glasses (not our fault) and lacking cell phone reception.
First Stop: Sitsimäe Kelder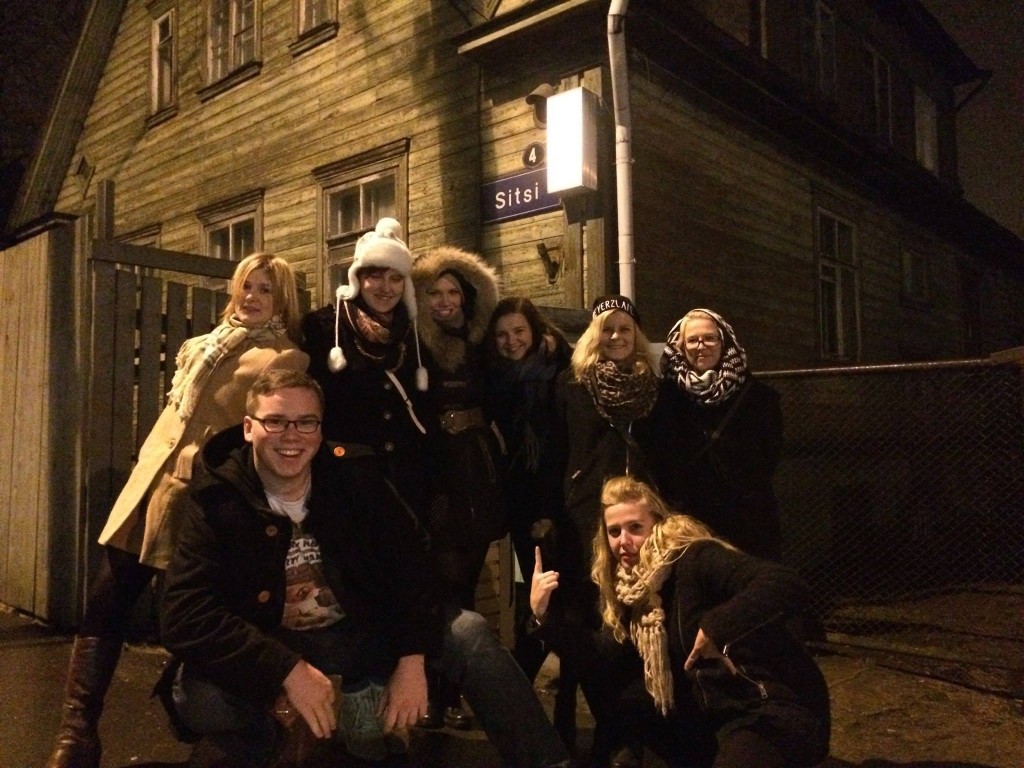 Sitsimäe Kelder: the place is quite difficult to find unless you know what to look for.
We get close to the first bar Sitsimäe Kelder located at Sitsi 4 (it is not in Kopli but  actually in Sitsi area), the others don't believe that this is where we are going when I point at a tiny dodgy cellar door, below a sign that says "Bar" and a picture of a fish for some reason… A few years ago on a Saturday morning I got a coffee here: it was just coffee powder with water poured over it. The coffee was just left at the bottom of the cup. My friend got a large coffee which was the exact same thing but for double the price. The place aims more for good quality beer than for good quality coffee. Indeed, the beers here are really good, so I ended up forgiving the coffee incident.
As our driver parks and we wait, a local kid shows off his firecrackers by throwing them onto a nearby roof and later in our general direction. After we have walked into the bar through a white panel staircase and close the door, a big bang blasts right behind us. The kid just threw a firecracker into the hall. The barman seems very unphased, someone from our group jokes "We're at our first bar and there is already shooting!".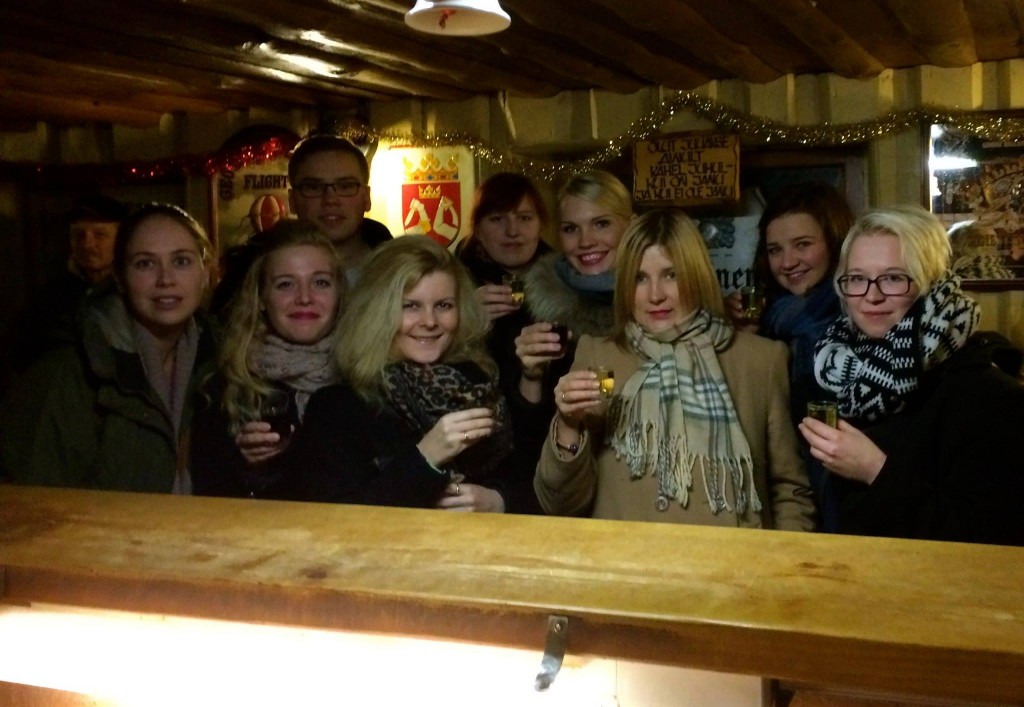 There are three people in the bar all together – the barman, a Finnish rock-star who can also speak Estonian and a quiet old man. With us there as well, the bar is full as the room is tiny with only a few chairs and wooden walls. This is the first stop as the place closes at 9PM for some reason.
The barman asks for one ID (just one, there were eight of us, so he didn't really bother to check them all), shows it to the Finnish customer and asks "Are they old?", the Finn answers "A woman is never old!" and that settles it. We get a round of shots to start the evening off. This place is probably the only one in Tallinn that hasn't raised prices since the arrival of the Euro in 2011. 100ml of Jägermeister costs an odd 3.77 euros. If you buy less, though, you will have to pay less, too. For example, a regular shot glass is 40ml, that would mean you'd pay 1.50.
Heavenly low prices, friendly drunks and awful toilets – can it get any better?
The barman actually opens up the employee toilet for us which an unexpected but nice gesture. The only minor setback is that it doesn't have a lock.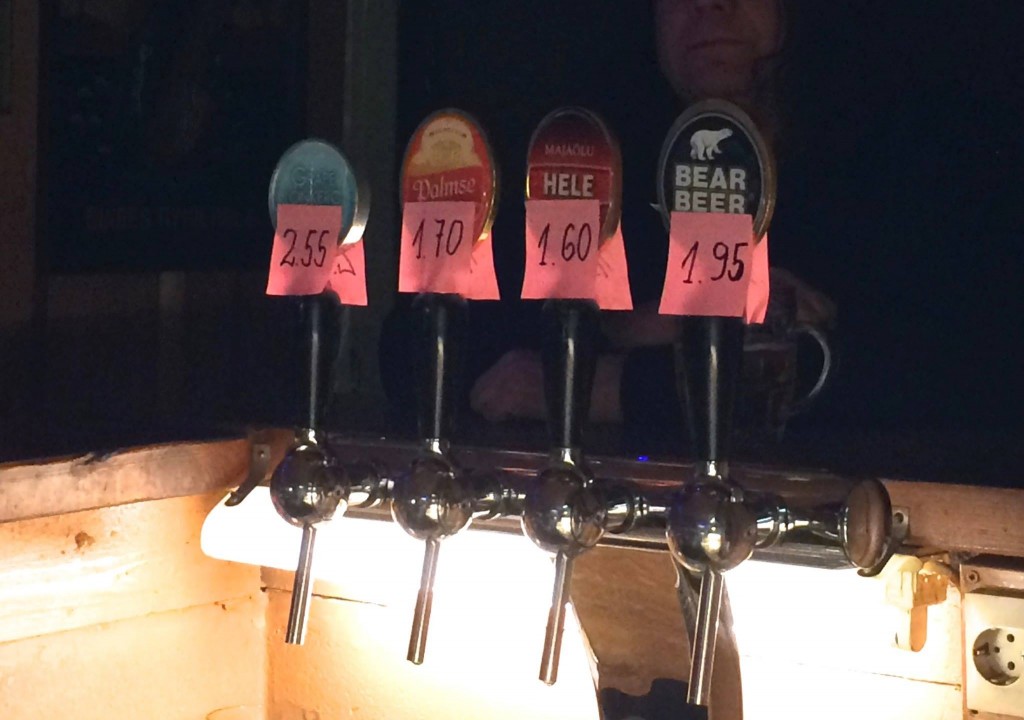 Both the price-tags and prices themselves are unbelievable!
The barman also offers us cheese (just regular cheese, nothing special or fancy, just sticks of cheese on a small plate) with mustard. We also get some delicious local beers. After an hour of fun conversation we start clearing out as it is getting closer to 9PM when Sitsimäe Kelder closes. We pay 24 euros for the shots, the beers and the cheese – that is 3 euros per person as there was 8 of us. Lovely!
Second Stop: Bar S.O.S
Everyone is in a fun and tipsy mood as we head to the next stop – bar S.O.S which supposedly closes at 10PM. It is 9.30PM when we arrive, so sadly we're greeted by a locked door and a very annoyed older woman in her 60s shaking her head from behind the glass. The prices of drinks are still written in kroons even though the country has been using euros for almost four years already. Judging by the sign outside a beer costs 16 kroons (1 euro). It's hard to hide our disappointment of not being allowed in.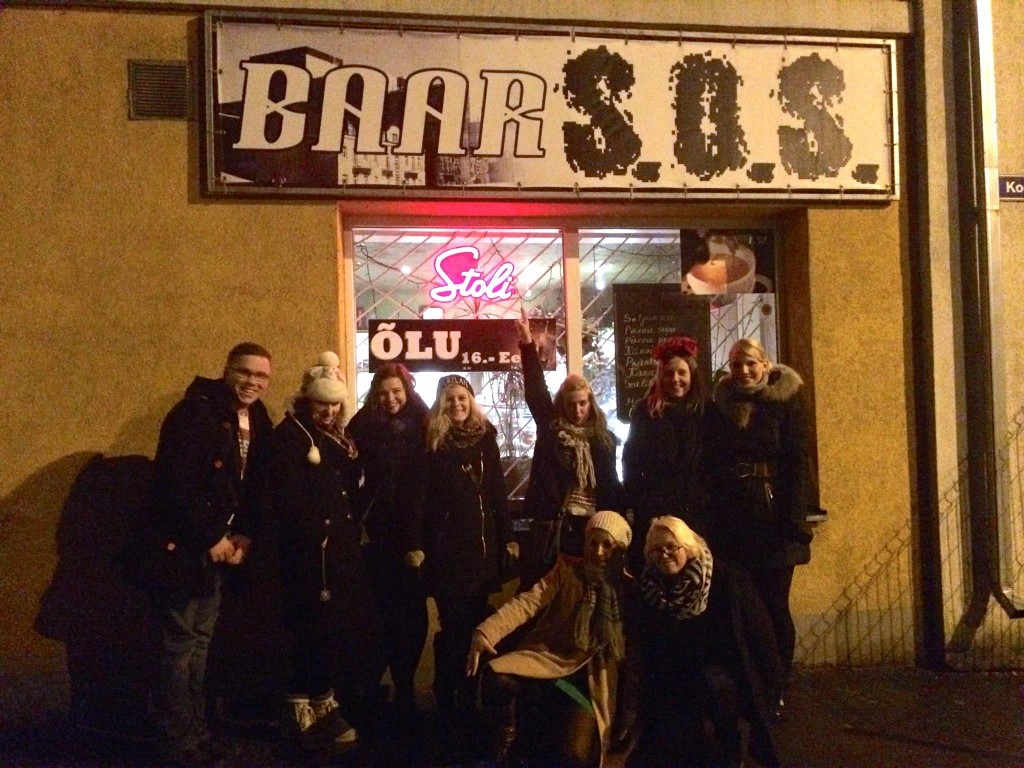 Bar S.O.S didn't let us in, we will have to try again some time.
Third Stop: Derevyashka
Everyone is hungry so we head to a place called Derevyashka which is supposed to serve decent food at Kopli 99B. During daylight hours this place operates as a proper and well-behaved pub serving daily dishes and simple home made food. At night time, it looks a lot different – the Russian lady behind the bar says that the "diskoteka" (disco in Russian) will happen on Friday. I did some research on Facebook asking three people who speak Russian what Derevyashka means. The answers were quite similar – it just means a wooden object. However, a Russian slang dictionary told me it means a frigid woman, so I remain uncertain. The bar is located inside a wooden building, so the first definition makes sense.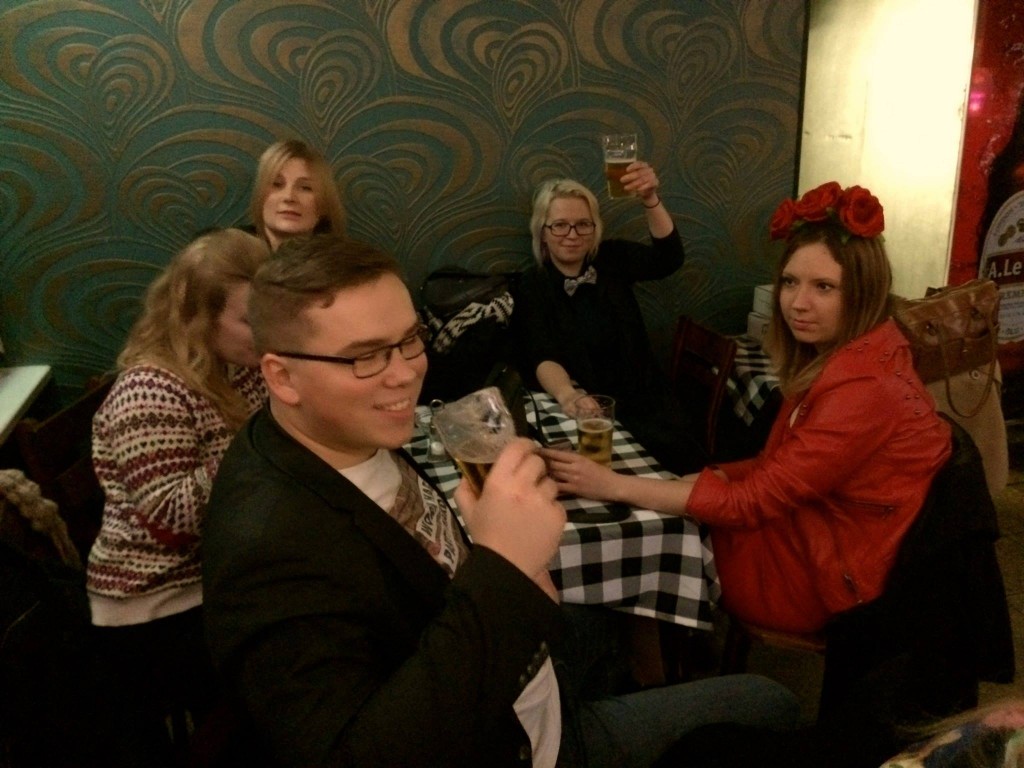 Waiting for our food at Derevyashka.
After confusing the hell out of the bar lady (cause most likely she has never had a group this big come in), most of us get grilled sausages with French fries and a round of beers. Derevyashka boasts horrible music, an empty dance floor and very odd giant mirrors on some walls. By the looks of it, the bar also operates as a Christmas light warehouse – the walls are so decorated you could light up all of Tallinn with just these very lights. The aesthetics are also enhanced by all of them being differently coloured and blinking in various patterns.
It's also suitable to mention that almost every bar we went to had a strange slot-machine collecting dust somewhere in the corner. To get to the toilet in Derevyashka, you have to walk between a mirror and that slot machine. Highly awkward.
The bar itself is fairly quiet today with a few people at most sitting by the separated tables, leaning closer to each other to make sure they are heard over the music. I assume this place is a lot more fun during weekends.
Fourth Stop: Sirbi Kohvik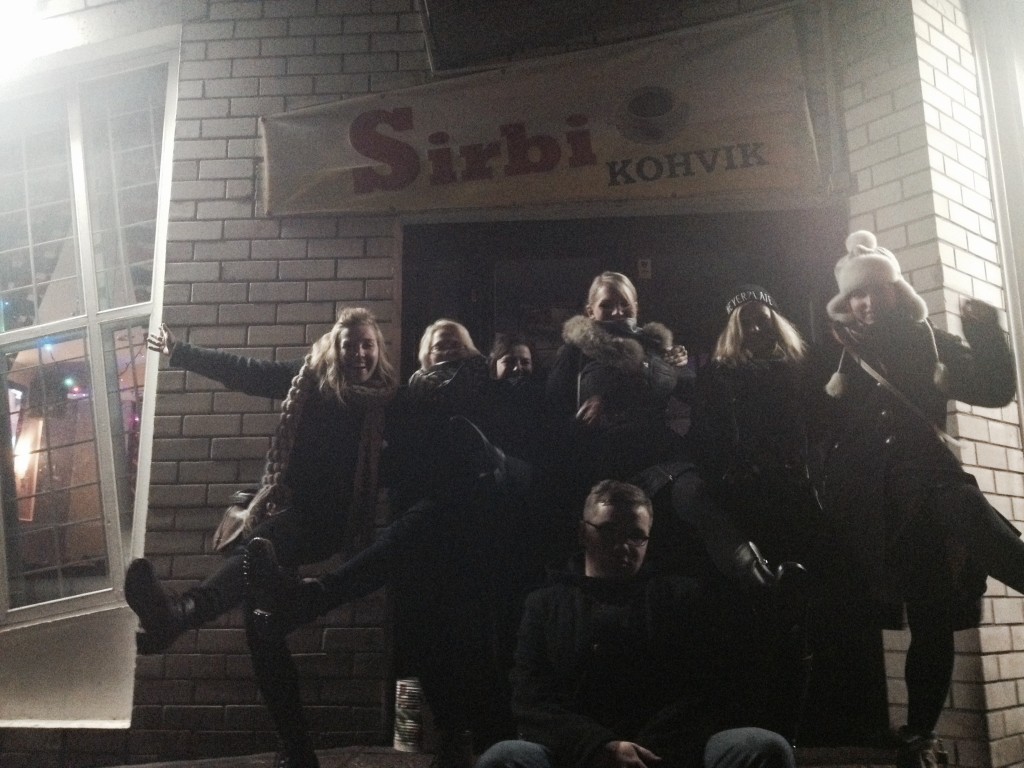 We are trying to match the crooked building.
By the time we reach Sirbi Kohvik (click the link and read the Tripadvisor reviews, they are hilarious!) – a very oddly shaped building at Kopli 69K – we are all rather jovial and loud. We also take a bunch of pictures right in front of the entrance, so these actions cause one of the workers to come meet us at the door and very seriously say the place closed. We see through this deception as there are quite a few people inside with drinks in front of them. Granted, if I were working at this bar, I wouldn't have let us in either. However, this situation is nothing a little sentence in Russian can't take care of – our sober and Russian-speaking driver simply says "we would just like to have one beer" and we are let in with a smile. We get our one beer and a strange round creme cake which everyone gets a bite of.
Sirbi simply means Sickle in Estonian. Most Estonian towns had streets named Hammer (Vasara in Estonian) and Sickle (Sirbi in Estonian) for about fifty years. Most of them changed the names after the Soviet times ended, some didn't. I grew up in a small town in Estonia on Hammer street, over there the town only bothered to change the name of Sickle street but kept the Hammer. In Tallinn just around the corner from the bar you will find both Hammer and Sickle streets.
The bar itself is just a regular dark and loud bar with cheaper beer prices than in the city center. However, I do manage to somehow get two local dudes to join our table and have a beer with us. Later on, it turns out they were just at the bar to buy cigarettes, but somehow end up staying with us until the end of the night a few bars later.
After we finish our beers, one of the locals we've just met invites us to his place to play some cool music. We decide to go for it, cause you know – why not?
Fifth Stop: a Home of a Random Local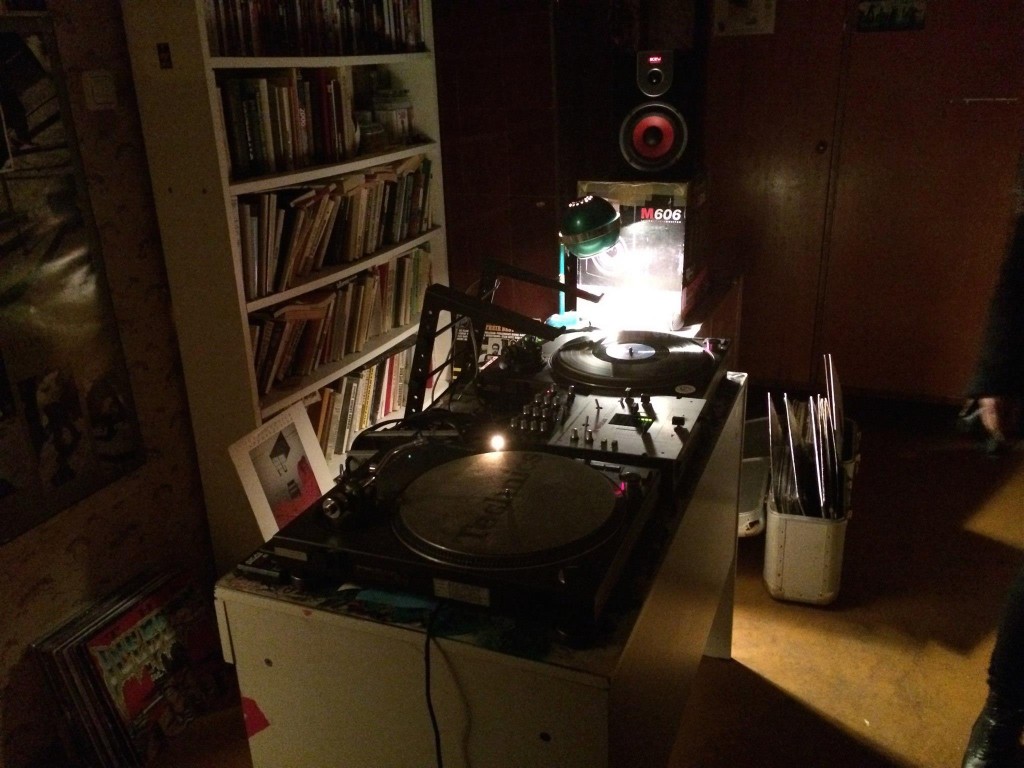 Surprisingly, we somehow ended up at someone's home.
We jump in our van and basically drive around the corner from Sirbi Kohvik. As I am a huge architecture nerd, I get excited about the Sirbi street we are on. The whole street is awesome as the duplex homes were built in 1939-41 and the development stopped due to the Second World War. After the war, most buildings appearing in the area were bigger apartment buildings, not cute suburban houses like these – so this is rare, but I'm not going to get into that right now.
One of the guys we randomly became friends with in the last bar (the one whose home this is) is a DJ, he plays music I only like listening to when drunk so at this point it sounds totally awesome! The home itself has vinyl records lying around everywhere. I do a stupid dance with one of the co-workers (this leads to an awkward photo immediately posted on Facebook) and we are all confused yet highly amused by being there. It is all very fun and can only happen on a pub crawl to Kopli. After spending about twenty minutes here, we decide it's a good time to head on.
Sixth stop: Vesta Bar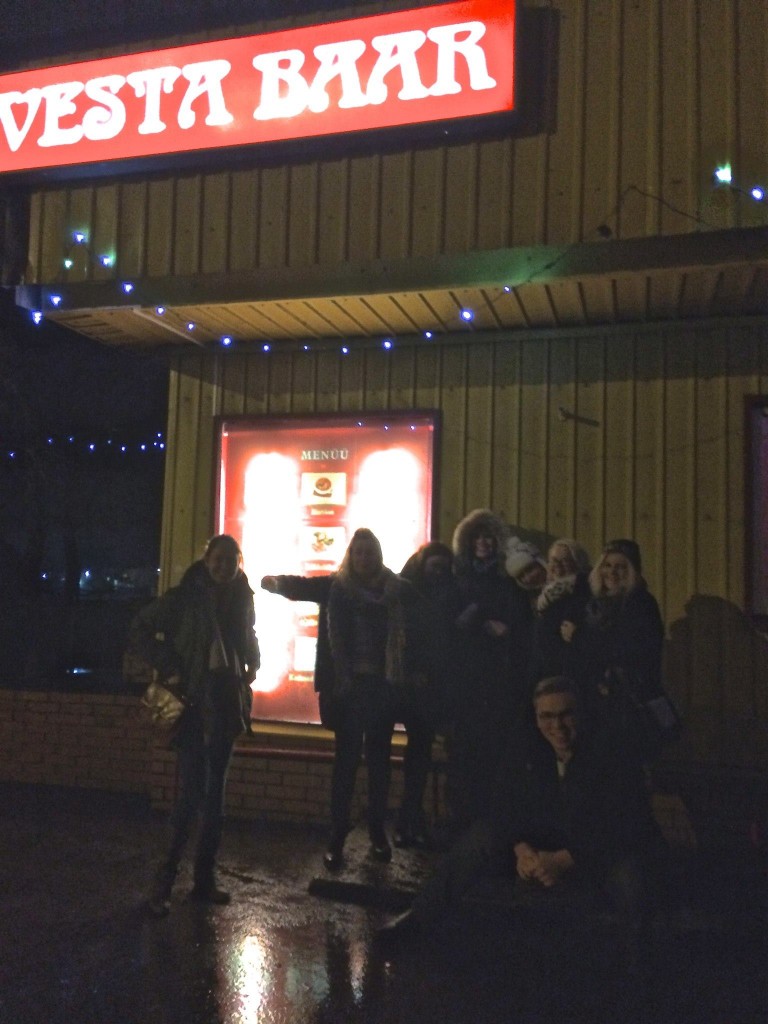 Vesta Bar is a little bit further away from everything else, also just a little bit scary.
After this brief visit to someone's home, we take our new friends with us and head to the next bar. We have something else in mind, but the local guys tell us we have to go to Vesta bar. This is a little bit off our route as it is in a parallel street between dilapidated factories and empty grasslands, but we take their suggestion (this is not Kopli but Karjamaa area). Vesta bar is located at Tööstuse 88 and is so local that it's a bit scary.
Everyone looks familiar with each other and thus stares at us as we enter, this leads us to the conclusion of just getting a quick tequila shot here and leaving as quickly as possible. We're served by a woman in her sixties whose hand shakes so much it is odd she didn't spill anything when she was pouring the drinks. I am amused by how thinly the lemon is cut and we quickly pour down the shots with a loud "cheers!". Roughly at the same time, a regular who is sitting at a table next to us, drops her beer class, by her looks, very much on purpose. Nobody really pays any attention to this and some time later, the glass is cleaned up.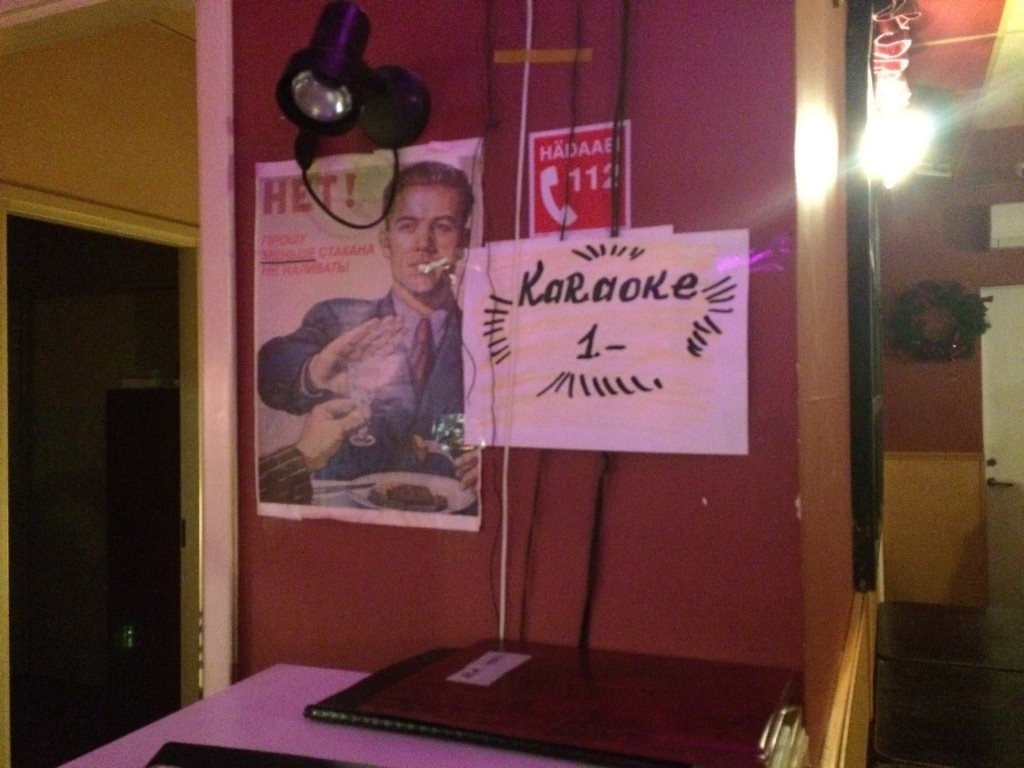 If you want to sing karaoke, you will have to pay one euro. This is actually a great way to discourage drunken renditions of "Don't Stop Believin". I would do the same thing if I owned a bar. We get out of the bar quite quickly as we are getting side-eyed and head towards our last stop.
Last stop: Kolm Lõvi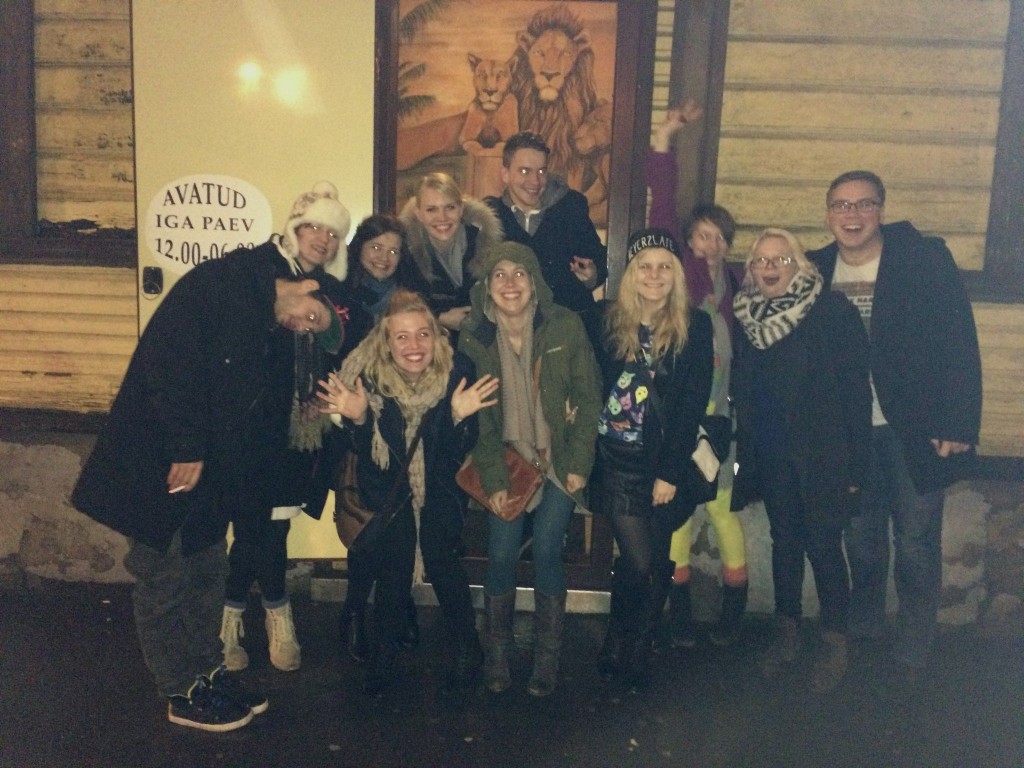 Somehow our group is way too big in this photo.
At a mention of Kopli bars, citizens not from the area will think of the Kolm Lõvi (the Three Lions in English) even though it is actually located very far from Kopli and more in the Kalamaja area close to the city center. The Three Lions is close to the train station at Kopli 14.
I have tried to convince friends to come here for years but nobody has ever been up for it, so finally, I make it. The Three Lions is a hallmark of the 90s. I am pretty sure the sign of the bar is roughly as old as I am and some customers have been regulars here even before that.
Early Eastern-European capitalism at its best – the bar is decorated exotically with jungle leaves and weirdly shaped lions, adding to the escapism everyone sought after in the early years of Estonia's re-independence.
The bar has cheap drinks, sprat sandwiches and pickles for "zakuskas" (Russian for something to bite after a shot of vodka), ugly furniture and horrible music just like you'd expect. The clientele seems mostly Russian-speaking, all very calm and not as much dancing as I'd expect by this time. The bar isn't full, but it is not entirely empty as well. By around 3AM there are five of us still left – three of the original group plus the two random guys we found at Sitsi kohvik.
A guy with biceps as big as my head approaches our table and starts a conversation in Russian with one of the guys in our group. He then asks if us, the girls, can understand him, to which we answer "yes". He turns back to the guy and continues his conversation. The arm-man pretends not to hear us and spends the rest of the night ignoring us and literally talking about us with the guy while we are standing right there trying to tell him that we can actually understand everything he is saying (luckily he was saying positive things). It is hilarious for a while but gets boring after some time so we get a cab and head home.
Post Scriptum
I wake up around 11AM the next morning, by 1PM I have gotten a burger from the Estonian Burger Factory, the best cure for a hangover in Tallinn. As I recall the evening, I decide that I would actually go back to some of these places (most likely the first place – Sitsimäe Kelder).
The evening's happenings may or may not be slightly factually incorrect due to drunkenness. Our sober driver helped out marking things down, though.
I am now Facebook friends with the random guys we met and I did also end up at a party with them DJ-ing two days later – Tallinn is small.
If you think our blog posts are funny, you should see what it's like working with us. By the way, we're recruiting. Click here for more info!