If you're one of the people looking to explore the city after hours, you might want to do a bit of research first. Tallinn is no longer the stag and hen party capital of Europe but there's still a different locale on every corner.
Within a ten minutes radius from the town hall square, you can find dodgy cellar bars as well as red carpets with lots of lasers and huge amounts of decibels next to smooth jazz lounges or the vibes of Chicago in the thirties dry law times. Between all sorts of awesomeness, there is the odd mix of even more awesome, weird places. Even though Tallinn boasts a rather large selection of bars, clubs, pubs, lounges and other various hangouts to visit, the city sucks at providing a 24h food service. Finding a good burger or kebab at 3AM can be a quest in and of its own, followed by an even tougher challenge of getting a reasonable cab.
So how do you map the best party places of the old town, what is the etiquette about tips and dress-codes and how do you continue home after the party? Here's a rough guide to Tallinn After Dark.
Pubs
Image credit: paahde
As a general rule, having an awesome night depends on intuition and luck. But there are some amazing places you just can't miss, otherwise you would have to return (we wouldn't mind). Some of these don't really qualify as pubs, but none the less, they are amazing.
There's a saying you haven't been to Tallinn unless you've tried Millimallikas – the Jellyfish.
The Jellyfish is a famous (read: disgusting) shot Tallinners force non-Tallinners to drink. Everyone's heard of it, the brave ones have tried it, the stupid ones have tried it more than once. You can only get Millimallikas in one place – Valli bar. This bar is so legendary, the interior has been declared a cultural treasure. This bar is so legendary there is a documentary made about the regulars. This bar is so legendary you cannot find a seat – not because all the seats are taken, but because the locals have literally carved their names into the chairs and don't you dare mess up the sacred seat-ownership ritual of a chair-carving. Getting the Millimallikas as the first thing in the evening can be a good idea.. After you've tried it, you'll understand.
Various other recommendations for (good) shots: Ükskõik, Gruuv, Labor
Various other recommendations for weird places full of locals: Sveta, Kopli 2, Von Krahl, Paar veini
The next place on the weird yet mandatory list is Põrgu. Põrgu, meaning hell in Estonian, is a quiet beer-heaven. Why go there? Firstly, it's difficult find, thus it's non-touristy. Secondly, you can drink Pihtla there. What is Pihtla you ask? A magical homemade beer that's made at an island far-far away (three hours plus a ferry) and that tastes different every time you drink it. The maker of the beer has even said he has no plans of going mainstream and he will continue to only produce 12 000 liters a year (in other words: 33 people a day can drink 2 beers) . There are only very select locations of finding this rarity. If you have the chance, you should go to hell.
Various other recommendations for good beers: Hell hunt, Drink
When all else fails and Tallinn seems deserted then look for Red Emperor Bar. This bar is attached to a hostel and has always a mixed crowed to hang out with. After midnight the locals start filtering in and Red Emperor stays open fairly late. Check it out!
Whatever happens in between and no matter how many bars, clubs you pass through, you are not allowed to go home before you see the place every party goes to die.  There, the bar staff is uninterested in serving you a drink, the locals are interested in how did you find that place and you are interested in where the hell is going on. "Levist väljas" is on the edge of the old town. It's a cellar without a proper sign on the door and quite easy to miss. You can find anyone from young politicians to writers in their 60s there accompanied by a quiet air of desolation and desperation. It  is weird. Good luck!
Various recommendations for a similar bar: none, this is one of a kind.
Pub etiquette:
Bar and pub etiquette is fairly simple. If you feel like leaving the bartender a tip, go ahead. If you don't, then don't. The bartenders' wishes are your command (they usually don't wish for things) and Estonian security men look really small but have a lot of jedi persuasion techniques. Don't mess with them!
Buying people drinks is okay, it's common among friends as well as buying them to people not yet met. A beer usually costs around 3.50-4.50 euros, cocktails range from 6-9 euros.
There is one thing you do have to learn, remember and use at all times. This word: Terviseks! (pronounce: ter-vih-sex)
"Terviseks" in Estonian means "Cheers!". Though literally translated "terviseks" meaning "to health", linguists are now theorizing it was just created to give us an excuse to yell sex really loudly and confuse foreigners while doing so. Use it wisely, along with a great word comes great responsibility.
Clubs
Image credit: Dmitri Korobtsov
Finding a club in Tallinn is fairly simple, but there are some odd ones that need pointing out. Like previously, this list isn't specially focused only on clubs in the traditional nightclub sense, but in a broader places-that-play-dance-music  sense.
Firstly, most tourists have heard of Hollywood – also known to the police as the key component to the "Bermuda triangle" of Tallinn. The club is inside a Soviet era cinema and is the biggest club around, thus the safest bet – mainstream music, a lot of people. Hollywood opens at 11PM, but people usually show up around 12-01AM (after running to the local shop the last minute before 10PM when the nightly alcohol ban starts), and Hollywood starts closing around 4PM.
If you're, however, looking for something amazingly local-loved, go to Studio. It has two halls, one focusing on alternative electro, the other on mainstream. A party at Studio is usually packed of locals as well as tourists.
There are plenty of other places to find as well, but this is something you'll discover if the cobbled streets of the old town allow you to.
Club Etiquette
A beer costs roughly 4-5 euros and cocktails are 7-10 euros. Most locals have a drink or two before the club.
Most clubs really aren't strict about the dress-code, however some demand common courtesy. In general, as long as you are nice and not trying to support walls or streets from spinning around you, you will gain entrance to places. Occasional lines outside of places don't always mean there are huge crowds inside, so don't hope for this.
Hopefully by now you've learned to say "Terviseks!", this is useful for sparking conversations and getting attention.
Wine and cocktail bars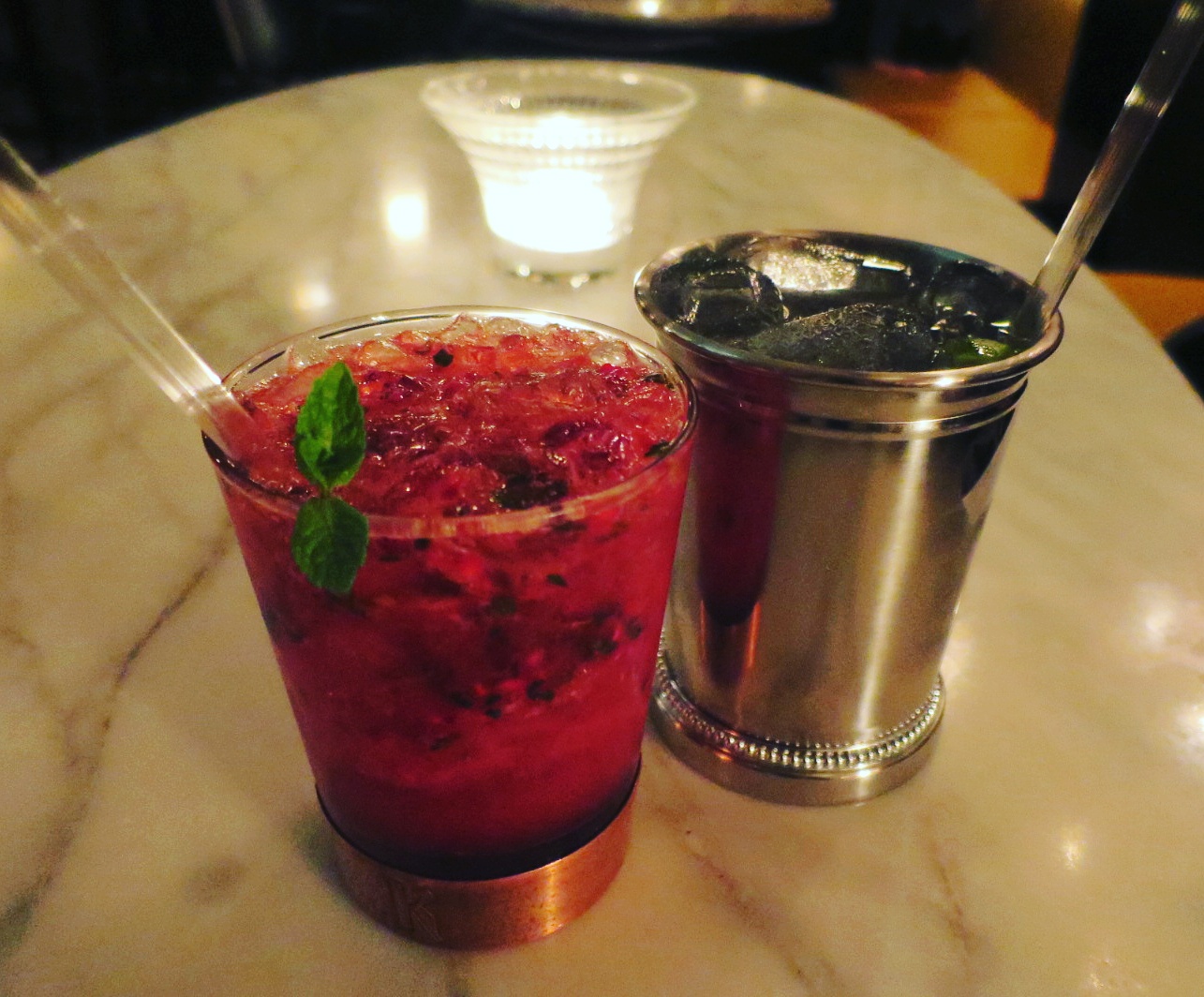 Photo credit: liinetx
Tallinn is getting progressively more and more fancy and along with this trend the rum and coke has been traded in for the Moscow Mule. Midweek after work cocktail or sophisticated wine sipping over the weekend has very much become a thing. Some of these places also serve good food and provide a  quieter place to sit and relax with friends. In the Old Town look for Sauna street and step into Paar Veini for wine, Frank or Sigmund Freud Bar for a good cocktail. Not too far is Tabac or Sessel for a chill hang out. If you would like to try something in the hipster central that is Telliskivi area then try Pudel for beer or TIKS for wine. Nearby is also a proper we-open-when-we-feel-like-it Speakeasy by Põhjala. Rotermann City is right next to the Old Town with more bars and restaurants then you can count but you know a place is hipster if there is an official BrewDog bar.
Wine and cocktail bars etiquette:
Drinks can be more expensive in these venues. Craft beers 4-6 euro, wine by glass starting from 4-5 euro, cocktails 7-10 euro.
These places are all very relaxed. Don't be louder than the music in the background, basically. Good places to hang out with friends and spend the night talking. Tipping is common in places with table service but only if it was good. If you don't like something don't tip.
Kebabs
Image credit: Jon Gos
Tallinn is terrible at providing a choice when it comes to late-night foods.
Finding a place open, without a line and delicious is like winning the lottery.
Just going back to your hostel or home would definitely save huge amounts of trouble, time  and small amounts of money, but sometimes the determination gets to you. There are once again the common mainstream places as well as hidden little burger joints. Yet to be found is an actual kebab place serving food late at night in Tallinn.
You can locate the 24h everything store next to the town hall square for sandwiches or try to find Loca on Freedom Square – a place everyone has gotten a late night burger or dumplings at least once, it's not great, but anything goes at this time already. A super-local thing to do!
But the best way for late night pit-stops is just not leaving the correct place. A bar serving food until late-late hours is a treasure you will learn to appreciate only after you've left.
Kebab etiquette
There really isn't any etiquette for late night foods. Just don't spill them in the taxi! Taxis can by the way found almost anywhere. A nice, yet cheap company is Reval for example. The usual prices for taxis are around 2.50-3 euros for the fare and 0.50 euros for a km. Use an app like Taxify or Uber in Tallinn for easy getting around.
Most of the time, locals are happy to help with cool insider info about special parties and happenings, so don't be afraid to ask and awesomeness will follow! Good luck and don't be afraid to get out of the old town, too!
If you there's a really awesome place in Tallinn you feel should be included in this post, let us know!
Original post by Ann Vaida on March 3, 2013. Updated by Liine Toomse on October 9, 2018