In this list we have treated 'things' rather loosely. Some of these you can buy and keep, and others you must experience and cherish the memory. Estonia is not on anyone's map with mass production but this small country and its people have come up with some cool stuff. In no particular order these are some of the most Estonian things one can have or do.
1. Christmas – it's all our fault!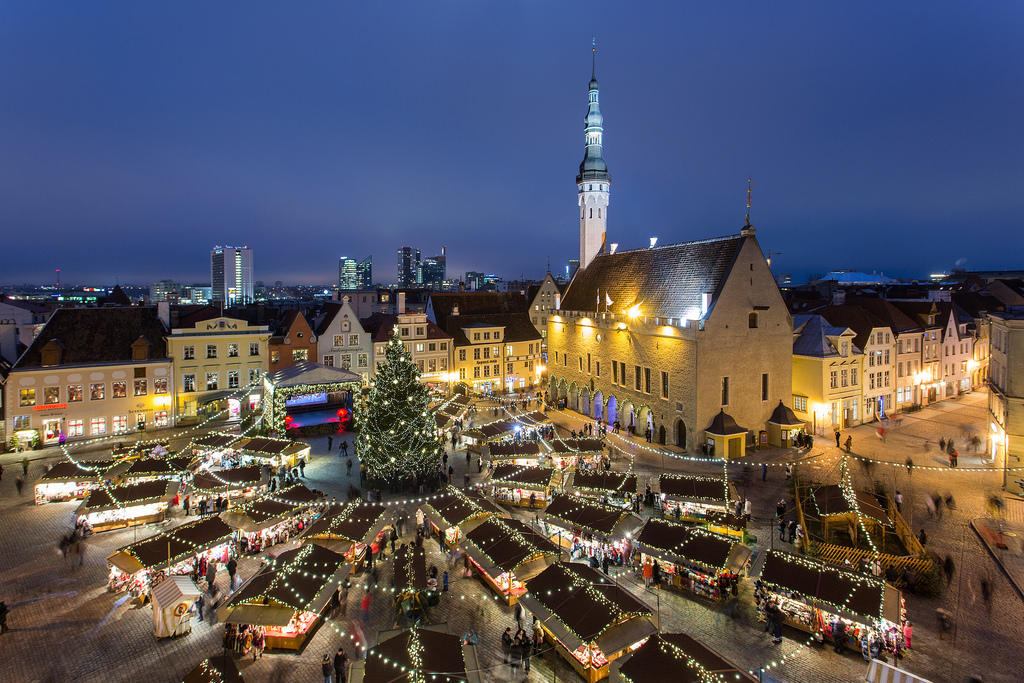 Photo credit:
Sergei Zjuganov courtesy of Visit Tallinn
Next time you are setting up your Christmas tree and wonder who had the bright idea in the first place then you know who to blame – Estonians! We take the credit for the spruce or fir tree in the middle of the town square, for the pain of trying to find the perfect tree that will fit in your home, and for all the little needles you will keep finding until Halloween next year. But not for decorating the whole thing, that is on Latvians.
In Reval, the old Hanseatic League town that is now known as Tallinn in Estonia the very first Christmas tree was put up in 1441 by the Guild of the Black Heads. They threw a big party that culminated in burning the Christmas tree. Great fun! Tallinn's Christmas tree stands every year on the town hall square and is lavishly decorated, come have a look!
2. Covered in mud or sweat – and happy about it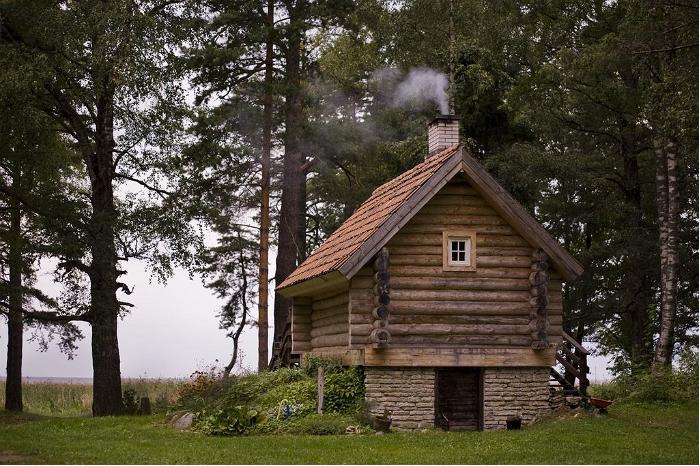 Photo credit:
VisitEstonia
Here in Estonia having a spa treatment is a must and this comes with various and never-ending list of products that can be used at a home setting. Clearly life here is so stressful that we need every opportunity to relax. Chocolate massage? Why not! There are more cosmetic products we can name but here are a few favourites none the less: Turbliss – peat moss to the rescue; Joik – from scented candles to bestselling cosmetics in Estonia; Moshi – 100% natural, 100% self-ironic, and 100% Estonian; LumiNordic – botany meets biotechnology – science that is good for you.
The first mud-treatment was done in Estonia already in 1840 in Kuressaare. This small town on Estonia's biggest island Saaremaa has a spa spot for every ten residents living there. Spa-capital of Estonia we could call it! Another must for us is a sauna. Sauna tradition in this part of the world goes back to time immemorial (or to 13th century when it was first written about here) and is big part of our culture and supposedly a cure for every illness. Saunas are easy! All you really have to do it sit there, sweat, and enjoy it. And yes, if we can get away with it, we will make you do it naked!
3. Reflectors – little light to save a life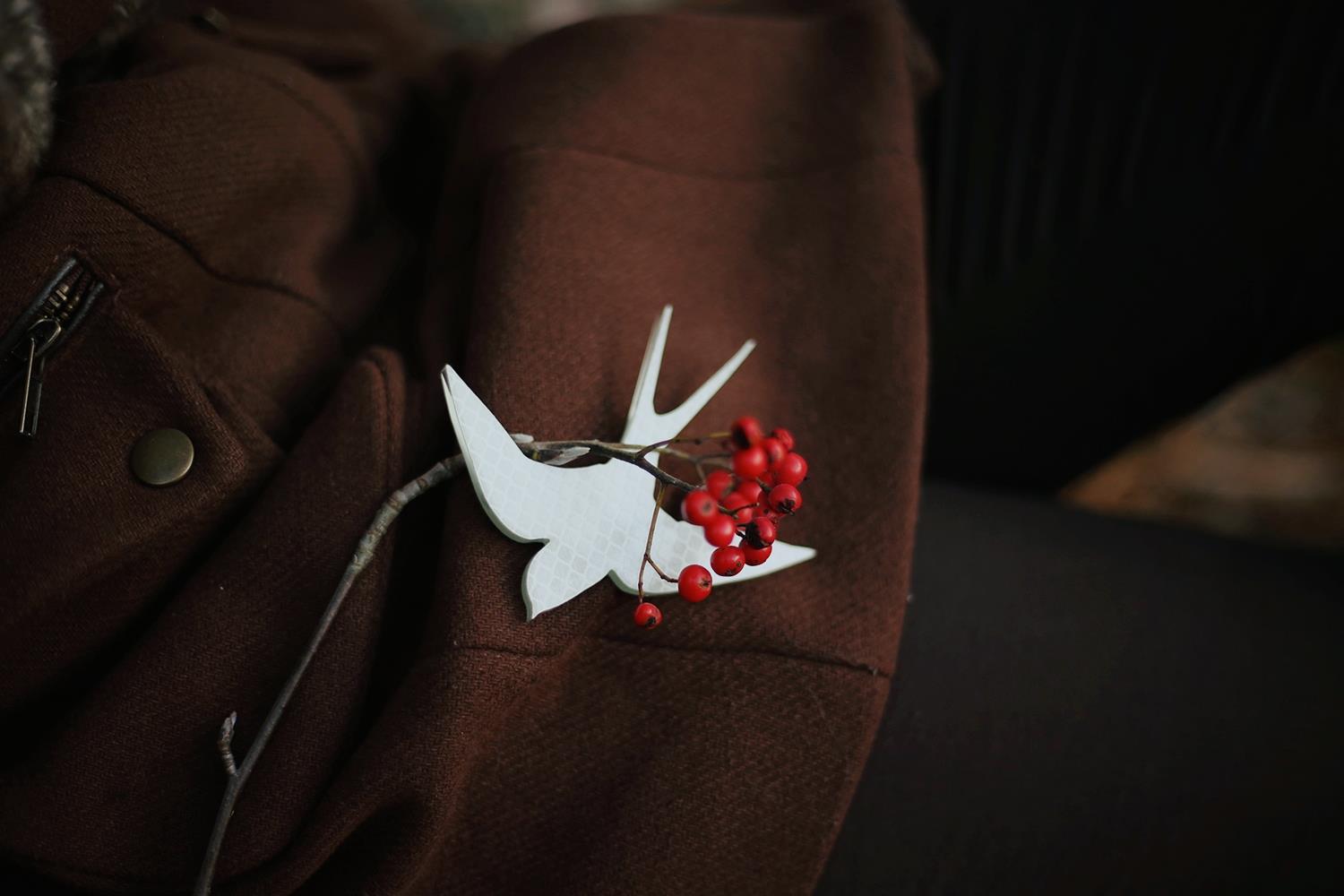 Photo credit: Helk
Reflectors are not invented in Estonia, I'll come clean with that first! Percy Shaw is the man behind this useful and lifesaving technology, he patented his "cat's eyes" in 1934 in Nottingham. But unlike in UK here in Estonia reflectors are compulsory, demanded by law from pedestrians. Everyone is Estonia should have a reflector and this has slowly become a fashion statement for us. During the dark winter nights when almost everyone in Estonia wears black or gray then reflectors can be the only source of light, literally casting back light from car headlights.
Is your reflector a wristband, or is it dangling on your right side with a piece of string, or an expensive designer model on the front of your coat? To blend in successfully with locals every foreigner should invest in a reflector. Having one means you're one of us! Even trees are decorated with reflectors sometimes. You can take a tour to Haapsalu and check out their reflector covered tree. A local kid gathered more than 500 reflectors and hung them up so that anyone who wanted one could take one for free.
4. It starts with Skype…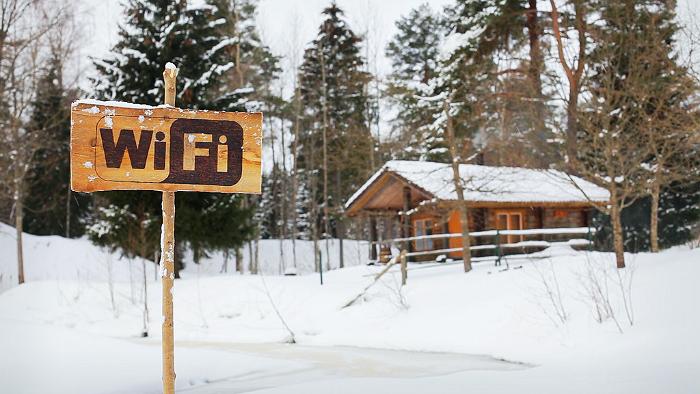 Photo credit:
VisitEstonia
This is one Estonian invention most people must have heard of even if they haven't used it. (Why haven't you used it?!) Years ago three Estonian guys came up with a little program that lets people make calls worldwide for free. Neat, right? Well it was, but now that Skype has been long sold to Microsoft the most common sentence spoken via Skype seems to be, "Can you hear me?!" Maybe the golden age of Skype has passed but let us not rest on laurels.
Estonians seem to think that Internet is a civic right and most cafes have Wi-Fi installed before they have a menu and staff. This is a country that seems to run on start-ups. By now an absolute stereotype for successful 20-something Estonians is to have a start-up. Transfer-Wise is a recent success-story – a company that helps you transfer money internationally for low fees. There are so many more to name: Like a Local, GrabCad, and Fortumo. If you throw a snowball in Tallinn at random it will hit someone who has or works for a start-up.
5. Village swing – the most fun you can have!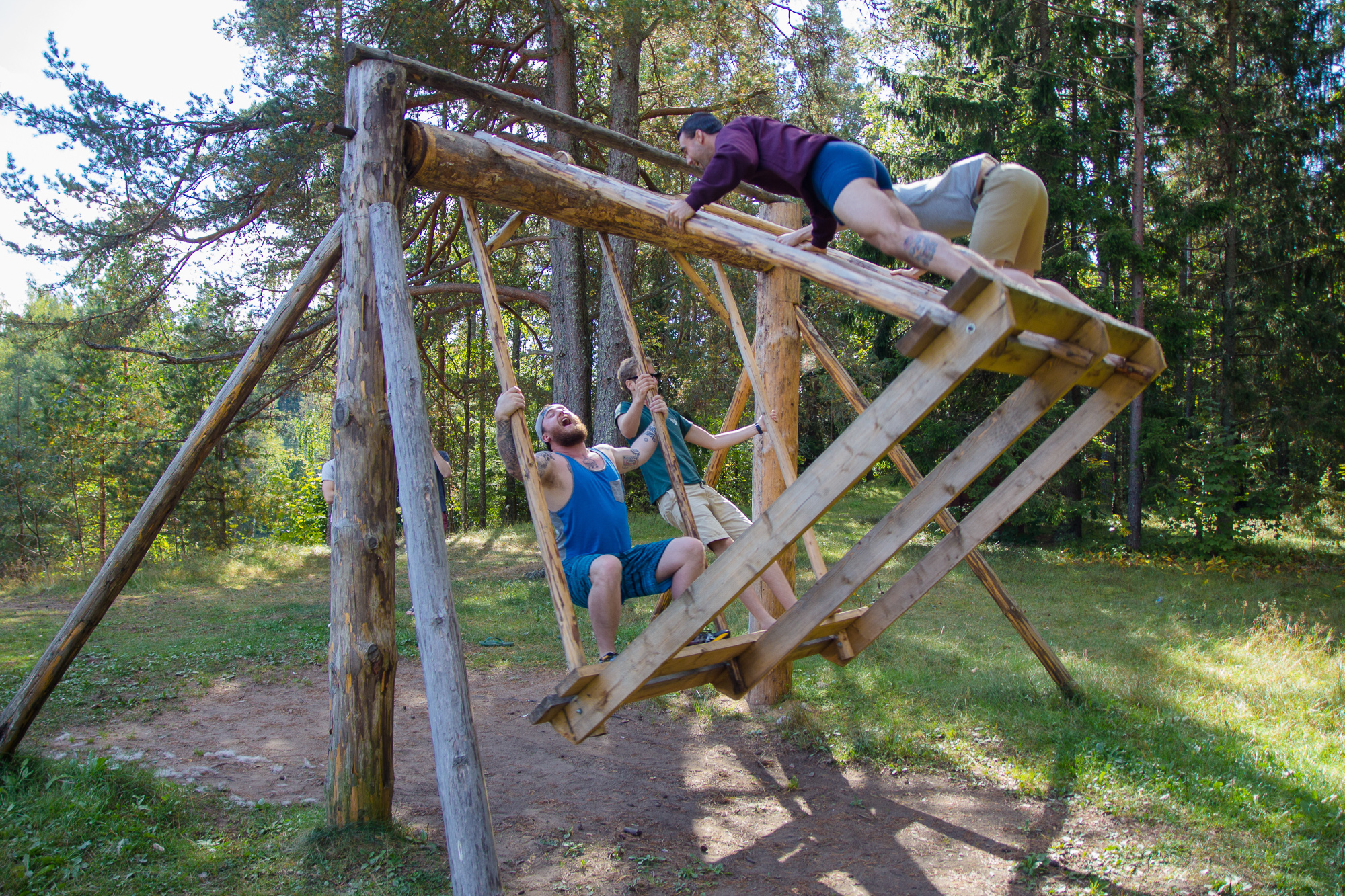 Photo credit: Kalev Külaase
Fun and Estonia maybe seem like an oxymoron at first when you show up to this country and nobody smiles at seeing you. But wait, wait! Estonians take some time to warm up. One thing that gets a mischievous gleam into most Estonian eyes is the village swing. The big wood monstrosity looks a little like a strange torture device but it is certifiably the most fun Estonian have ever collectively come up with. The concept is very easy – find a bunch of like-minded people, get on the swing standing up, and then swing. Easy! If you want to raise the level of difficulty then add on folk singing that is traditionally done while swinging. The main thing still is to have fun with friends and not fall off! If you want to test one out while in Estonia then take a tour to Lahemaa.
To really go pro with this thing you should try the sport kiiking. Then the swing is made out of metal and plastic, you get strapped on to avoid falling off, and the aim of the sport is to make the swing go 360 degrees as fast as you can. Were you told as a child that a swing can't do that?! Wrong! It totally can! And one day this will be an Olympic sport!
6. Space-food!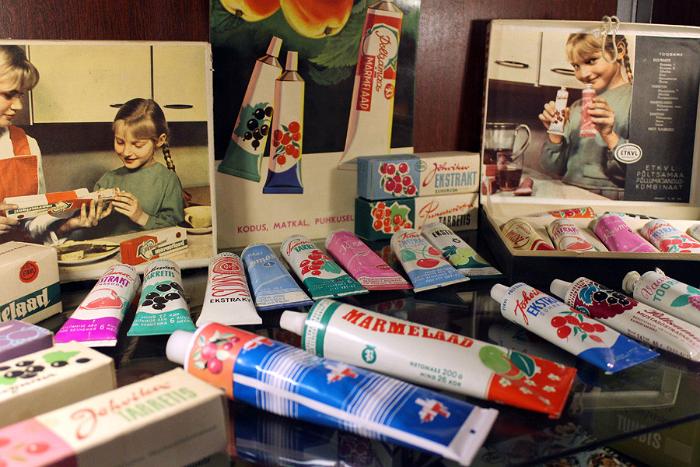 Photo credit:
Raivo Laanes via VisitEstonia
Here is a fun fact about Estonia: first food meant for space travel was produced in Estonia.
During the Cold War, Space Race between Soviet Union and USA was a big deal. Who is going to get the first man to space? Who is going to take the first steps on the Moon? We now know answers to all that, Soviet Union got Yuri Gagarin the first human in space in 1961 and in 1969 US deployed Apollo 11 and snagged the first successful manned moon landing.
Estonia played its part in all this as well. In 1962 a factory in Põltsamaa started producing food in tin-packaging that could be sent to space. It's fun to imagine Estonian food finding its way to truly the furthest place a man can go.
We don't make space-food anymore but the romance with space and Estonia is not done. Estonia has recently joined the ranks of countries with their very own satellites, which is a big deal for a small country like Estonia. In 2013 EstCube was sent to Earth's orbit and has now been successfully returned as well.
7. Sing it off!
We are not saying that singing or music as such got started in Estonia but we aren't called the Singing Nation for nothing. And no, let us not sum up the Eurovision scores, okay (but we did win once!). In the second half of 80s there was a little event called the Singing Revolution that led to our re-independence.
Estonia did not sing the Soviet Union away but it did not hurt either. If using music to bring the nation together in a resistance movement is not enough then we have a Song Festival tradition that goes back to the year 1869. This has grown into a truly huge event (in 2014 the Song Festival had over 30 000 performers and over 100 000 spectators (video above)). We also have more conductors than we know what to do with. Maybe you have heard the work of the Grammy-winning Paavo Järvi or his brother Kristjan Järvi, or their father Neeme Järvi? You think that they are a family business now? Yes, sure Järvis, but we also have Eri Klas, Anu Tali, Tõnu Kaljuste and Risto Joost and so many more.
Not only do we conduct the music of others we also have the most performed living composer Arvo Pärt who's music is just breathtaking. His composition Tabula Rasa is world-renowned and 2015 not only celebrated his 80th birthday but also another masterpiece Adam's Passion. Also, do not think you have not heard his music, did you not watch Gravity? If an Estonian has not been in a choir, played an instrument or cannot hold a tune then they might as well pack it up because, Music. Is. Important. Here!
8. A little cleaner world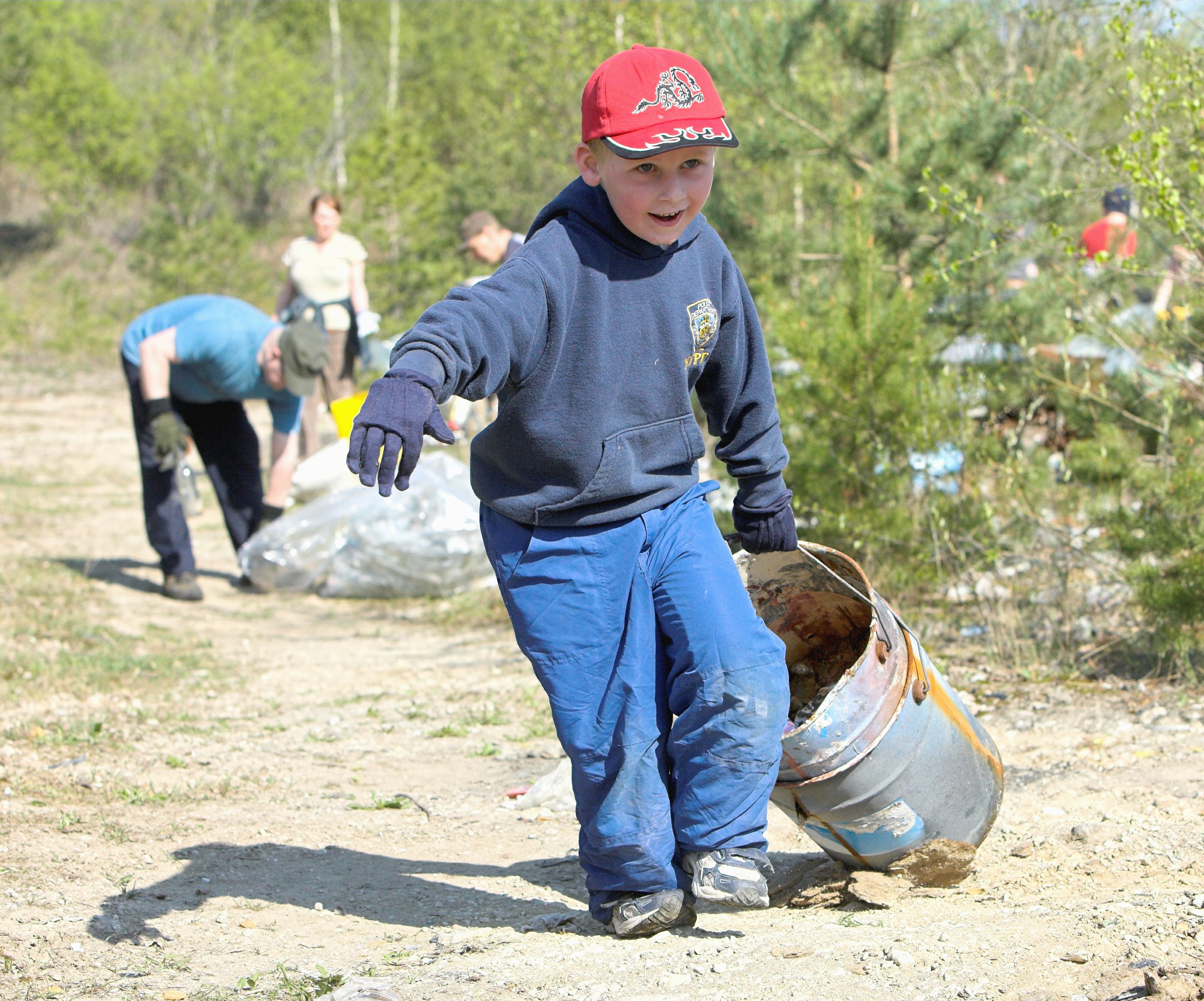 Photo credit:
Let's Do It World –  Let's Do It, Estonia! 2008
Cleaning up the planet is no small ambition and apparently Estonians have taken up this big project. It all got started in Estonia in May 2008 with a nationwide clean-up day. It took 50 000 volunteers five hours to clean all over the country and get rid of 10 000 tons of trash. Let's do it World Cleanup has by now engaged 112 countries and 13 million people worldwide. So it is very likely that your home country has had a clean-up day or is going to have one.
But cleaning trash is only one step, isn't it? We should reuse what we throw away and Estonians have some cool ways of reusing garbage, after all, one man's trash is another man's treasure. Take fashion by Reet Aus whose mission is to create new clothes responsibly. This has led to Trash to Trend movement that brings together many designers all over the world.
9. Estonian animation – who needs reality?
Surreal animation is part of growing up in Estonia and enjoying it carries on even after we have become adults. Naksitrallid (1990) is a children's classic that is based on Eno Raud's book about three misfits finding friendship. That cartoon has produced many a cherished nightmare. Another mind-bending and childhood scarring animation is Klaabu (1978) – eggs will never be the same again. Less scary but no less odd is Lotte – a dog living in an inventors village and having violence-free adventures from Andrus Kivirähk.
Not only children are expected to watch animation in Estonia, adults also get in on the fun. Priit Pärn is one of our most accomplished directors and his most award winning animation has been Tuukrid vihmas (Divers in the Rain) (2010) that brought home 18 prizes worldwide. This short film leaves you completely bewildered by the end of it but somehow it seems to sum up life in Estonia. This year's hit that is still racking up awards is Riho Unt's Isand (Master) (2015) based on Friedeberg Tuglas' book Popi ja Huhuu about a monkey and a dog who wait for their master to return home, yet he never does. What follows is a complete mess and a beautiful parallel about life.
10. We love kohuke!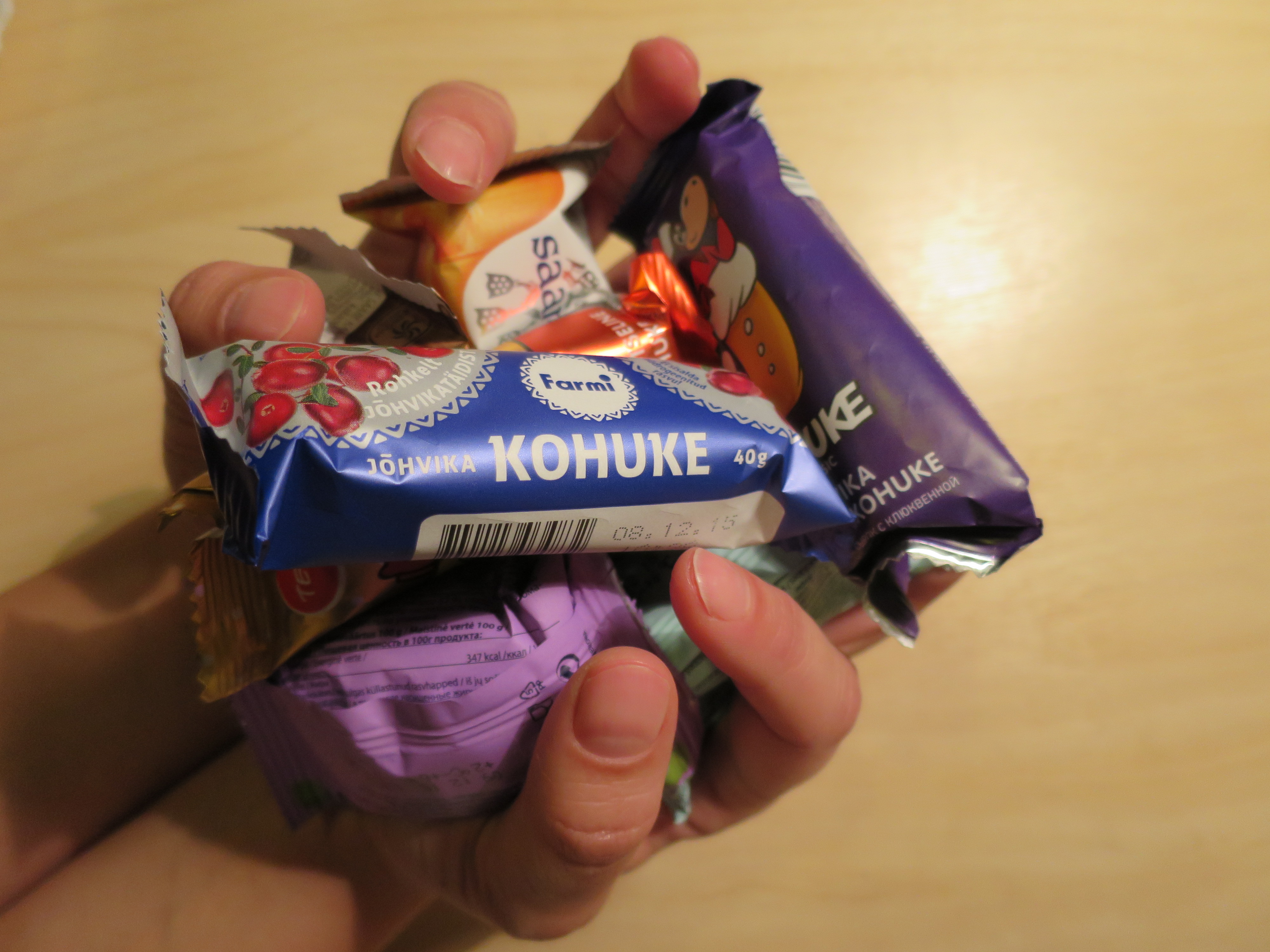 Photo credit: Liine Toomse
There are many wondrous and strange Estonian foods out there. Many of them you can hunt down in restaurants like Pööbel. There are fun things like kama, sprat, herring, potato-salad, tongue, blood sausages, and meat jelly – all of which sound a little dodgy but to Estonians remind their grandmothers and an old-school birthday party. But the one thing we can't do without is milk. (If you are lactose-intolerant then proceed no further!)
Estonia has a thing about dairy products. In most grocery stores there is one wall of fridges dedicated to various milks, yogurts, cheese, and curd-based things. Out of all those things kohuke is perhaps the most unique and loved product. Kohuke is basically a sweetened bar of curd glazed with chocolate, or caramel. There are many flavours available from vanilla to chocolate, some have jam inside while others have pieces of berries or chocolate chips – mhmmmm. Children love it and so do grownups. It's small, it's sweet, and somehow eating it makes the day seem a little brighter. What's not to like?!
Did we miss anything? What do you think makes Estonia strange? Write us a comment!
Cover picture credit: Epp Jerlei