Tallinn, the capital of Estonia is a unique mixture of cool Nordic atmosphere and post-Soviet weirdness. The city has thousands of years of history still visible and livable in the old town, yet around the corner you can find innovative start-ups and design. There is quite a lot to do, see, eat and buy in Tallinn. The Old Town is of course an essential and the more days you have here, the further out you should travel and explore. Surely, this is not a complete list of everything in the city, but it is a great start if you have limited time. To get to know more about the basics of Tallinn, read this blog post. 
The Old Town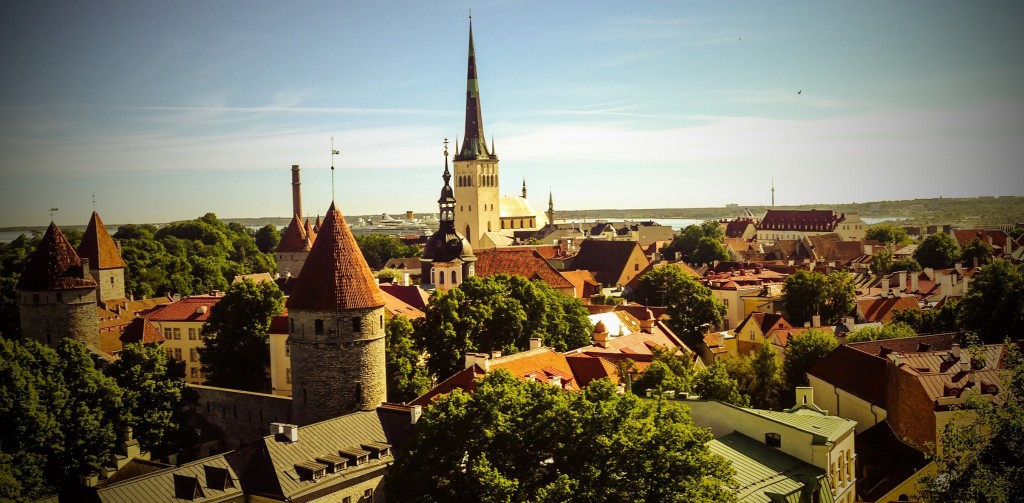 Photo credit: Mike Beales
The main highlight of Tallinn is of course the Old Town. The old town is what makes Tallinn stand out next to Scandinavian capitals – the medieval merchants' houses, guilds, churches and streets are very well preserved and considered a hidden gem of North-Eastern Europe. Houses here casually date to around 500 years ago and the cobble stones may be uncomfortable, but they look lovely. Take a walk and get lost in the winding streets of the Old Town and make sure to climb up Toompea hill to see lovely views of the city.
Things to see and do in Tallinn Old Town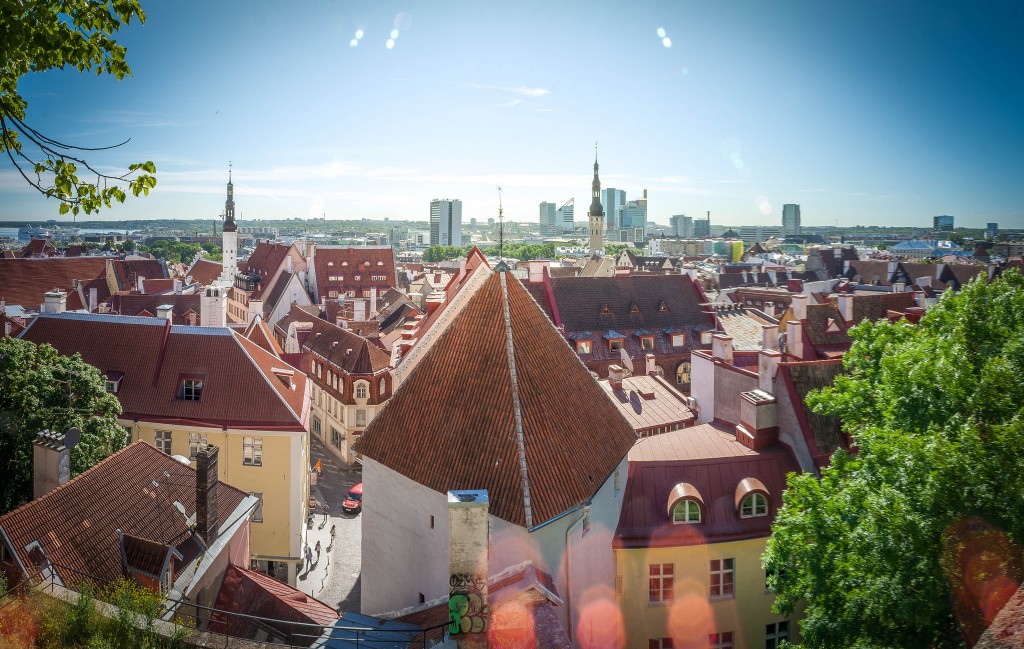 Photo credit: Mike Beales
The Old Town hides little view platforms and hidden gems as well as museums, cafes and restaurants to pass time.
The main streets of the Old Town are Viru street and Pikk street. To hide away from the crowds on the main streets, go and explore the city wall on Müürivahe and Laboratooriumi streets. The best hidden secret path is actually around the old town right beside the wall of Toompea hill. You can also climb on the wall at the Danish King's garden.
Climb to the spire of St. Olaf's church on Pikk street for a great view of the city. This is undoubtedly the best place to see the cityscape of Tallinn, but it comes with a cardio exercise and a 2-euro ticket.
Go political on the Toompea hill – see the Parliament building and the Government building alongside many embassies and other institutions. Marvel at the Alexander Nevsky Cathedral and the oldest church of Estonia – the Dome Church. Admire Tallinn from Patkuli and Kohtu viewpoints or the not-so-well-known Pilsticker platform. If you are in Tallinn for more than a day, go here after 5 pm, then the cruise ships have left and you do not need to shuffle through loads of people to get to the sights.
The History Museum of Estonia is a great place to learn about the different eras of Estonian history. If you are not willing to spend a day in a museum, then right next to the History Museum there is a street called Börsi passage – we have written down most of the things to have happened in Estonia right on that street for easy access.
Bastion Passages museum gives you a unique underground look at Tallinn's development over hundreds of years. The museum is very popular so the groups get rather full during summers. This means you must book at least a day in advance to get a spot.
The Town Hall Pharmacy was first mentioned in writing in 1422, making this one of the oldest continuously working pharmacies in Europe. The pharmacy still sells band aids and aspirin, but it also serves as a museum of medieval weirdness (things used to be creepy). The museum is free and it really makes you appreciate modern medicine.
The Puppet Museum lets you learn about the history of puppetry, make your own puppets and enjoy other fun activities. It's a great place to go to with kids.
Museum of Occupations slightly out of the Old Town gives a concise overview of the tough history of the small country in the 20th century.
The Art Hall on the border of the Old Town on the Freedom Square is a contemporary art museum with both local and foreign artists.
Where to eat and drink in the Old Town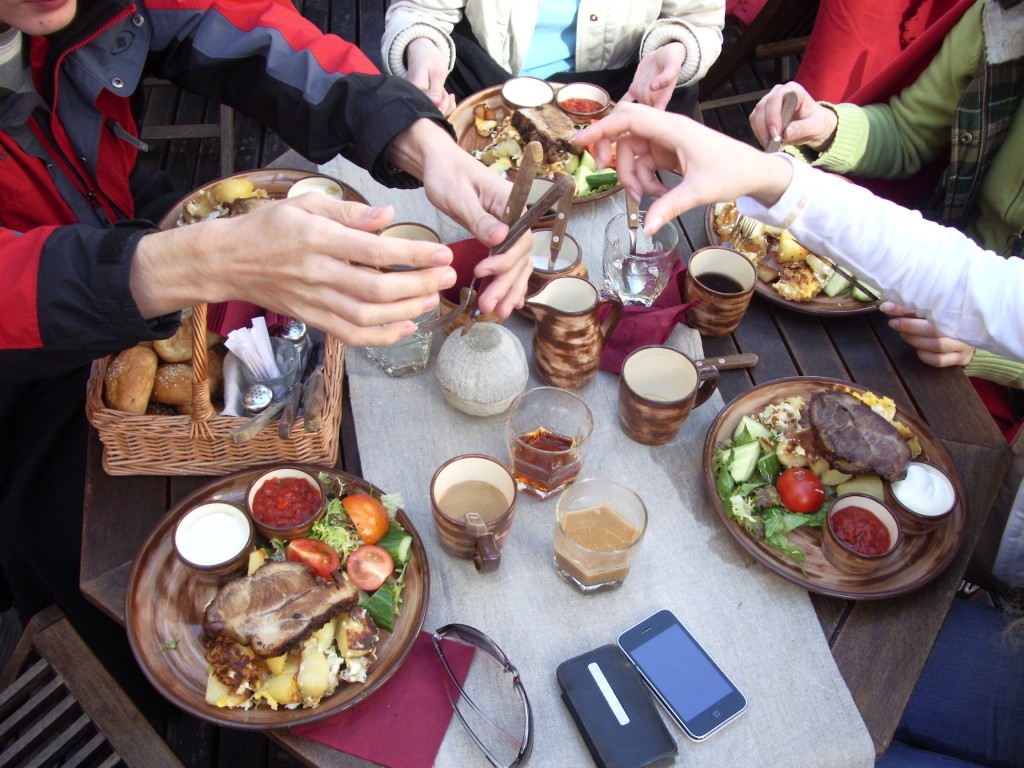 Photo credit: Mikhail Petrov
Originally, food in Estonia was not meant to be tasty, it was meant to make you not die. Food was something you needed to survive the winter with, everything beside that point was secondary and not that much focused on. Traditional Estonian food is simple – potatoes, different types of meat or fish, rye bread. Local cuisine is mostly a mixture of Slavic and Germanic cuisines. The history of Estonian food however does not mean it cannot be made delicious.
Aed is a great place for traditional Estonian food with a modern touch. Aed in Estonian means "The Garden" indicating there is a lot of organic and healthy stuff.
Põrgu is a pub that focuses on bizarre and rare Estonian beers you cannot find anywhere else. It is the best place for craft beer fans with a small but delicious choice of foods (big portions!).
V gets a mention as it is an entirely vegan restaurant which is a rare sight in Estonia.
Rataskaevu 16 has the best chocolate cake in Tallinn, possibly Estonia or even the Northern hemisphere.
Leib Resto ja Aed serves high quality Estonian food made of locally sourced ingredients with a focus on authentic and seasonal cooking.
Frank is mostly a bar but their food is also lovely. The place is pretty much full throughout the weekend, so you do need a bit of luck to get a seat. The barmen take pride in making excellent juleps here!
Sinilind is a cafe by day and transforms into a bar/nightclub/something by nightfall. Their lunch menus are always lovely, and the parties at weekends are always packed. Keep track of their event schedule.
Pööbel is slightly out of the Old Town but worth finding because it serves tasty authentic Estonian dishes for reasonable prices along with an impressive list of beers from Estonia and abroad.
What to buy in the Old Town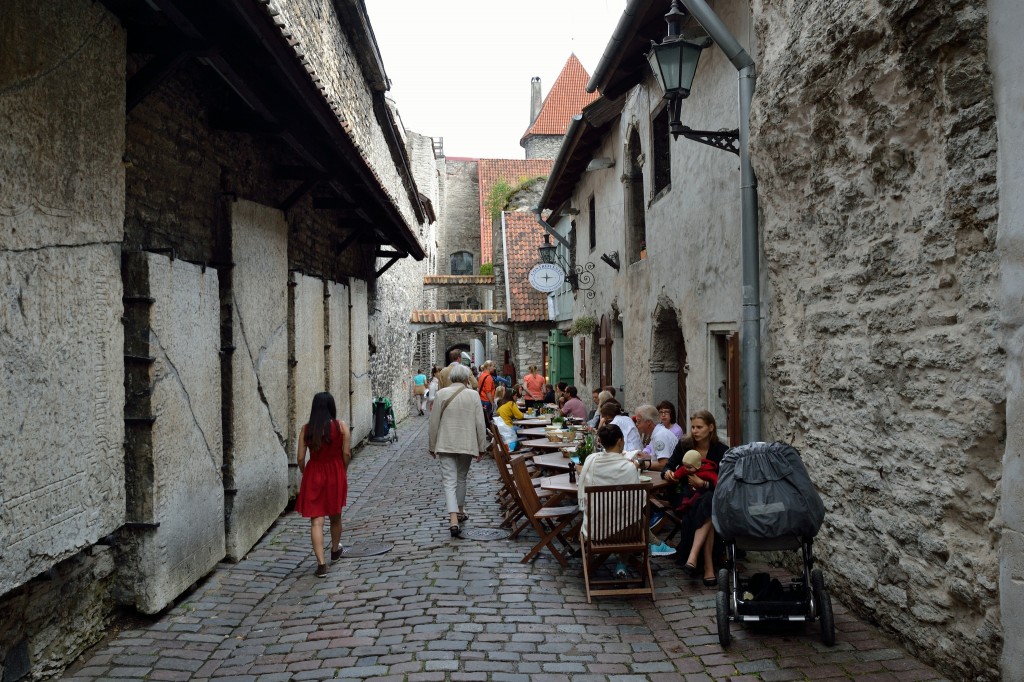 Photo credit: Cha già José
See how it's made! Go to the artisan streets of Saint Catherine's Passage, Masters' Courtyard (psst… Pierre Chocolaterie on the courtyard has excellent hot chocolate!) and Lühike Jalg where you can see handicrafts being made by local craftsmen. From blowing glass to painting porcelain, it is great to actually see someone make the memory you will take home with you.
Good quality handicrafts and souvenirs can also be found in Eesti Esindus in Viru street and Eesti Käsitöö on Pikk street.
Right next to the parliament building in Toompea there is a store called Parliament Shop – you can get flags, books and other cool things related to Estonia there.
Tali is an up and rising designer who is becoming a household name among design-savvy Estonians. Tali runs a smaller store in the Old Town and a bigger one in the Kalamaja district (keep reading, you will know more about the awesome Kalamaja district). The shop is right by the Town Hall Square on the small Voorimehe street.
Nu Nordik is a design shop located on the Freedom Square. As the name suggests, they sell Nordic design items made by young local talents. This is a great place for unique souvenirs.
If you want to get a local perspective, hear about the history and everyday lives of Tallinn locals in more depth, join this Old Town Walking Tour or one of the Best of Tallinn shore excursions.
For a different eerie side of the Old Town, take the Tallinn Ghost Tour and hear the legends and stories that have developed in Tallinn over time.
Kadriorg district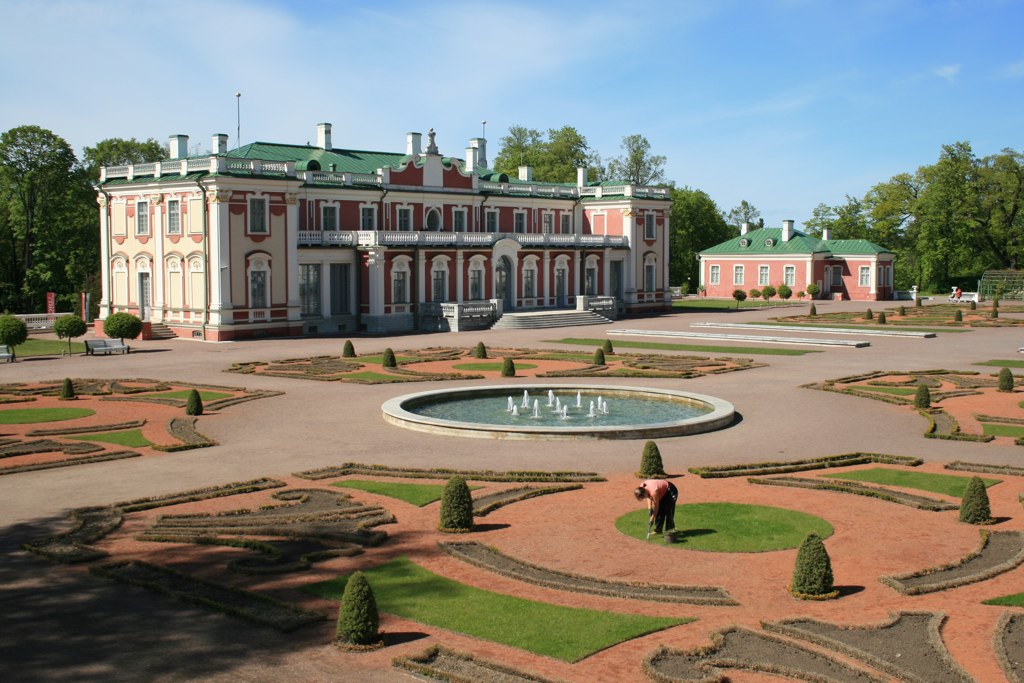 Photo credit: Igor Polyakov
Just out of the Old Town, the Kadriorg area with its greenery and secludedness is a favourite among locals and travellers alike for spending a day at a park or exploring art museums. The park area was purposely built and developed in the 1700s and quickly became a favourite among Russian elite. With industrialization and building railroads all around the Tsarist Russian empire in the end of the 19th century the elite started going to the Black Sea and the locals started coming to this area. Nowadays it is one of the most prestigious areas of the city with many museums as well as the president's palace and the Song Festival Grounds. For more info about this area, read this blog post.
The park is either a 30-minute walk from the Old Town or ten minutes by tram no 1 or 3 – head towards Kadriorg and get off at the last stop.
Things to see and do in Kadriorg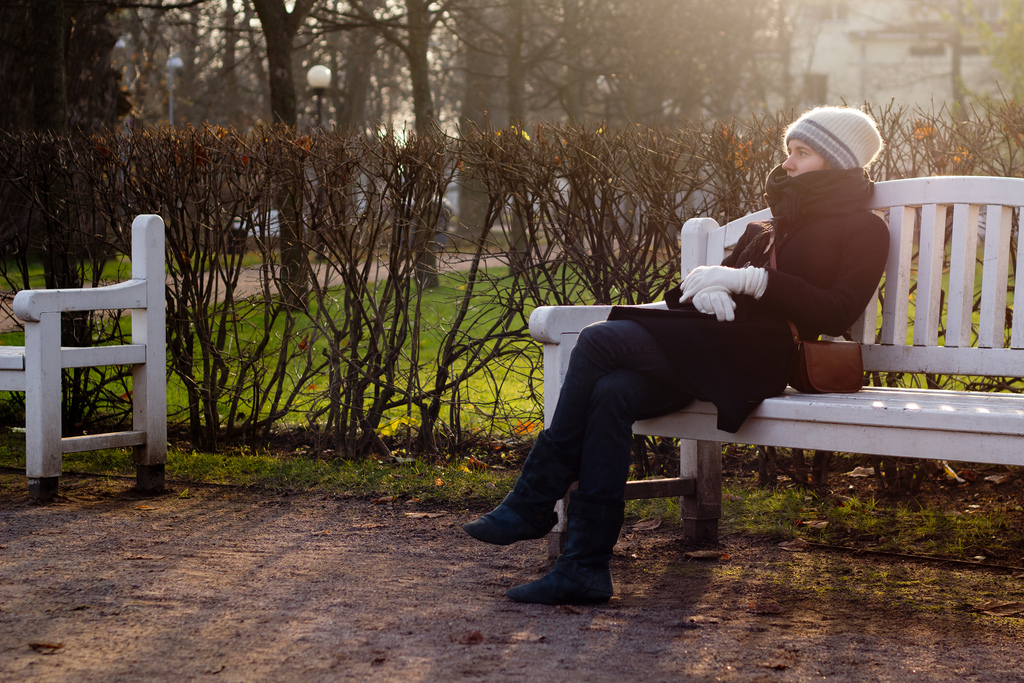 Photo credit: kosmoseleevike
The Swan Lake at the start of Kadriorg Park is a lovely place for a picnic. On some summer nights, there are outdoor concerts here, too.
The Kadriorg Palace is a great example of baroque architecture and also serves as a Museum of Foreign Art. Take a walk in the beautiful French-style garden of the palace where local couples often shoot wedding photos. If you go during summer, chances are you will see someone in a wedding dress.
Presidential Palace uphill from the Kadriorg palace is quite modest with just two guards. Check it out, you might see the president! Hint: Just don't step on the stairs, I'm serious, the guards will definitely not like that.
Kumu – the Art Museum of Estonia has five floors dedicated to different eras of Estonian and foreign art with temporary exhibitions from all over the world.
The Song Festival Grounds are the heart of Estonian culture. If you have the opportunity, you should come to Tallinn during a national Song Festival – there are around 30 000 people singing traditional Estonian songs in one choir, the event only happens once every five years. The Song Festival Grounds were also a focal point of the Estonian Singing Revolution that happened in the end of the 80s and lead to Estonia's independence from the Soviet Union.
To see this area along with other main highlights of the city, take this Best of Tallinn car tour or the Best of Tallinn bike tour.
Where to eat in Kadriorg
Katharinenthal on the corner of the Swan Lake in the Kadriorg park is an excellent place for a lunch or a snack while promenading around the park itself.
NOP is an eco-friendly shop and cafe with food from both local eco-farms and international options.
Kalamaja district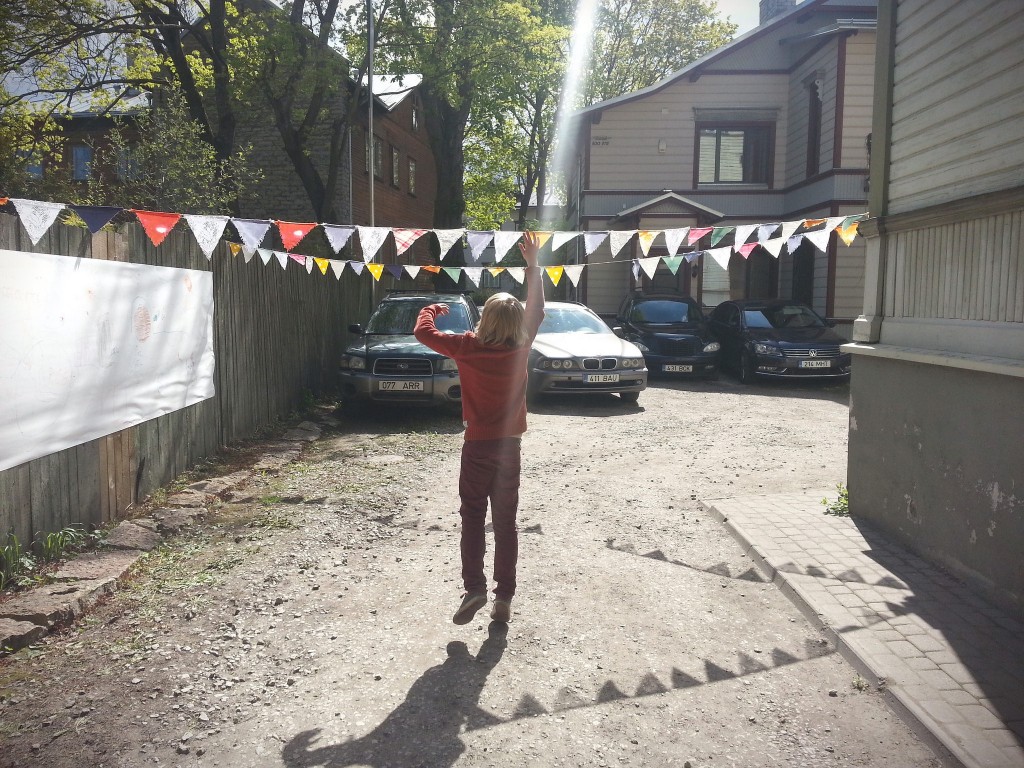 Photo credit:jetteff
Kalamaja is Tallinn's version of Williamsburg. It's trendy, it's bohemian, it's artsy and the real estate prices are through the roof. It is a great place to visit as it is only a 10-minute walk from the Old Town. The cute wooden houses of the area look like they have jumped out of a cartoon. Kalamaja is the best place in Tallinn to fill your instagram feed with abandoned buildings and street art. For more info about the area, read this blog post.

Things to see and do in Kalamaja
Wander around in the area to see lovely wooden architecture. The area is still developing so you can find well restored and new buildings just next to old, crumbling, slightly fire-damaged ones. It is quite a contrast.
EKKM – the Contemporary Art Museum of Estonia is not only known for art exhibitions but also for outdoor parties with great music and awesome atmosphere – check out PADA event schedule.
The rooftop of Linnahall is a popular place to climb up with a bottle of wine and see the sunrise or sunset over the sea and Tallinn. Keep in mind the sun sets around 10-11 pm and comes back up around 4-5 am here.
Seaplane Harbour is a maritime museum with loads of ships, a submarine to climb into and other seafaring-related equipment.
Patarei prison is Estonia's very own Alcatraz, as of now you can only get in with a pre-booked tour (hint: you can book the tour at any hostel of Tallinn). This place is uniquely creepy because we here in Estonia aren't huge fans of safety rules, so we have left the rusting barbed wire just lying around and it is your responsibility to watch your step.
To see the Kalamaja area and other main highlights of the city, take this Best of Tallinn car tour.

Where to eat and drink in Kalamaja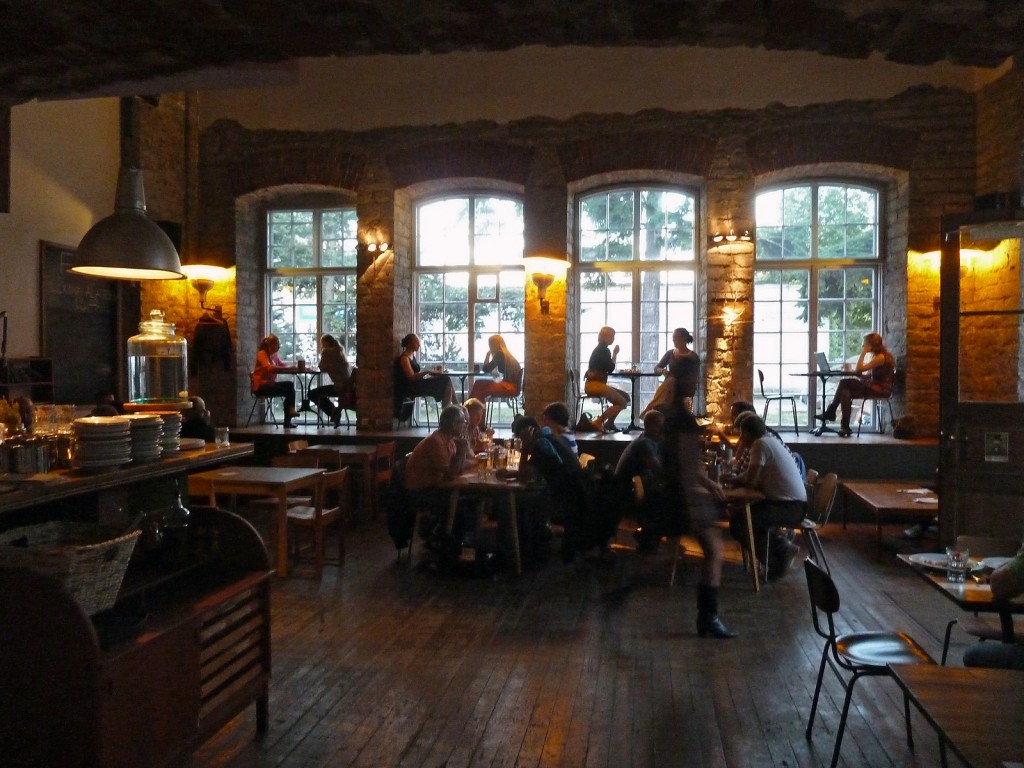 Photo credit: Brandungslücken
Telliskivi Creative City is the place to go to for bars and great dinners during summer. This place has all sorts of foods from local to international cuisine along with numerous bars. Kukeke and F-hoone offer more local dishes but right beside these there are also Indian, French and international cuisine restaurants. Telliskivi is also a great place to come for drinks during summer weekends.
Burger Box on the way to Telliskivi near the train station market is a great place to grab a quick burger for lunch. Right next to this place you can find a bar called Speakeasy by Põhjala which sells local craft beer.
For adventurers, the Three Lions offers a sight only available in the post-Soviet world. This is a small down to earth bar which has become sort of a cult site for Finnish tourists due to its weirdness. I cannot describe it, you have to see it for yourself. If this however deems too scary or just not your style, then around the corner from the Three Lions is Tiks – a chilled-out and cozy hipster wine place.
Grab some fresh pastry from Kalamaja Bakery if you happen to be in the area and don't want to spend time or money in a restaurant.

Sesoon also offers great seasonal foods.
What to buy in Kalamaja
Tali is one of the many rising talents of Estonian design – check out their main store near the train station. This place is excellent for slightly eccentric souvenirs and interior design elements.
Balti Jaam train station market is a great place for Soviet treasure hunters! This place sells the regular fruit and vegetables as well as weird stuff still left from decades ago. The market is currently under construction (summer of 2016) but there is a temporary market where the Soviet stuff is still available. Estonians do not bargain, therefore it is advisable to not try to do so.
Telliskivi Creative city also has a ton of different Estonian design and handicraft shops where you can find unique memorabilia and beautiful souvenirs.
Estonian Design House right out of the old town next to the Linnahall building is an excellent place to see young Estonian designers' work.
Rotermann Quarter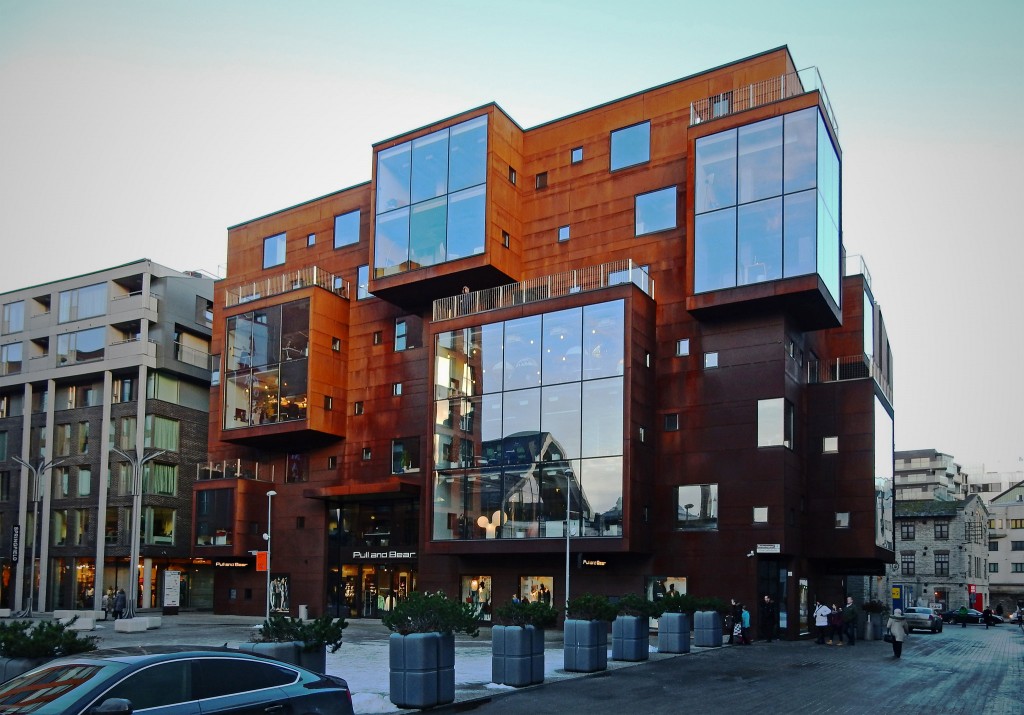 Photo credit: Kirsi L-M
Rotermann Quarter is another area in the city center. This place is unique due to its architecture: 19th century factory buildings are being swallowed by contemporary design. The area was an empty industrial eyesore in the 90s and is now being rebuilt into a mixture of old and new – if you are a fan of architecture, you will find this place entrancing!
Carmen Cafe in the Rotermann area serves delicious breakfast!
Restaurant Platz has contemporary cuisine with different degrees of playfulness. This is a lovely place for dinner.
Kalev is the biggest candy producer in the country and Kalev Chocolate store in Rotermann area has a wide selection of chocolate goodness to bring back home (hint: white chocolate with blueberries! It is so good you will want to come back to Estonia just for this).
Pirita area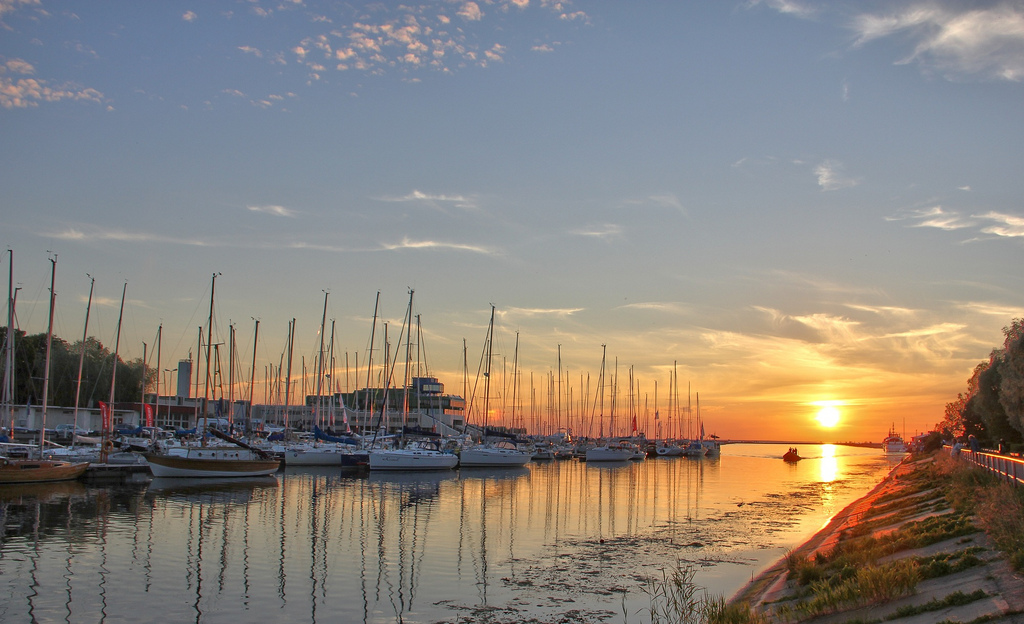 Photo credit: Valdek Laur
Pirita is the most popular beach area. Even though you might not expect it, the Baltic sea is fairly warm during summer months with temperatures up to 20-25C. So you can actually go swimming! The Pirita beach is the most popular beach of Tallinn with kilometers of white sand. The beach is crowded by Estonian standards but it is still an enjoyable place to go to if you want to have a refreshing swim. To get there take buses no 1A, 8, 34A or 38 from Viru Center to the "Pirita" stop, it is a 20-minute bus ride.
Things to see and do in Pirita
The area was rebuilt for the 1980 Moscow Olympics as Tallinn had the honor of hosting the regatta. Check out what is left of the Olympic village along with the giant concrete Pirita Spa hotel.
The Pirita Convent has seen many different eras during its over-500-year existence. The monastery was pillaged in the 16th century and the ruins were only renovated for the 1980 Moscow Olympics. The ruins of the monastery are now used as a concert venue.
Climb, jump, exercise at the Pirita Adventure Park. The park has six different tracks with ranging difficulties, there are also activities for children. The adventure park is only open during summers.
Further down from the Pirita area you can also find the Television Tower. The structure itself is over 300 meters tall and you can get up to 170 meter level. The small area with a glass floor itself is worth stepping on, so is seeing the view of Tallinn from afar. The TV tower also played a big role in the Estonian Singing Revolution that ended with gaining independence from the Soviet Union. The museum explains what happened here really well. Take buses 34A or 38 from Viru bus terminal or from Pirita to "Teletorn".
To see the Pirita area, the Old Town and other main highlights of the city, take this Best of Tallinn car tour.

Rocca Al Mare area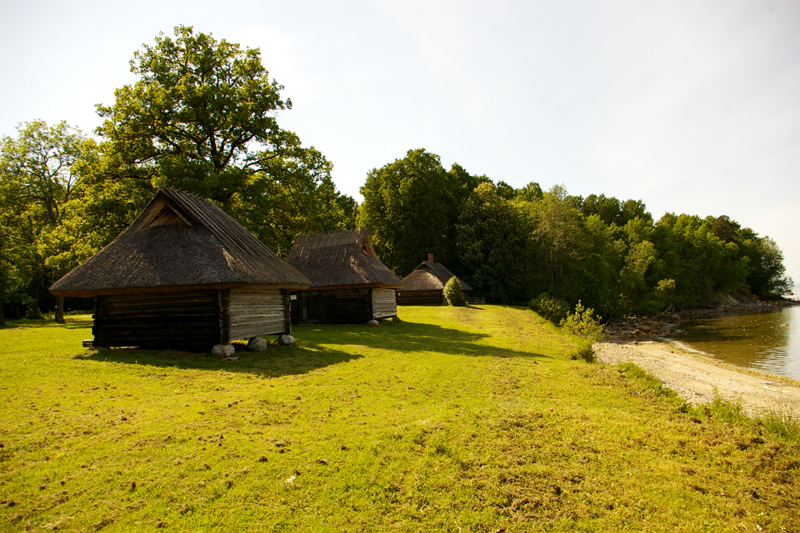 Photo credit: Priit Tammets
The Tallinn Zoo and Open Air Museum are located in the Rocca Al Mare area.
Frankly, the Tallinn Zoo is like any regular zoo. They are trying their best to update the living conditions and make the animals as comfortable as possible, but some cages are still sadly Soviet-looking, so they need the visitors to gain the funds to get things up to date! To get there take bus no 21 or 21b from Balti Jaam to "Zoo", it is a 20-minute bus ride.
The Open Air Museum is a large area full of different Estonian farm houses that were brought here from all over the country. This place gives you a really good overview of the rural way of life from different time periods and different places all over Estonia. You should also try the Estonian village swing while here. To get there take bus 21 or 21b from Balti Jaam to "Vabaõhumuuseum".
Day trips from Tallinn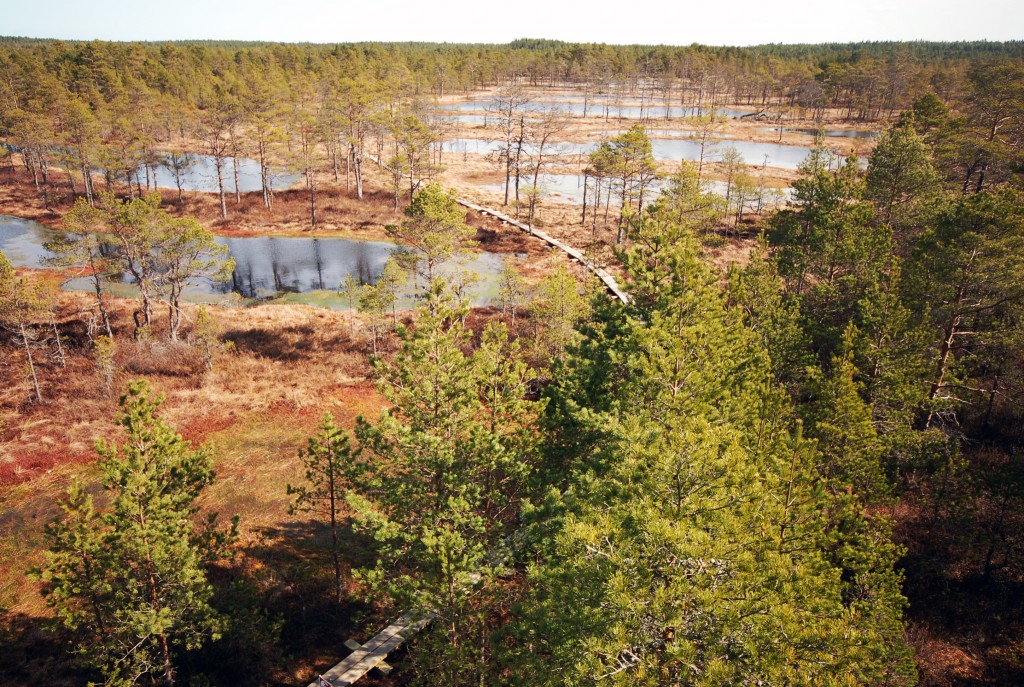 Photo credit: Ann Vaida
If you are in Tallinn for longer than just one day it is definitely worth spending a day in the countryside to see another side of Estonia. The towns of Tartu, Pärnu, Haapsalu and Viljandi are worth a visit on their own, but there are also smaller less-known towns and villages all over the country that deserve exploring. Usually people also go to different close-by capitals for a day or two. For ideas of day trips from Tallinn, read this blog post.
Lahemaa National Park is the oldest and most popular national park in Estonia with beautiful nature, coastal culture and the like. Time moves at a different pace in the forests and bogs of this area. Getting there is possible with public transport, but it is very difficult – buses run twice a day and keeping in mind the area is a lot larger than Tallinn you can't really see much that way. To get the most out of this park, take a guided tour – the local guides know all the hidden places there and give you a personal, fun and educational overview of the nature, culture and the local way of life in the area while covering the most important sites around the entire park. The salmon lunch itself makes this tour worthwhile.
Estonia is full of Soviet ruins, run-down military bases and former restricted towns. You can find a lot of Soviet stuff in the northeastern part of Estonia, best discovered on this Narva & Eastern Bloc day trip. For something closer by check out the Coastal Cliffs & Soviet Paldiski day trip to see some military bases and a flooded prison quarry. Finding these places on your own is nearly impossible as well… they are military bases – they are meant to be hidden so it is best to let a local expert take you on these small forest roads as they know where to make the correct turns.
Nearby capitals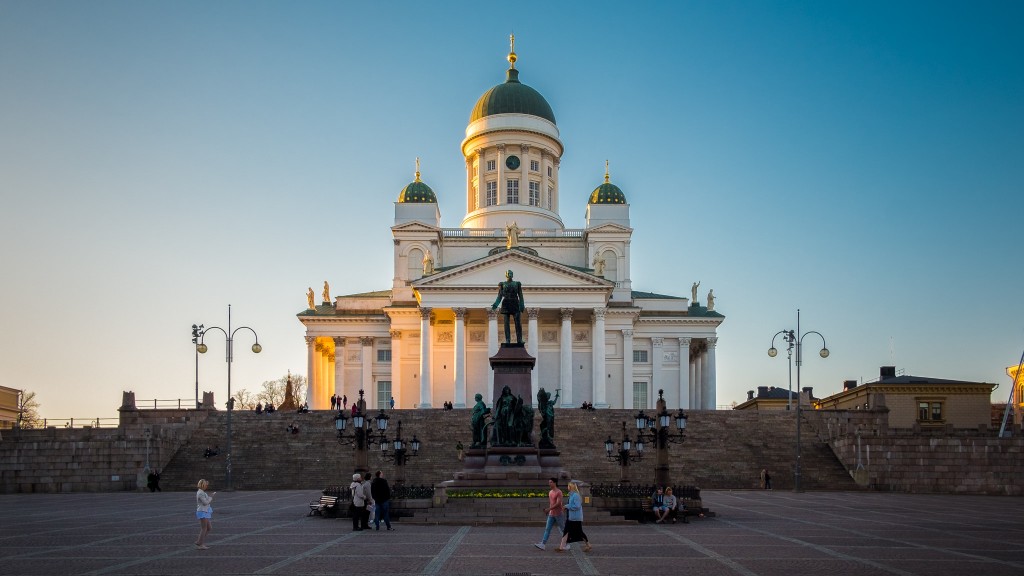 Photo credit: Giuseppe Milo
Helsinki is just a 2-hour ferry ride away and an excellent place to spend a day at. You can book ferry tickets at laevapiletid.ee and check out ideas for the Finnish capital at Like a Local Guide.
Riga, Latvia is another close-by capital worth visiting. It is a 5-hour bus ride away but another option would be to take a full day trip through Estonian and Latvian small towns, villages and nature before making it to Riga itself. This sightseeing minivan tour takes a different and more interesting route and the tour guides are all local enthusiasts. Find out what to do once you get there in this travel guide.
Featured image credit: Tatyana A.
Read more about Tallinn and Estonia:
What museums to visit in Tallinn
Estonian Kitchen: 5 Estonian Dishes You Probably Didn't Think of Trying
Top 10 Unique Places to Visit in Estonia
Top 9 Coolest Abandoned Places in Estonia
This post definitely doesn't cover everything you can do in Tallinn, so if you have any ideas of what else there is to discover, write a comment!