The amounts of people who stop in Tallinn to admire the city for a few hours is huge. The cruise port of Tallinn is one of the busiest of Europe during summertime and a busy cruise port of course equals being extremely touristy. You can probably feed everyone in Tallinn with sweet almonds given out on street corners of the Old Town, fill warehouses with the postcards sold next to every church and build an amber mansion reaching skies from the amber found in every souvenir shop you'll hop into. So how do you navigate between all of this?
Lets figure what isn't Estonian first
Since we are abundant with tourists buying things during high season, we sell random stuff because people like them. The Jurassic Park style insects inside of millions of years old fossilized tree resin is fascinating but the yellow stone so conveniently called "Baltic Amber" isn't really Estonian to be honest. That's why we call it Baltic – because we mostly get it from Latvia and Lithuania. The Russian nesting dolls that go into each other (matryoshkas) are fun, therefore sellable, however not Estonian at all.
Estonian souvenirs have to apply at least one of these seven rules:
1. It's possible to survive a -20 Celsius winter with it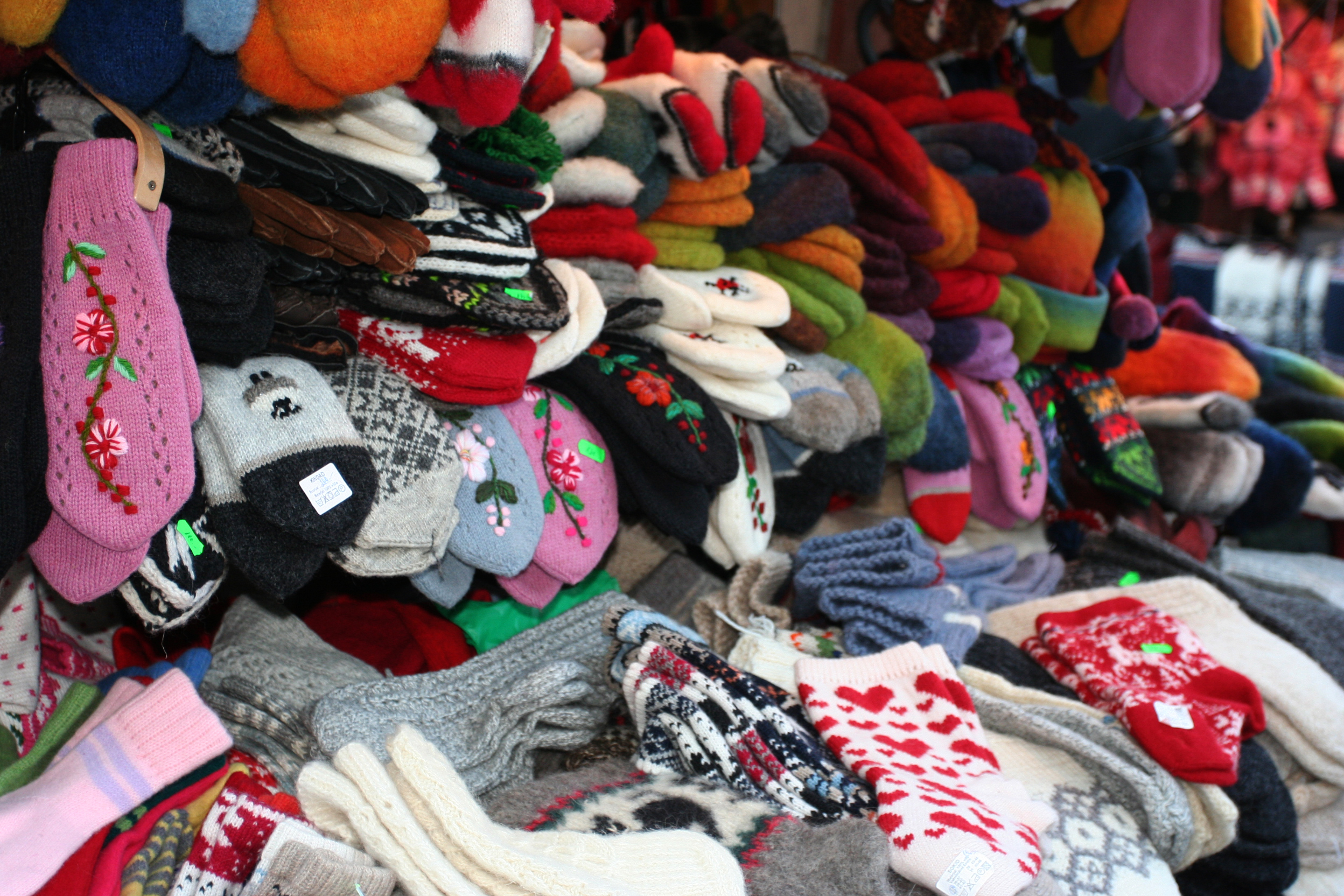 Image credit: Kärt Kübarsepp courtesy of Visit Tallinn
An Estonian winter is tough. The Estonians who don't hibernate (there are serious thoughts of teaching hibernation-skills in middle school) have their own ways of surviving the winter – either start drinking or live in a sauna – we tend to try to do both at the same time for maximum efficiency.
For the ones who still sadly have to go to the outdoor-land (the poor sobs who still don't work via Skype at home), to survive extreme colds every Estonian has a grandma who makes mittens, scarfs and hats.
A traditional Estonian piece of clothing is therefore woolen, knitted and packed with interesting patterns ranging from flowers to reindeer motifs and beautiful traditional Estonian patterns that have been in use for centuries.
You can find beautiful handicraft sweaters, mittens and socks as long as you try hard enough. There are quite a bit of shops on Pikk street, find the sign that says "Eesti Käsitöö" for authentic stuff. You can also try "Eesti Esindus" on Viru steet for different handicrafts.
2. It is simple and reserved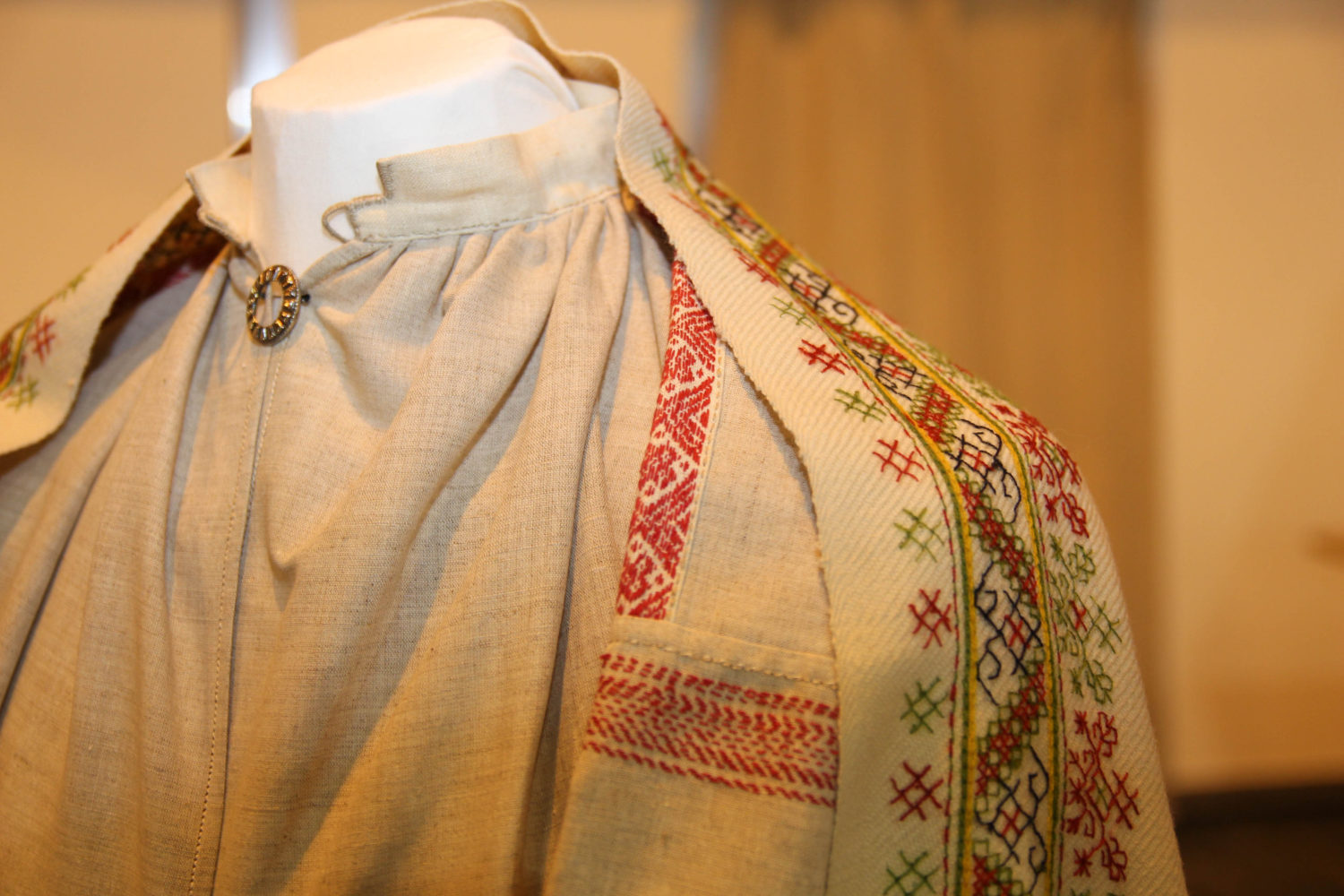 Estonians for some reason love linen. It's simple and reserved (read: gray and dull) like the Estonian peasants used to be. Linen was the unavoidable protest against the lavishness of the nobility, since there just were no other options for the simple folks. Nowadays it plays a huge role in the traditional Estonian clothing. We make everything from it – you can find a lot of uncomfortable hats, pants and shirts. Exactly like the peasants liked it!
So once again, Pikk street with "Eesti Käsitöö" will help you out, there are also shops specifically focusing on linen around Pikk street.
3. It's juniper
Junipers, junipers – they are small and cute, smell amazing, their name sounds funny and adorable in Estonian (try saying "kadakas" a few times without laughing from the cuteness). Even though we don't have that many juniper trees central Estonia, there's plenty on the islands and coastal areas. We use the berries as spices and tell ourselves they are healthy, therefore should be eaten regardless of the terrible taste.
Besides that we constantly try to cut them down to make spoons, table-mats and other kitchen equipment, but they just keep on growing back. Your kitchen will smell excellent after putting a hot pot on a juniper trivet!
There is a really cute and small shop in the Master's Courtyard that is focused on woodcraft. The shop is called "Puu ja Putuka Pood" which translates to "Wood and Bug Shop" – cute!
4. It was made right in front of you
Handicrafts – the beauty of it is it's all different and mostly pointless (read: decorative) . Tallinn's Old Town is filled with little secret gardens, pathways and unnoticeable streets where craftsmen spend their hours blowing glass, making pottery or hats, knitwear or almost whatever your mind can come up with. Keep your eyes open and find some of Tallinn's masters showing their craft.
Find Katariina käik and Meistrite hoov amazing handicrafts. Just hop into small cellars and little workshops to see what are they making. You can ask the artists questions and leave with a beautiful piece. The price doesn't really differ from the things just sold in shops as well.
5. It's made by Kalev
Image credit: Kalev
Kalev is the biggest candy and chocolate maker of Estonia. Even though the company was bought by Norwegian conglomerate a few years ago the chocolate remained the same (except for the packaging – only try to mention the packaging to an Estonian and they'll go into a furious ramble about simpler times!).
Kalev, at one point, was also the only company in the whole Soviet Union that made bubble gum (but only white bubble gum, colored gum was considered a capitalist item, obviously).
Nowadays Kalev is loved by young and old, their candies and chocolates come in different sizes, shapes and tastes.
You can find the chocolate in most souvenir stores, but it's definitely cheaper in normal grocery shops. If a shop doesn't have Kalev, that shop shouldn't exist in the first place. Definitely try Kalev's white chocolate with blueberries – it's heaven!
6. It's called Vana Tallinn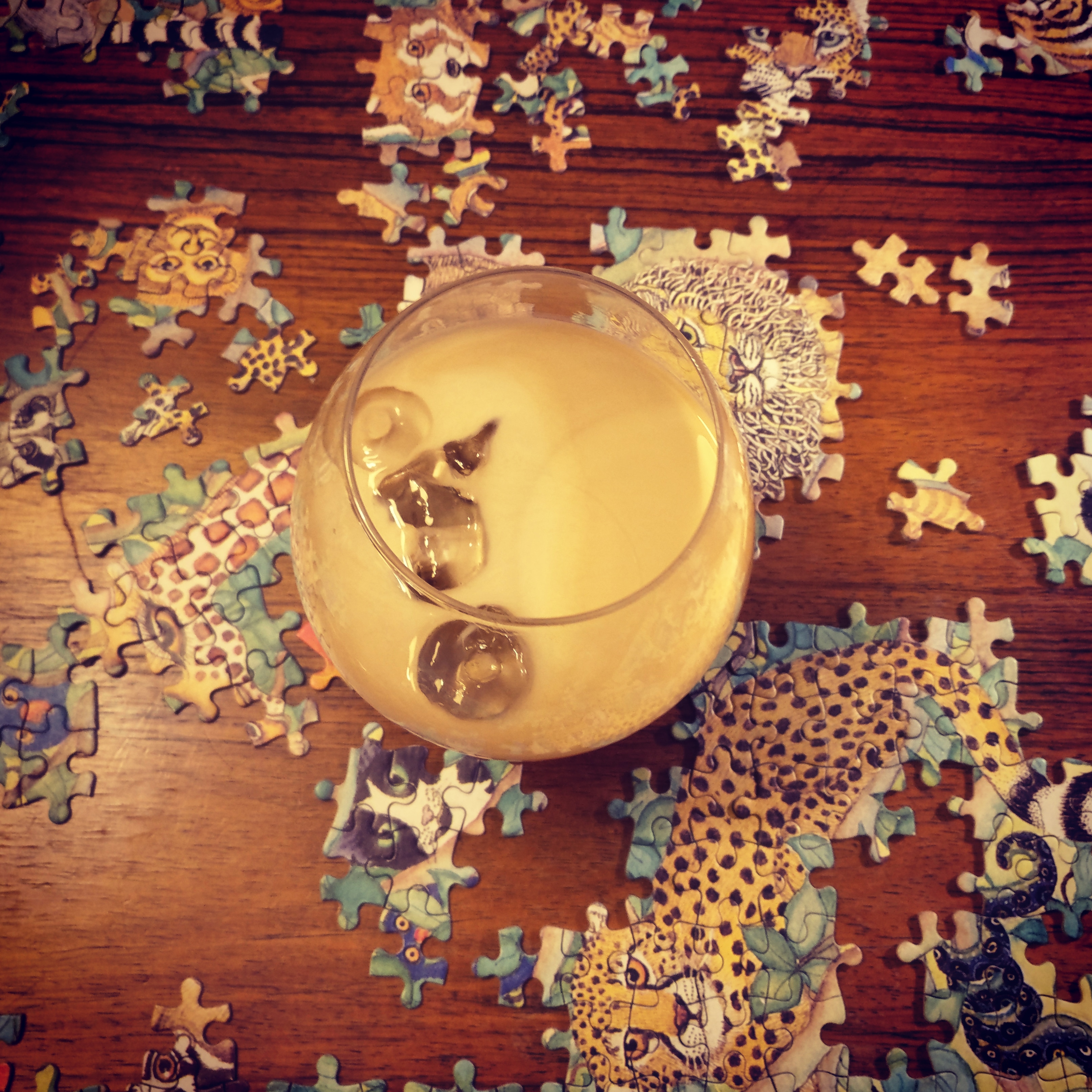 Image credit: liinetx
Even though the name indicates centuries of tradition (Vana Tallinn is Estonian for Old Tallinn) we started making Vana Tallinn only half a century ago in 1960.
During the Soviet times, Vana Tallinn was a celebratory drink, for some reason mostly enjoyed together with champagne. This genius mix (read: bad idea) was called "Hammer and sickle", because that's what it does, hits you on the head and sweeps you off your feet.
Vana Tallinn has tens of different spices, you can put it into tea, coffee or anything your mind comes up with and enjoy! There are many different versions varying mainly in alcohol content from 40% to 50%. There are also some special editions and a cream liqueur version available.
Nowadays this sweet liqueur has become the drink we take with us if we visit friends in other countries. Finding it is pretty easy: it's in every shop you go to. Souvenir stores have them but the prices are more reasonable in a food or an alcohol store. Keep in mind you can buy alcohol from 10AM-10PM, so do your shopping in that time frame.
The most known Estonian drink has its own website: Vana Tallinn
7. It's weird and soviet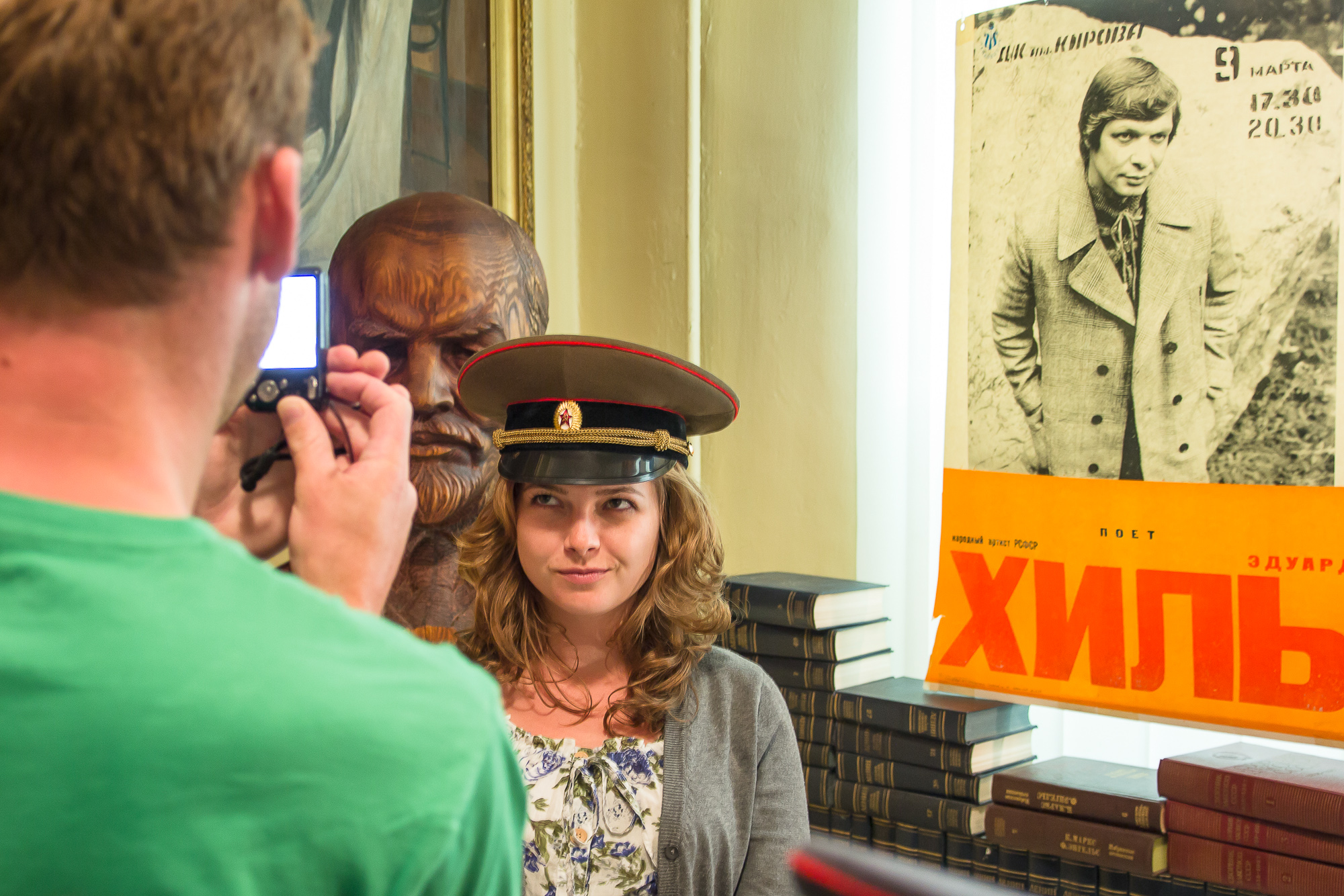 Image credit: Kalev Külaase
For those looking for something different and odd – visit the Balti Jaam train station flee market. This is our Diagon Alley. If there's something you need – you can find it there!
From normal fruit and vegetables, clothes and shoes to old Soviet memorabilia and weird rusty tools and generally pointless things with indeterminable uses, it's here.
Keep in mind haggling is not common in Estonia and the shopkeepers usually aren't fluent English speakers as well.
The market is open every day 10-19, but the people with the awesome crazy things usually leave a bit earlier. Get there before 4PM just to be sure and follow the signs to the second floor and look for "Antiik" ("Antiques" but it's still mostly Soviet stuff just that "antiques" makes it sound a bit more legit). Don't be put off by the modern look of the market. Balti Jaam has gone through a little pit of a face lift but you can't root out all the strangeness. Some dodgy stalls with no telling what they sell still persist behind the new looking market. Check them out!
Hopefully this will sway you away from the amber and magnets and help you find real Estonian things. Good luck!
For a complete guide of what to do and see in Tallinn read this post.
Cover photo courtesy of Visit Tallinn