Tallinn's Old Town, a true gem nestled in the heart of Estonia's capital city, stands as a living testament to the country's rich history and vibrant culture.
Founded in the 13th century, this UNESCO World Heritage-listed Old Town, with its remarkably well-preserved medieval merchants' houses, guilds, churches, and winding cobblestone streets, offers visitors a captivating journey through time. It's a hidden treasure of North-Eastern Europe, inviting guests to step back in time and experience the enchanting blend of history and modernity that defines Estonia's capital.
Things to see and do in Tallinn Old Town: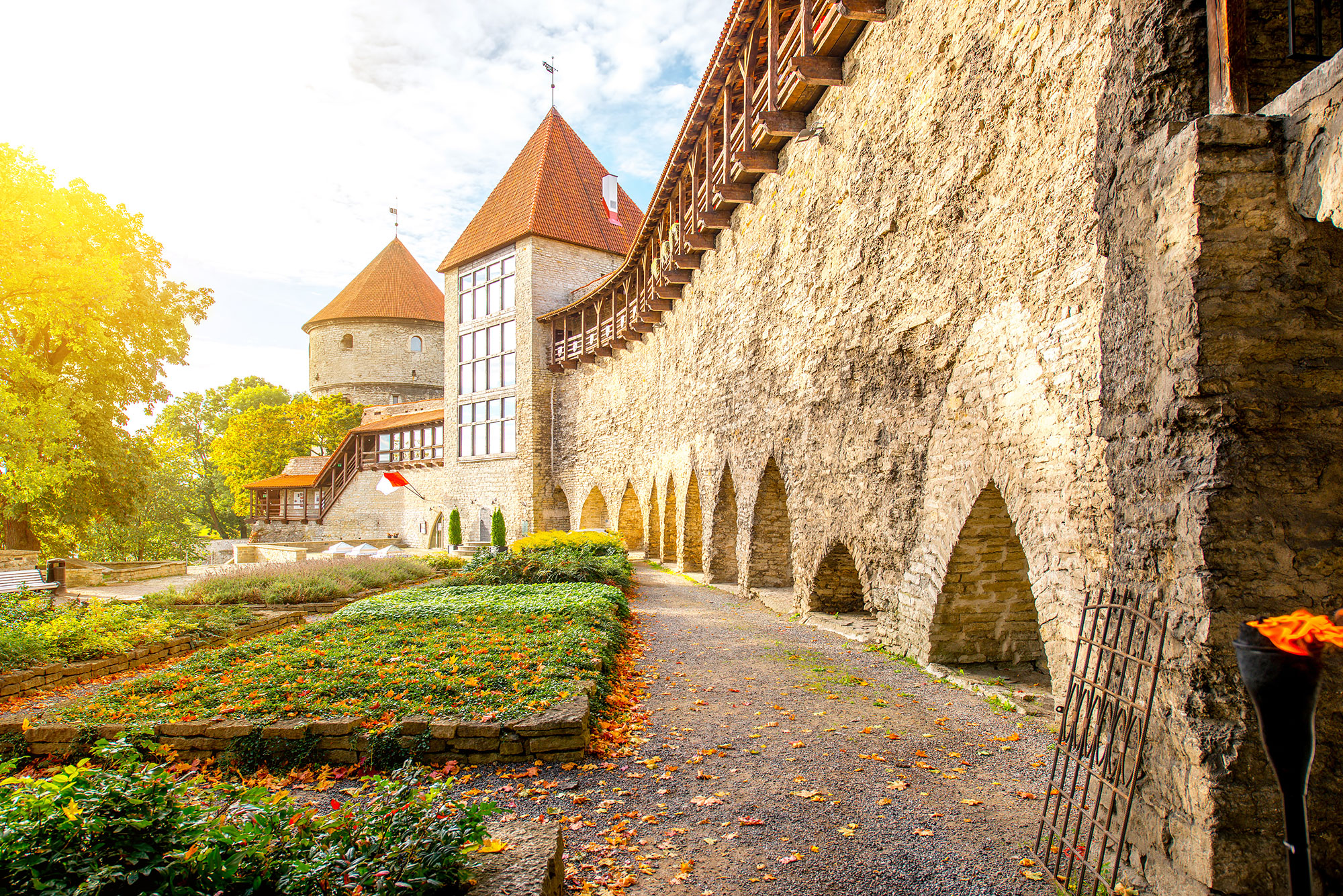 Tallinn Old Town hides little view platforms and hidden gems, as well as museums, cafes, and restaurants to pass the time.
The main streets of the Old Town are Viru Street and Pikk Street. To get away from the crowds on the main streets, go and explore the city wall on Müürivahe and Laboratooriumi streets. You can also climb on the town wall at the Danish King's Garden, where the wall gives you beautiful views over the red rooftops of the old houses. Or enjoy your coffee at the rooftop cafe of Fat Margaret Tower in summer.
If you like a view and aren't afraid to work for it, then climb to the spire of St. Olaf's Church on Pikk Street for a great view of the city. This is undoubtedly the best place to see the cityscape of Tallinn, but it comes with a cardio exercise of 258 steps up and down. If steps are not for you, then you can try out the tower of St. Nicholas' Church that has an elevator.
Go political on the Toompea Hill – see the Parliament building and the Government building alongside many embassies and other institutions. Marvel at the Alexander Nevsky Cathedral and the oldest church of Estonia – the Dome Church. Admire Tallinn from Patkuli and Kohtu viewpoints or the not-so-well-known Pilsticker platform. If you are in Tallinn for more than a day, go to any of these platforms after 5 pm; then the cruise ships have left, and with them, the masses.
The History Museum of Estonia is a great place to learn about the different eras of Estonian history. If you are not willing to spend a day in a museum, then right next to the History Museum, there is a street called Börsi passage – they have written down most of the things to have happened in Estonia right on that street for easy access.
The Bastion Tunnels and Kiek in de Kök museum give you a unique underground look at Tallinn's development over hundreds of years, focusing on the different defenses used throughout the city's history. The underground bastion tunnels and the medieval tower Kiek in de Kök were not built for easy access, so be prepared for steep steps when climbing up and down with your audio-guide.
The Town Hall Pharmacy was first mentioned in writing in 1422, making this one of the oldest continuously working pharmacies in Europe. The pharmacy still sells band-aids and aspirin, but it also serves as a museum of medieval medicinal weirdness (things used to be creepy). The museum is both small and free, and it really makes you appreciate modern medicine. Make sure to look through the pharmacy's history book to see the lists of old remedies.
The Banned Books Museum is an independent private museum tucked away in a small sidestreet in the Old Town. This little museum is a true eye-opener – you can learn where and why books have been banned all over the world. This is a must-visit for true book lovers, just make sure you check their opening times before you go.
The Vabamu Museum of Occupations and Freedom is slightly out of the Old Town. It gives a concise overview of the tough history of the small country in the 20th century, mainly focusing on the personal stories of people who lived through the difficult years. If you are interested in the fate of Estonia during and after the Second World War all the way to re-independence, then this is the museum for you.
Where to eat and drink in Tallinn Old Town
Traditional Estonian food is simple – potatoes, different types of meat or fish, and rye bread. Estonia, with short summers and long winters, has a long tradition of preserving food for the cold seasons and making the most of what is seasonal. The humble history of Estonian food does not mean it cannot be delicious. If there ever was an Estonian rags-to-riches success story, then it is the Estonian cuisine. After all, now even Michelin stars have reached Estonia, honoring some of our best places to eat!
Let's kick off with a Michelin Guide mentioned place – Lee Restaurant. Hidden away in a courtyard on the edge of the Old Town, you will find one of the best places to eat in Estonia. This place is perfect for a romantic dinner and offers a fancy food experience combined. Lee provides an elevated and novel take on traditional Estonian cooking, concentrating on local, fresh, seasonal, and, most importantly, tasty food.
V for Vegan is an entirely vegan restaurant, which is still a rare sight in Estonia. Since 2014, they have been proving to skeptical Estonians that surviving without meat is not only possible but also awesome and tasty as well. If you want a table at this small restaurant, then book well in advance because this place is very popular.
There aren't a lot of restaurants that can say they have held a cult status in Estonia for over fifty years – Pegasus Restaurant in Writers House can. Fresh, modern, and oh-so-good – Pegasus has been the place to go since 1962.
Another place with a cult following for food in Tallinn is Kompressor. There is nothing fancy about this place, but they hold a special spot in locals' hearts. This is a place with big tasty pancakes, no-nonsense service, and reasonable prices. Every foreign exchange student in Tallinn must eat here at least once (or every week), and many locals think this is the only normal place in the whole Old Town.
For dessert-lovers and chocolate-fans a must-visit is Pierre Chocolaterie, hidden in the Master's Courtyard. If you want to risk dying from too much chocolate, then this is the place for you. Pierre Chocolaterie is little, romantic, quirky, and oh-so-sweet.
Pööbel is slightly out of the Old Town but worth finding because it serves tasty authentic Estonian dishes for reasonable prices, along with an impressive list of beers from Estonia and abroad. The food is traditional, no fuss, homey, and sometimes so nostalgic that an Estonian might get misty-eyed. When locals get a craving for liver, herring, or sauerkraut soup, then this is where we go.
What to buy in Tallinn Old Town
The Old Town is full of shops, boutiques, and flashy souvenir vendors. Most of these places you can skip. If you want something Estonian, then avoid the amber, Russian nesting dolls, Vikings, and reindeers on display. Go for locally designed and handmade items. Estonian things are practical, simple, and beautiful (and often made of wood). Read more about the souvenirs here – Top 7: Best Souvenirs to Buy from Tallinn.
See how it's made! Go to the artisan streets like St Catherine's Passage, Masters' Courtyard (psst… Pierre Chocolaterie in the courtyard has excellent hot chocolate!), and Lühike Jalg where you can see handicrafts being made by local craftsmen. From blowing glass to painting porcelain, it is great to actually see someone making the memory you will take home with you.
Good quality handicrafts and souvenirs can also be found in Eesti Esindus on Viru Street and Pikk Street. A great little shop selling a selection of local designs is Oma Asi on the small Saiakangi street right off the Town Hall Square. The street is so small there are only a few buildings on it, so you really can't miss the little red house with the design shop – they have everything from reflectors to cute socks.
Stop by the Bear Farm Chocolate Shop hidden away on a sidestreet close to the Town Hall Square. This is a tiny vegan chocolate shop, but there is nothing small about what they sell – huge, chunky, mind-blowingly good squares of chocolate. Locals love it, and hopefully, you will too.
* Cover photo: Kaupo Kalda / visittallinn.ee