Both Brussels and Amsterdam are among the most beautiful and interesting capital cities in Europe and you shouldn't miss them during your Euro trip. Despite the short distance between them they couldn't be any more different. In Amsterdam you can find typical Dutch images – canals, bikes and charming houses while Brussels is known for its grand architecture, amazing beer scene and a statues of a pissing boy.
You don't need to worry anymore how to get from Brussels to Amsterdam (or from Amsterdam to Brussels) – we prepared for you a little overview of all the options so you can choose the best one for you!
Brussels to Amsterdam by plane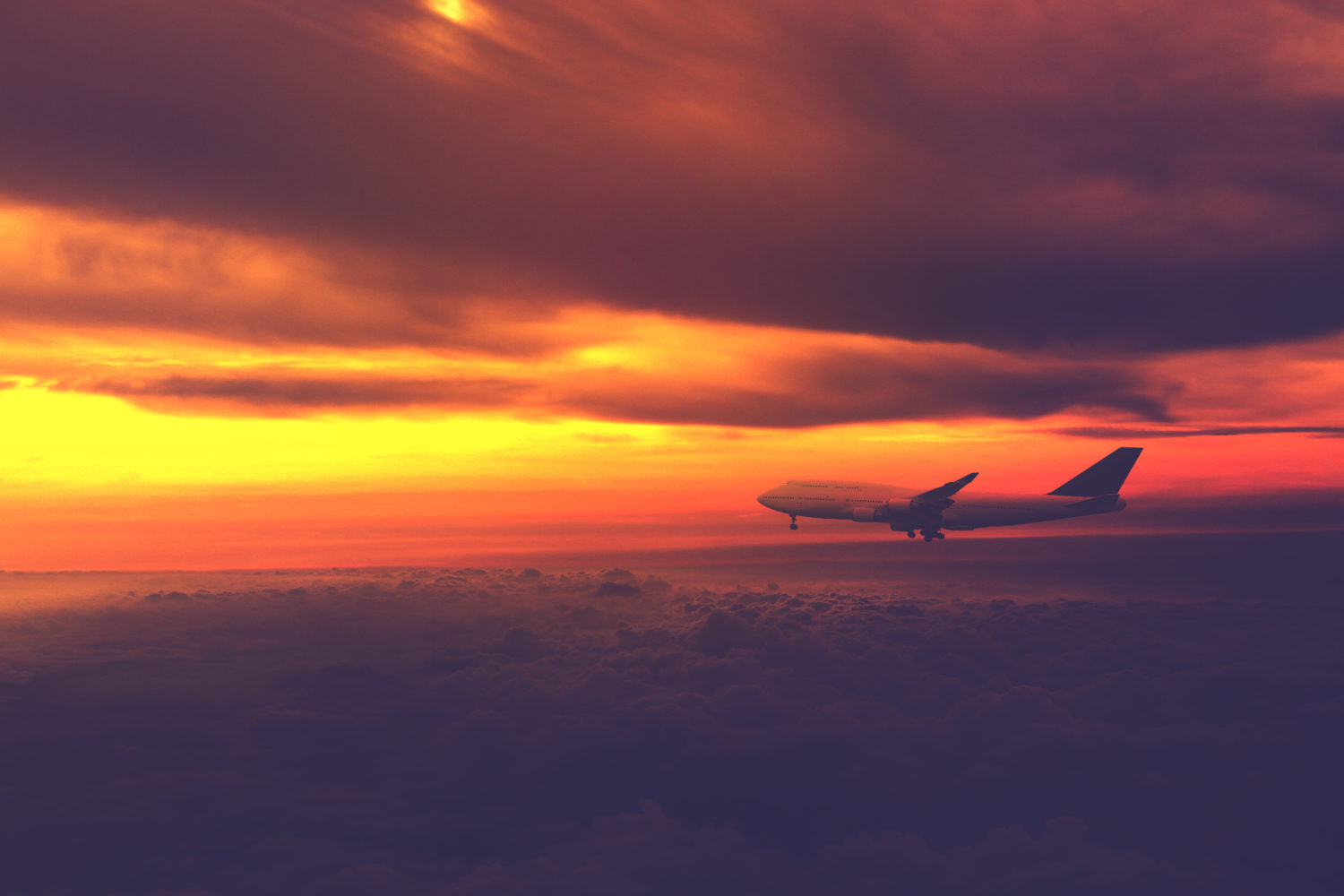 Time – Around 5 hours, including getting to and from the airport
Cost – You can find the cheapest tickets for €50/one way
Ease – 4, there is always hassle with getting to and from the airport
Fun – 3
Sightseeing – 1
Even if Brussels and Amsterdam are only a bit over 200 kms away from each other there are direct flights between these two capitals. KLM connect the cities 5 times a day with a flight time just under 1 hour. If you are lucky you can get one way ticket for around €50. This is a good option only for those who enjoy flying and love airports (the one in Amsterdam is among the best in Europe) as the travel time and hassle with getting to and from the airport isn't that competitive.
The best way to get to the airport in Brussels is be either bus or train. In the weekdays from Monday to Friday the express bus no 12 will take you there while on the weekends and holidays it's the bus no 21. The ticket costs €4 if bought in advance or €6 when you buy it from the driver. The journey time from the center to the airport should be around 30 minutes. The train is faster, 17 minutes, but slightly more expensive – the ticket costs €8,50. It leaves frequently from all main stations in Brussels: Midi, Central and Nord.
In Amsterdam the most convenient way to get from the airport to the city is by train. They run frequently, the journey time is around 15 minutes and the ticket costs €4,30 – it's best to get it online before the trip at the website of Dutch railways.
Brussels to Amsterdam by train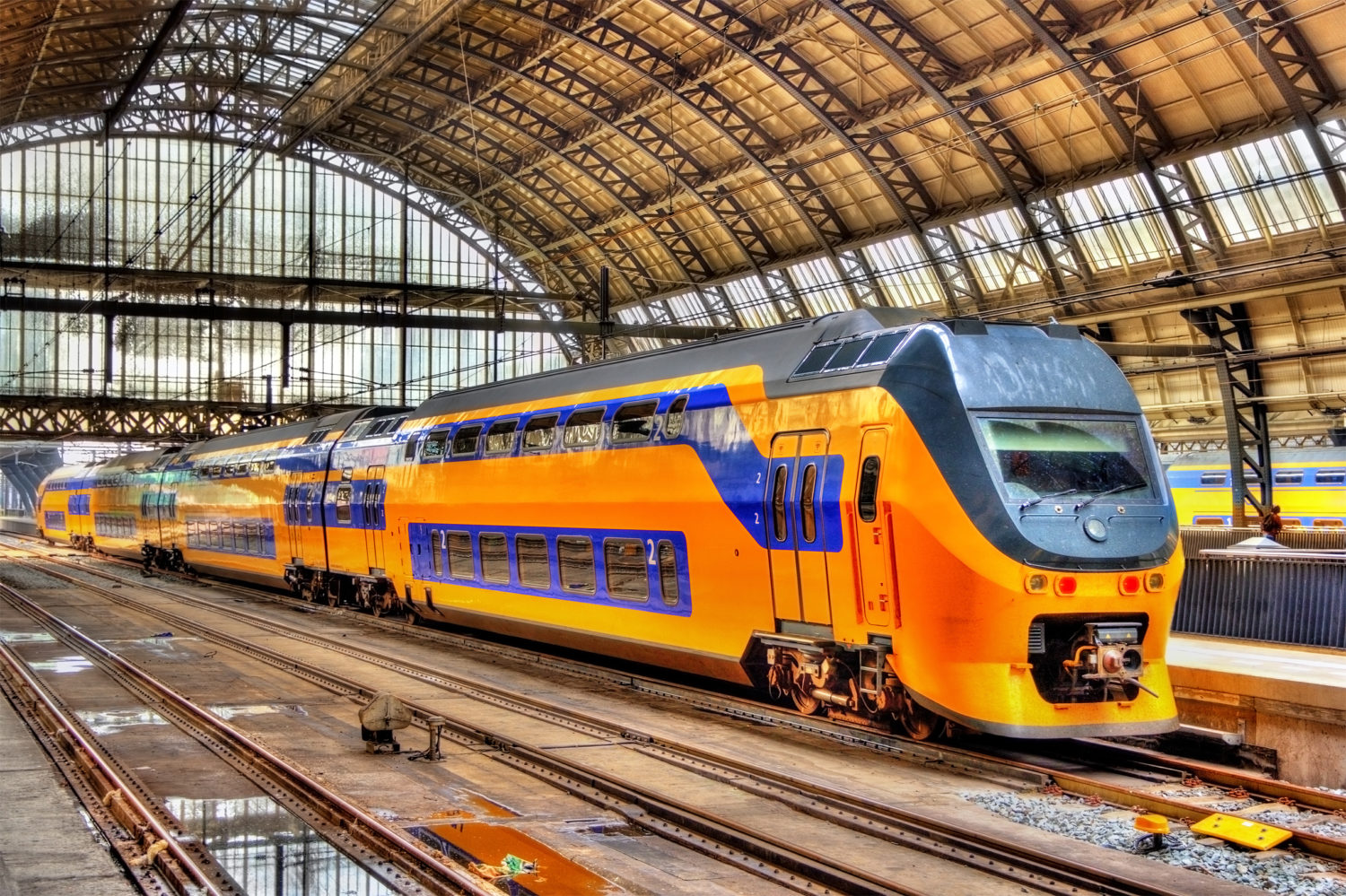 Time – under 3 hours
Cost – Tickets start at €26 if you buy well in advance, €48 on the day of the journey
Ease – 5
Fun – 3
Sightseeing – 2
Train is a fast and comfortable way of travelling between Brussels and Amsterdam. There are frequent connections between these two capitals, every 1 or 2 hours depending of the time of the day and the travel time is less than 3 hours.
Unfortunately tickets aren't the cheapest, the tickets start at €26 if bought well in advance and go up to €48 on the day of departure. You can easily buy the ticket online at websites of both Belgian and Dutch railways or you can do that at the train station. For the IC trains reservation is not required however some connections operated by Thalys fast speed trains can be a bit more expensive and you need to book a seat for them.
Brussels to Amsterdam by bus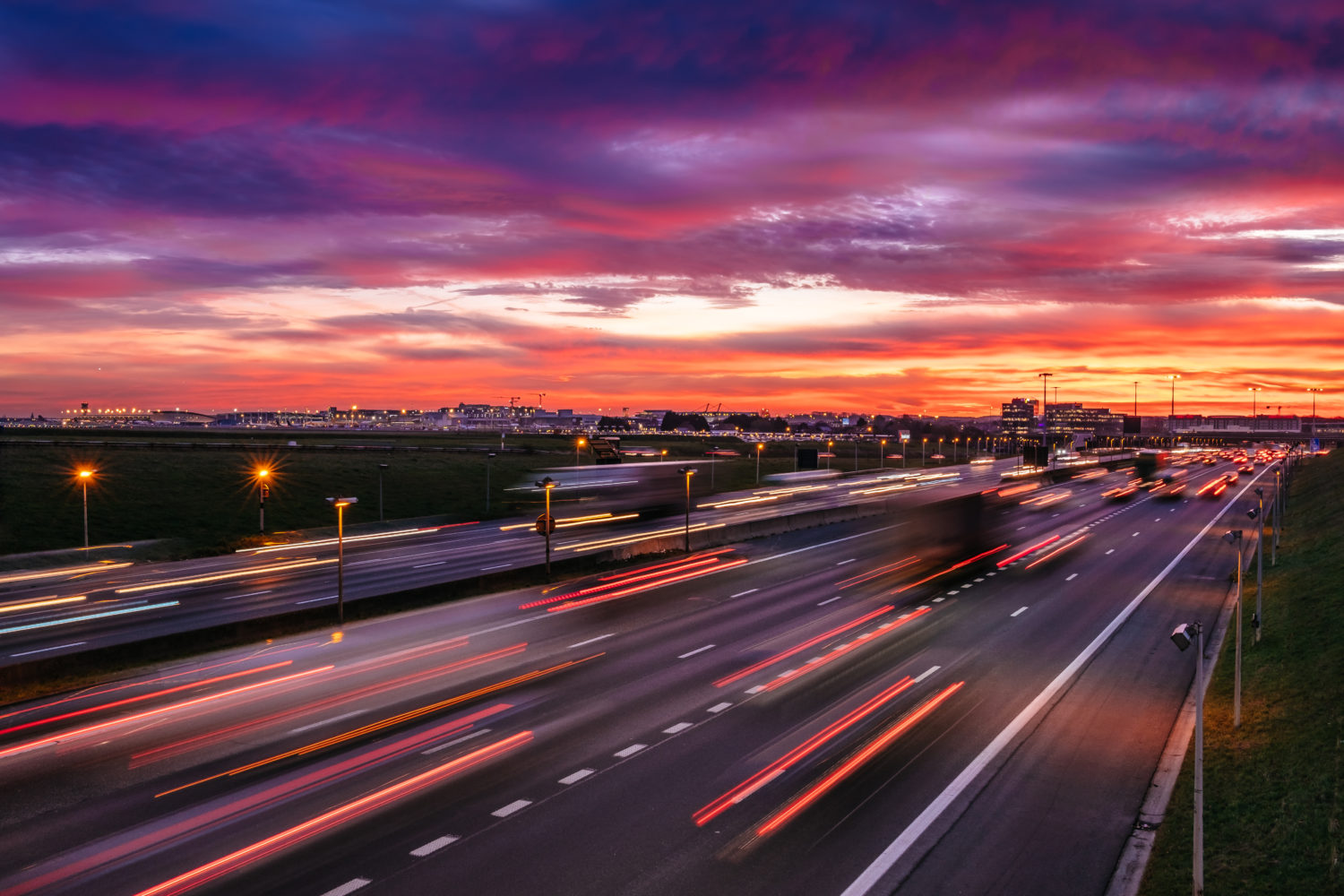 Time – the fastest connections make it under 3 hours
Cost – Tickets start at €9, depending on the company, day of purchase and time of travel
Ease – 5
Fun – 2
Sightseeing – 2
There are frequent bus connections between Brussels and but some connections, even if direct, take much longer than other so be careful when booking the ticket . Two major companies serve this route – Flixbus and Eurolines. The tickets start at €9 but the price depends on the company you use, the time of the departure and how well in advance you purchase the ticket.
Brussels to Amsterdam by car sharing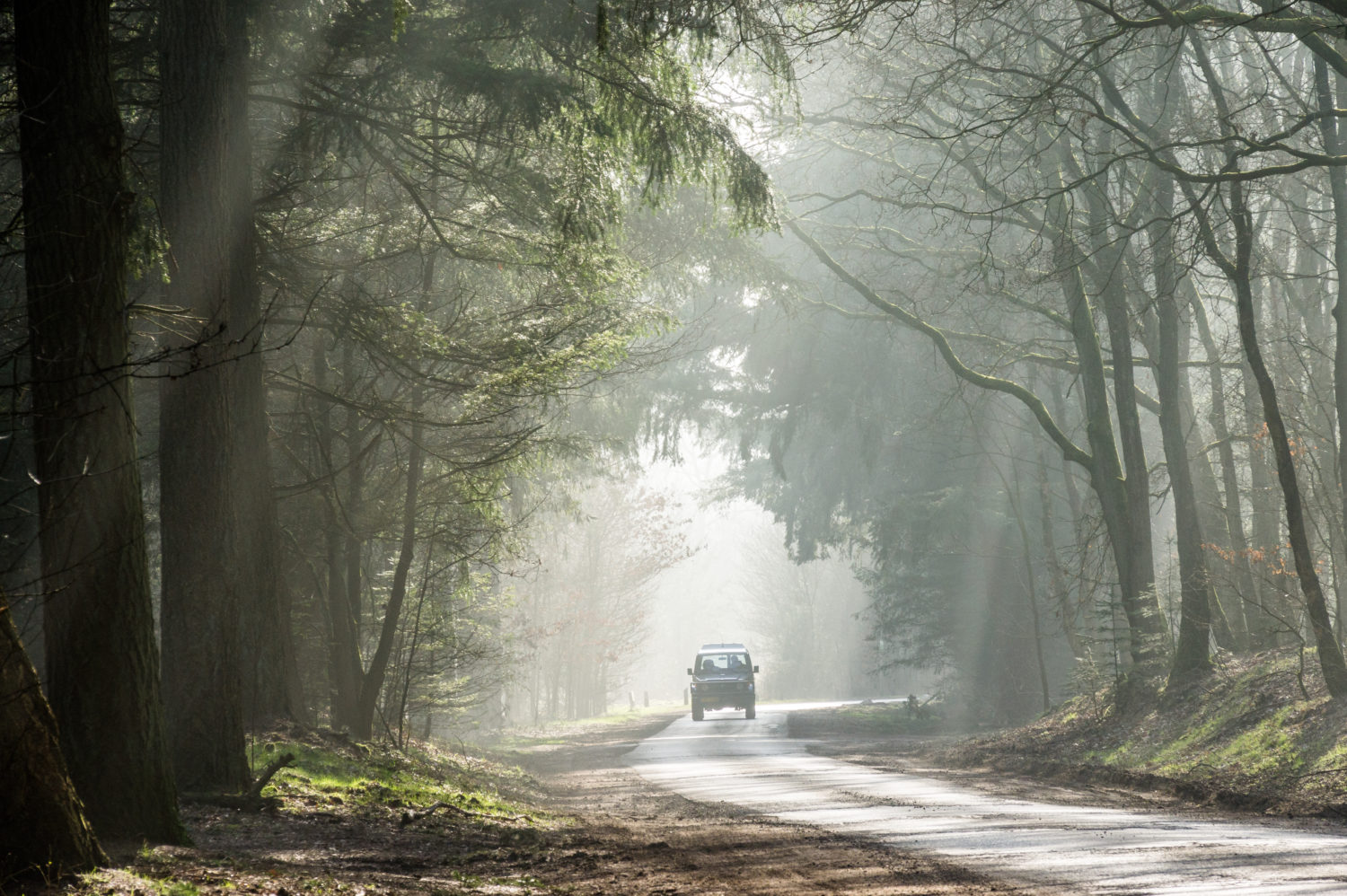 Time – 3 hours
Cost – From €15
Ease– 3
Fun – 3
Sightseeing – 2
Car sharing is a popular way of travelling around Europe but the route from Brussels to Amsterdam doesn't seem to be a very popular one. Usually there are some rides but not too many to choose from. If you're still interested in travelling this way between Brussels and Amsterdam you should visit BlaBlaCar website and look for rides there. The price for the journey between this two capitals should be around €15 and the travel time is around 3 hours.
Brussels to Amsterdam by private transfer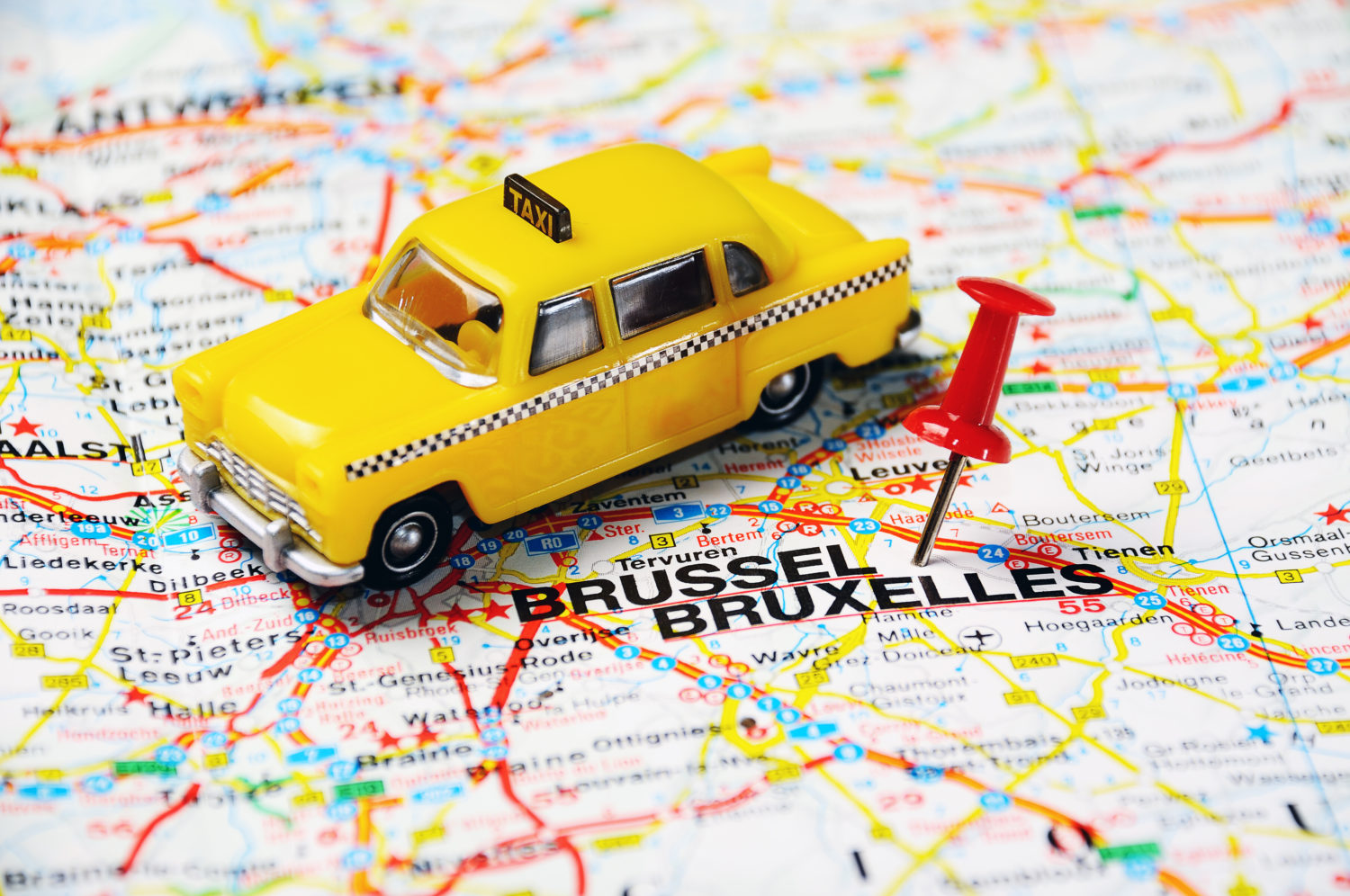 Time – 3 hours
Cost – €250 for a car with a driver
Ease– 4
Fun – 3
Sightseeing – 2
For a comfortable and hassle-free ride you can book a private transfer from Brussels to Amsterdam. It's not a cheap journey, you should expect to pay around €250 for a car that fits up to 4 people, but you can enjoy the trip that is planned according to your needs. The travel time between Brussels and Amsterdam should be just under 3 hours.
Hitchhiking from Brussels to Amsterdam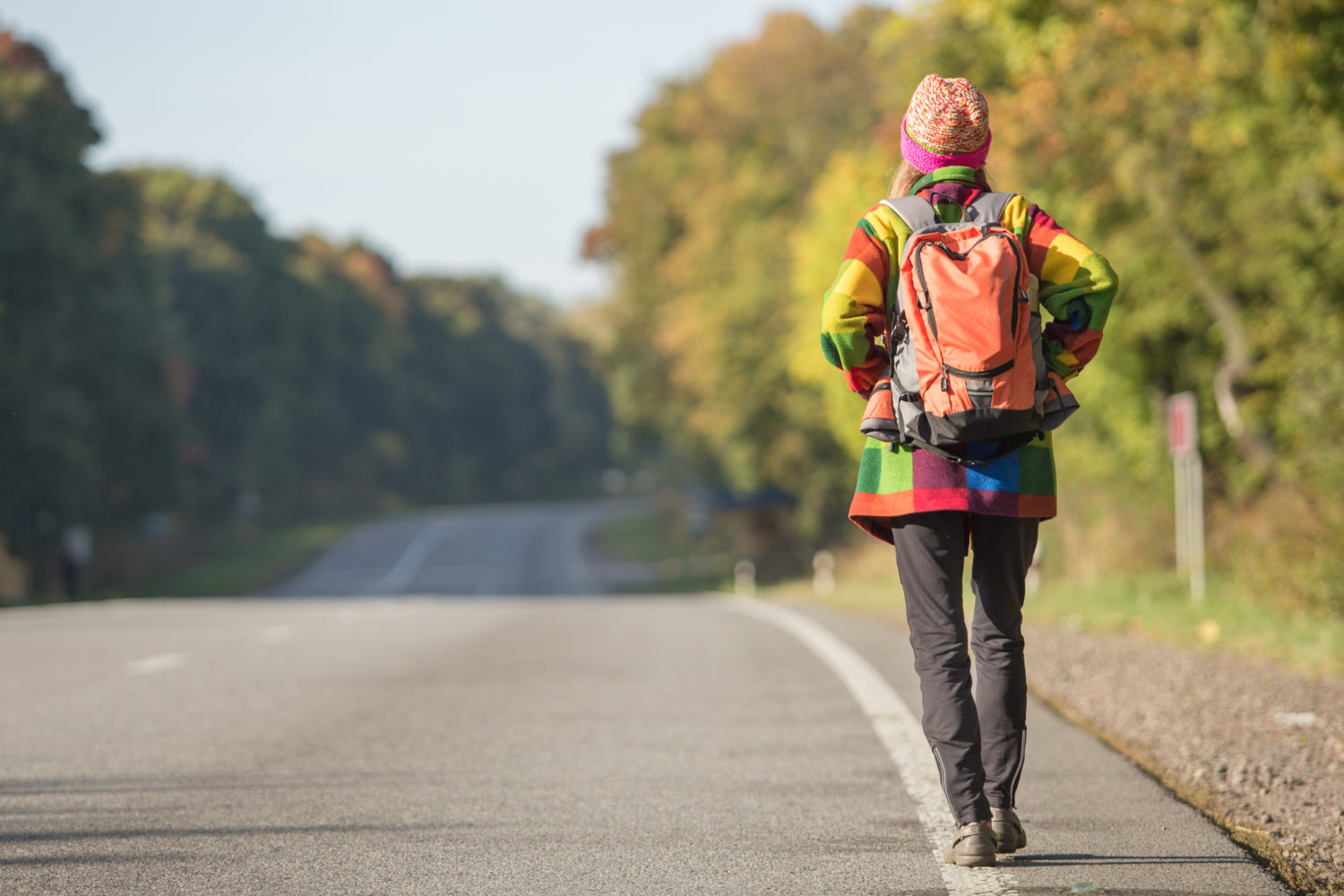 Time – depends on your luck
Cost – can be as low as 0
Ease – 2
Fun – 4
Sightseeing – 2
Hitchhiking should be a fun way to travel from Brussels and Amsterdam and if you are lucky you can make it in few hours only. If you start from Brussels first you need to go to Antwerpselaan from where cars towards northern Belgium and the Netherlands go. To get there you need to take the tram no 3, 9 or 23 to De Wand, from where you have to walk a little bit further. You might be lucky to get the ride all the way to Amsterdam but aim for some closer places such as Antwerp or Rotterdam too. In the reverse direction, from Amsterdam to Brussels the best spot for hitching a ride is at Utrechtsebrug.
Walking from Brussels to Amsterdam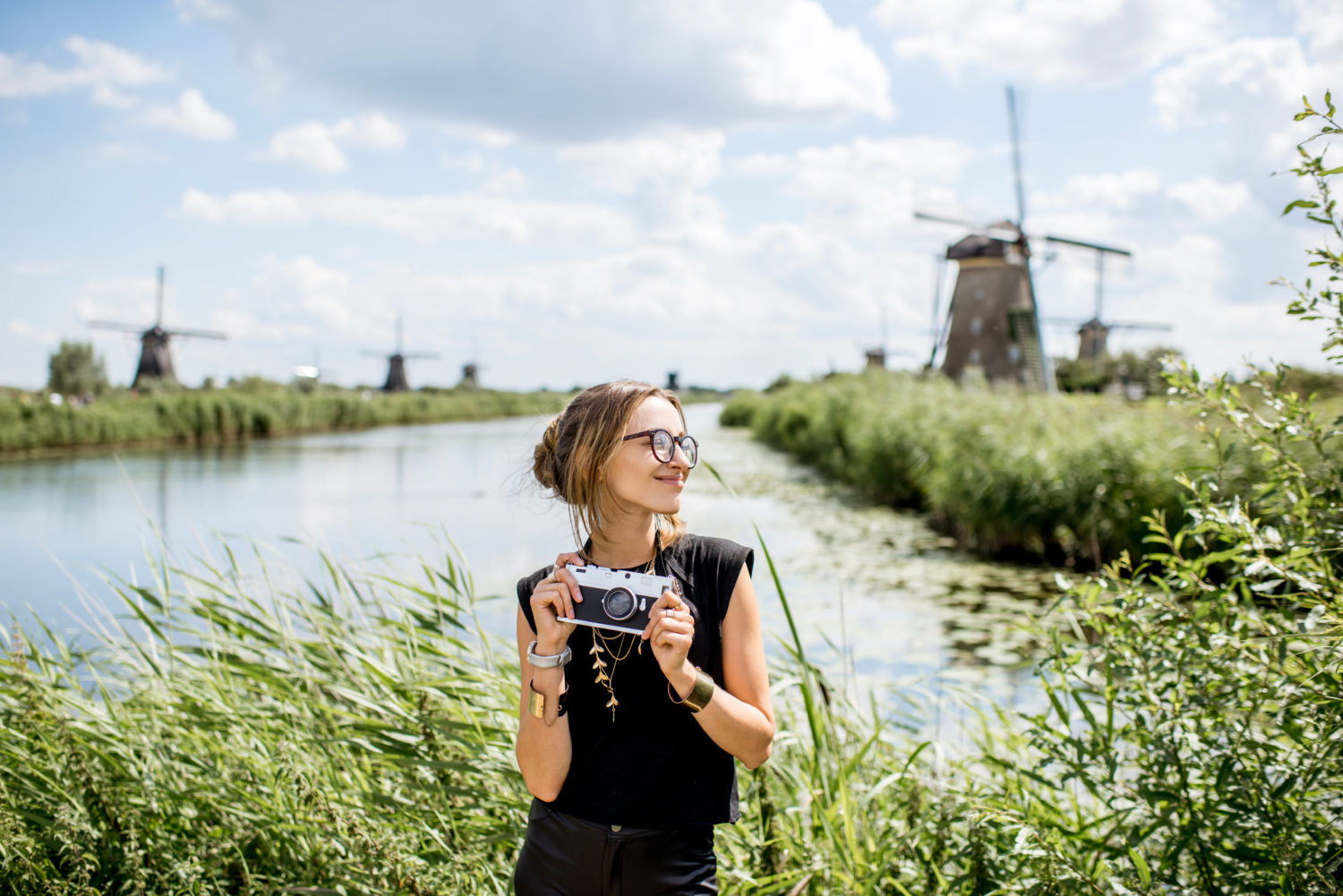 Time – around a week
Cost – 0€
Ease– 2
Fun – 4
Sightseeing – 4
Do you have some free time to spare and would like to get from Brussels to Amsterdam. Do you enjoy slow travel and would like to see some town and countryside along the way? Then try walking between the two capitals. The journey at comfortable pace should take you around a week and since it's a rather flat part of Europe it wouldn't be too tiring. Along the way you can see some of the well-known cities like Mechelen, Breda or Utrecht as well as off the path yet charming towns and villages. In some places you might need to catch the ferry to cross the canals but that would be another interesting attraction during your journey.
Brussels to Amsterdam by bike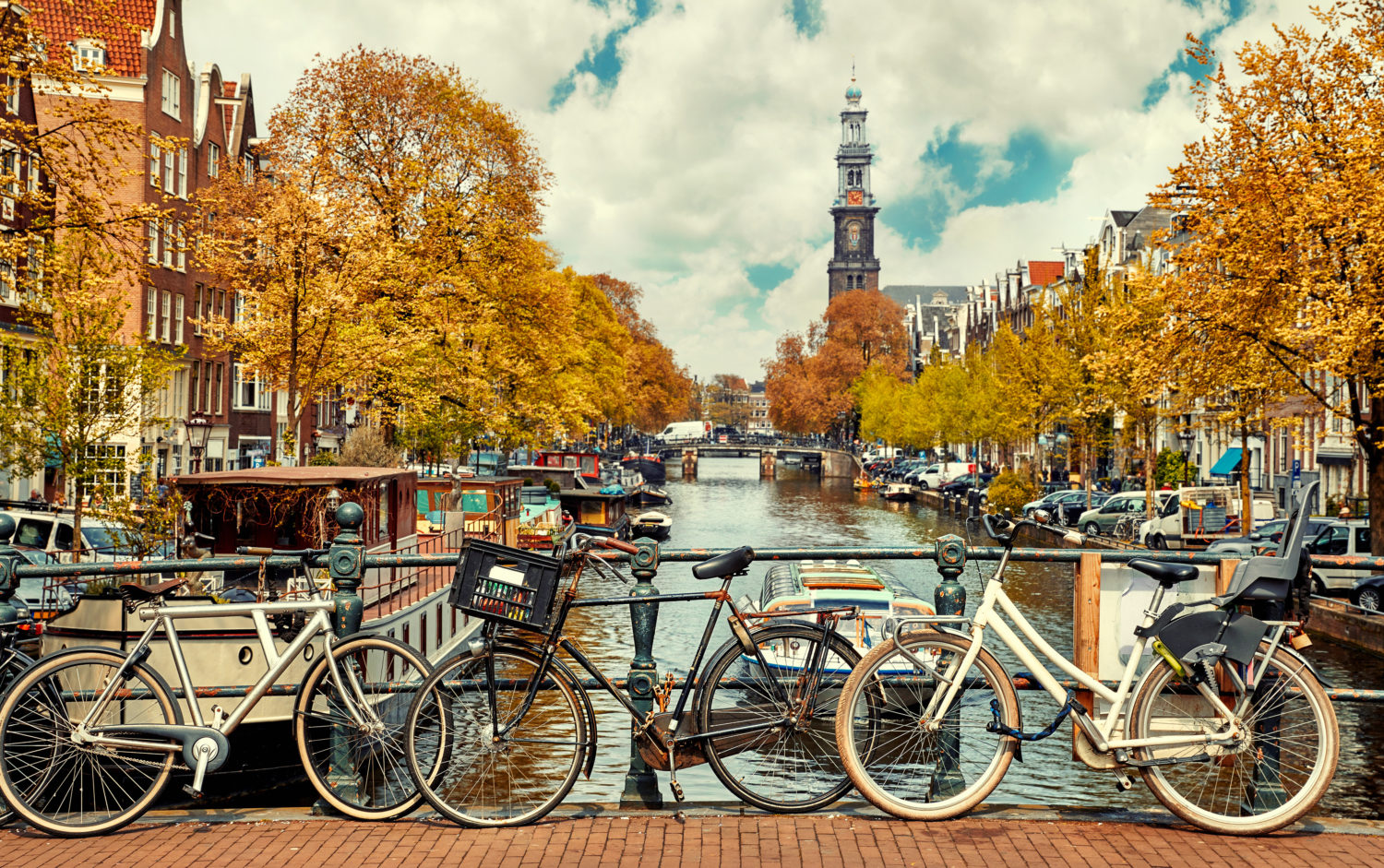 Time – at least 2 days
Cost – 0€
Ease – 2
Fun – 4
Sightseeing – 4
Travelling by bike from Brussels to Amsterdam is a real treat. You can do it quickly, in 2 days but why hurry. There are some interesting places you can stop at along the way, you can even do the detour and at some parts of the trip follow the coast of the North Sea. Both countries, Belgium and especially the Netherlands, are known for being very bike-friendly so you can expect a really good two-wheel trail for most of your journey. And since it's a rather flat area travelling by bike shouldn't be too tiring and can make for a really enjoyable trip.
Road trip from Brussels to Amsterdam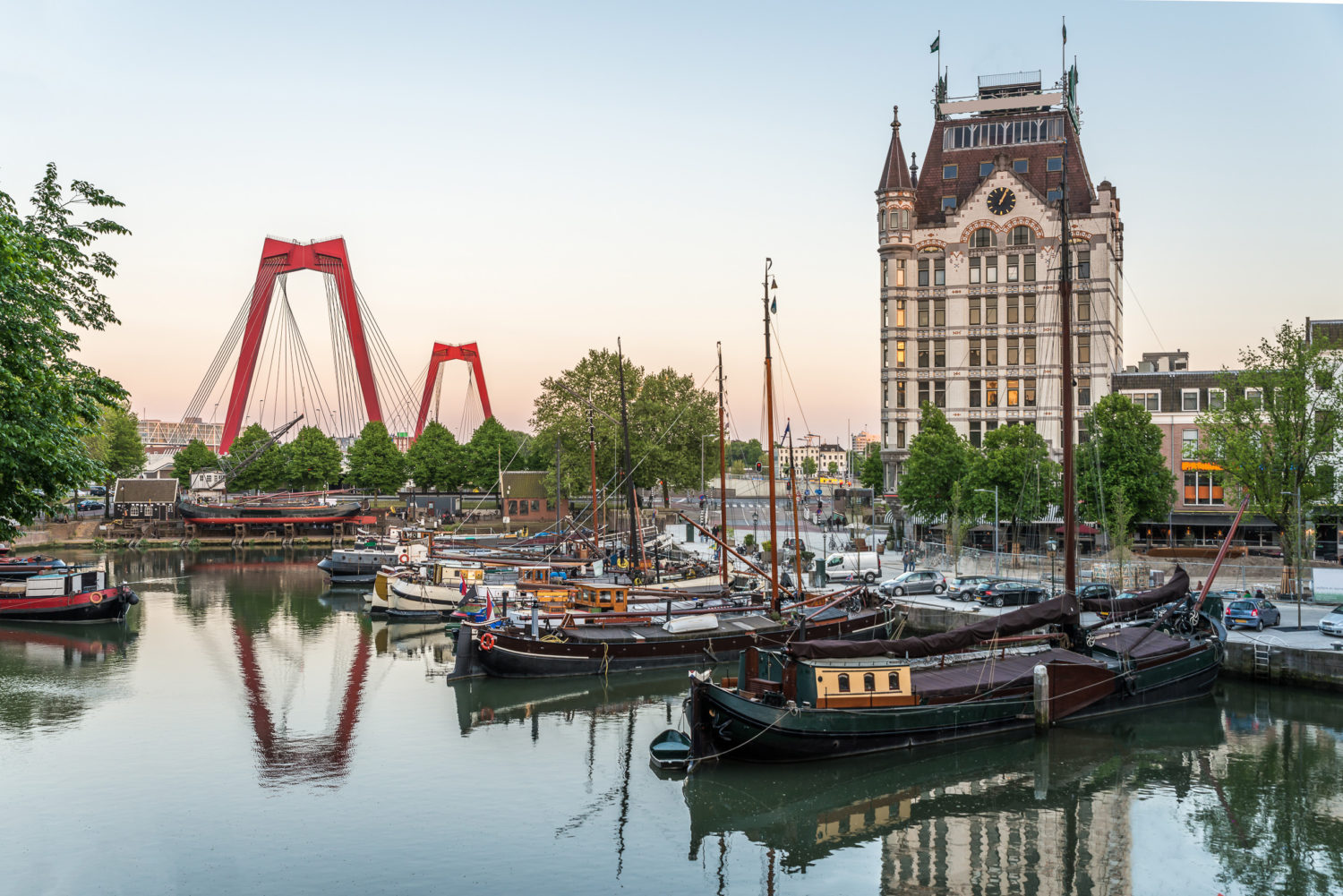 Rotterdam, Netherlands
Time – depends on you
Cost – €100 for car rental + all you spend on petrol
Ease – 5
Fun – 5
Sightseeing – 4
Brussels and Amsterdam are located only 200kms away from each other so in a bit over 2 hours you can get from one capital to another. But the area between them is packed with interesting places worth visiting so you shouldn't rush. Take it slowly and stop along the way as many times as possible – you won't regret it!
After leaving Brussels head first to Leuven – the town famous for its university, the oldest one in the Benelux countries, and Stella Artois beer. From there drive to the biggest Belgian city – Antwerp (yes, even if Brussels is the capital it is only on the 5th place when we look at the number of inhabitants). Back in the 15th century it used to be the most important and the richest trade city in Europe, these days you still can see numerous remnants of the golden past.
After visiting Antwerp hop across the border to the Netherlands and head towards Rotterdam. Before reaching the city you can stop in Dordrecht. The city is not rich with monuments but it is this typical, pleasant Dutch town that you can enjoy without too many tourists around. From there it's a very short ride to Kinderdijk – one of the biggest attractions of the Netherlands. The area, part of UNESCO World Heritage List, is where you will find 19 windmills built around 1740.
Next stop in Rotterdam. While most of the cities in the region are old ones, with beautiful monuments this one is different. Rotterdam was badly destroyed during WW2 and eventually was rebuilt in the modern way. It's so interesting to see a completely different face of the Netherlands.
Now there are few different ways to get from Rotterdam to Amsterdam. You can go via Delft, The Hague, Leiden and Haarlem or via Gouda and Utrecht. No matter which one you choose you will see some interesting and beautiful towns along the way. If you're travelling in the spring make sure to stop at Keukenhof botanical garden too to admire world famous tulips.
Have a good trip and enjoy both capitals as well as the travel from Brussels to Amsterdam!
Images used under license from Shutterstock.com