Prague and Budapest are probably the most known capitals in Central Europe. And they get the hype for a reason – they are both beautiful, full of history and rich with culture. You should include both capitals in your European itinerary and we will help you with all the info how to get from Prague to Budapest (or from Budapest to Prague)
2023 update!
1. Prague to Budapest by plane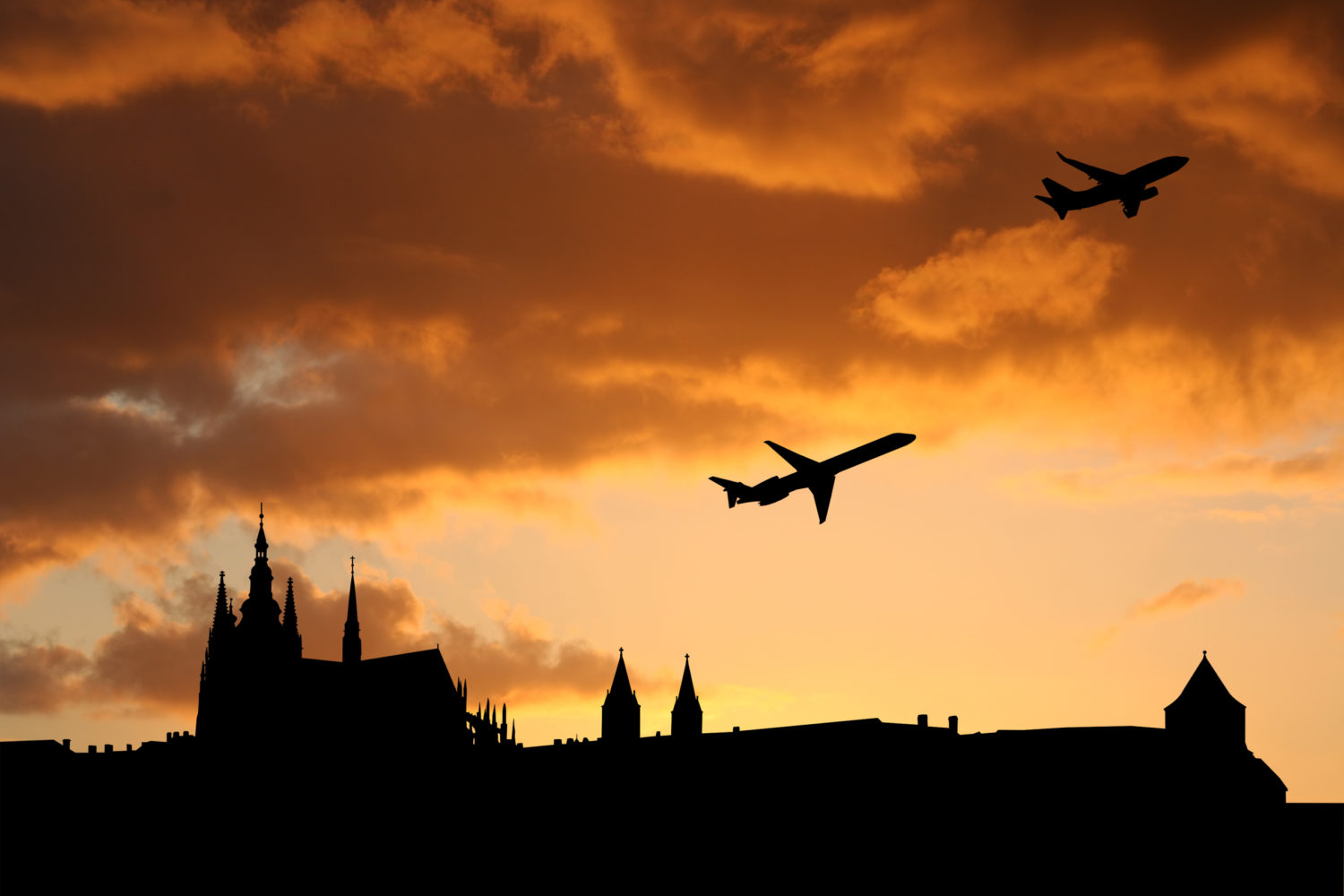 Time – At least 5 hours, including getting to and from the airport
Cost – You can find the cheapest tickets for €10/one way
Ease – 5
Fun – 3
Sightseeing – 1

A really fast way to travel between Prague and Budapest is flying. There are two airlines that offer direct flights between these two capitals, with the flying time less than 1 hour and 30 minutes. Ryanair, the low cost airlines, offers cheap tickets, starting at €10 one way but you need to be careful as you need to pay extra for every single thing: if you'd like to take on board more than one tiny piece of luggage, if you'd like to seat next to your travel companion etc. Right now there're Ryanair flights between Prague and Budapest every day but Thursday.
Czech Airlines, the national Czech carrier, offers couple of flights per day. There're slightly more expensive, (at least around €50), but they have less strict baggage policy and overall nicer experience. To book the flights go directly to the website of Ryanair or Czech Airlines and read carefully what you are about to pay for.
To easiest and cheapest way to get to Prague airport is by metro and bus. First you need to take green metro line A to the station Nadrazi Veleslavin from where bus no 119 will take you directly to the airport, stopping in front of both terminals. From the center allow yourself at least 40 minutes for the journey. All public transport tickets work for this connection.
In Budapest you can either take the direct bus 100E to Deak Ferenc Ter or the bus 200E to Kobanya-Kispest metro station. Both buses depart from the arrivals level, the bus stop is located between terminals 2A and 2B. The ticket for the bus 100E costs 900 forints while for 200E it costs 350 forints (if you're travelling further with metro from Kobanya-Kispest station you need to purchase another ticket). You can get them either at the public transport (called BKK) point inside the terminal as well as from the ticket machine at the bus stop.
2. Prague to Budapest by train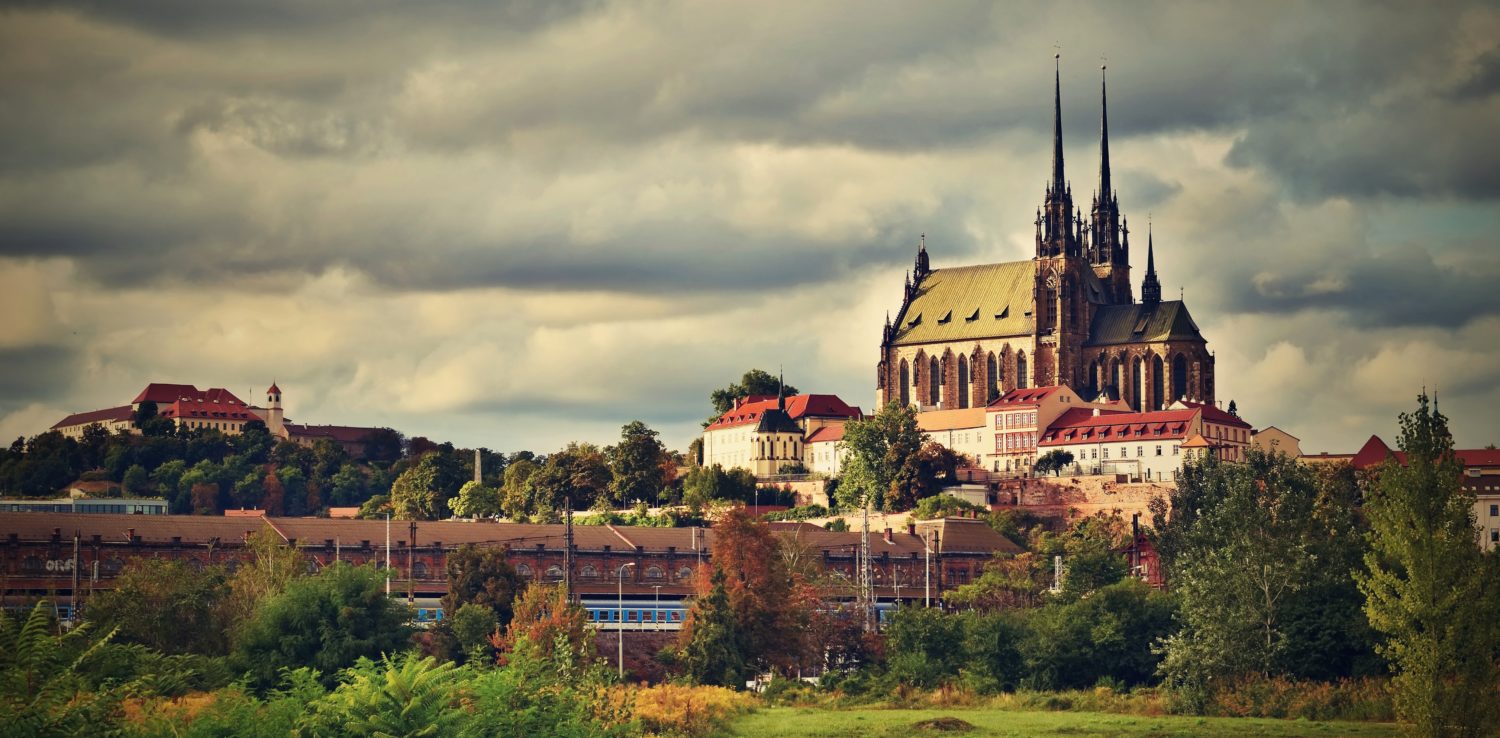 Brno, Czech Republic 
Time – 6 hours and 30 minutes
Cost–Tickets start at 20€ if you buy well in advance, €30 on the day of the journey
Ease– 5
Fun – 3
Sightseeing – 3
Every two hours there's a direct trains from Prague to Budapest, starting at 5:51 till 15:51. The trip time takes 6 hours 30 minutes but the carriages are comfortable and the journey should be hassle-free. The tickets start at €20 if you buy at the day of departure it will cost you €30. You can get the ticket at the website of Czech Railways or at the train station.
If you want to save the time on travelling you can choose a night train. There's one direct connection that leaves Prague at 23:57 and arrives to Budapest at 08:35 in the morning. There're sleeping cars in that train so you can get a good sleep while travelling from Prague to Budapest. The tickets start at €39 for a couchette (a compartment with 6 beds) if you book in advance.
If you don't want to spend so many hours in the train you can break the journey and do some sightseeing on the way. Good places for a stopover are Brno (2, 5 hours from Prague and 4 hours before Budapest) or Bratislava ( 4 hours from Prague and 2,5 hours before Budapest). In both places you can find lockers at the train station to store your luggage when you will be off sightseeing.
To get to the train station in Prague it's best to take red metro line C to "Hlavni Nadrazi" stop or trams no 5, 15, 26, 91 or 95.
In Budapest your train might arrive to either Keleti or Nyugati station, depending on the connection you choose. Both stations are located on the metro lines (Keleti on 2 and 4, Nyugati on 3) and are easily reachable from all over the city.
3. Prague to Budapest one-way sightseeing tour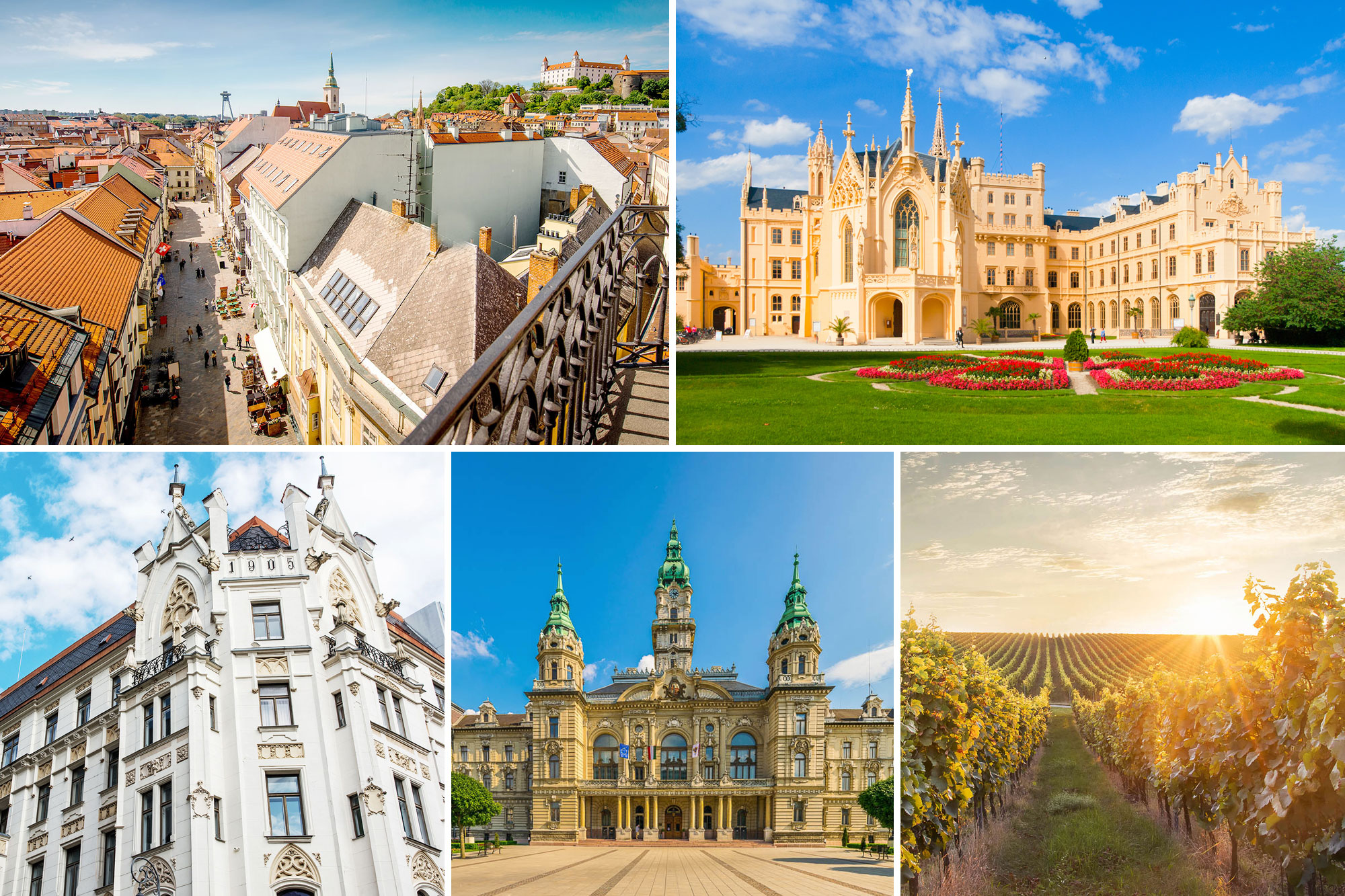 Time – 12 hours
Cost – €85 per person, private options available
Ease – 5
Fun – 5
Sightseeing – 5
A fun option travelling between Prague and Budapest is taking the one-way sightseeing tour from Prague to Budapest or the other way from Budapest to Prague. This 12-hour small-group tour will make stops in three countries – the Czech Republic, Slovakia, and Hungary. It's the best way to learn more and see some places you would never make it to in one day. 
The tour will stop at some of the most important cities between Prague and Budapest like Brno and Bratislava. You will have time to explore a little in both cities. Brno is the second largest city in the Czech Republic and has many interesting stories to tell. Bratislava, the capital of Slovakia, has a beautiful Old Town and an impressive castle towering over the city. 
The road from the Czech Republic to Slovakia takes you through the picturesque Mikulov Wine Region known for some of the best wine in the country. You will here stop to admire the UNESCO-heritage listed Lednice Palace with exceptionally beautiful gardens around it. In Hungary the tour will also visit the charming Györ Old Town that is famous for its Baroque style buildings. The tour costs only 85€ per person and is a great option for those who would like to learn more about the visited places, countries and cultures.
You can find more information as well as book the sightseeing tour from here:
Prague to Budapest small group sightseeing tour
Budapest to Prague small group sightseeing tour
4. Prague to Budapest by bus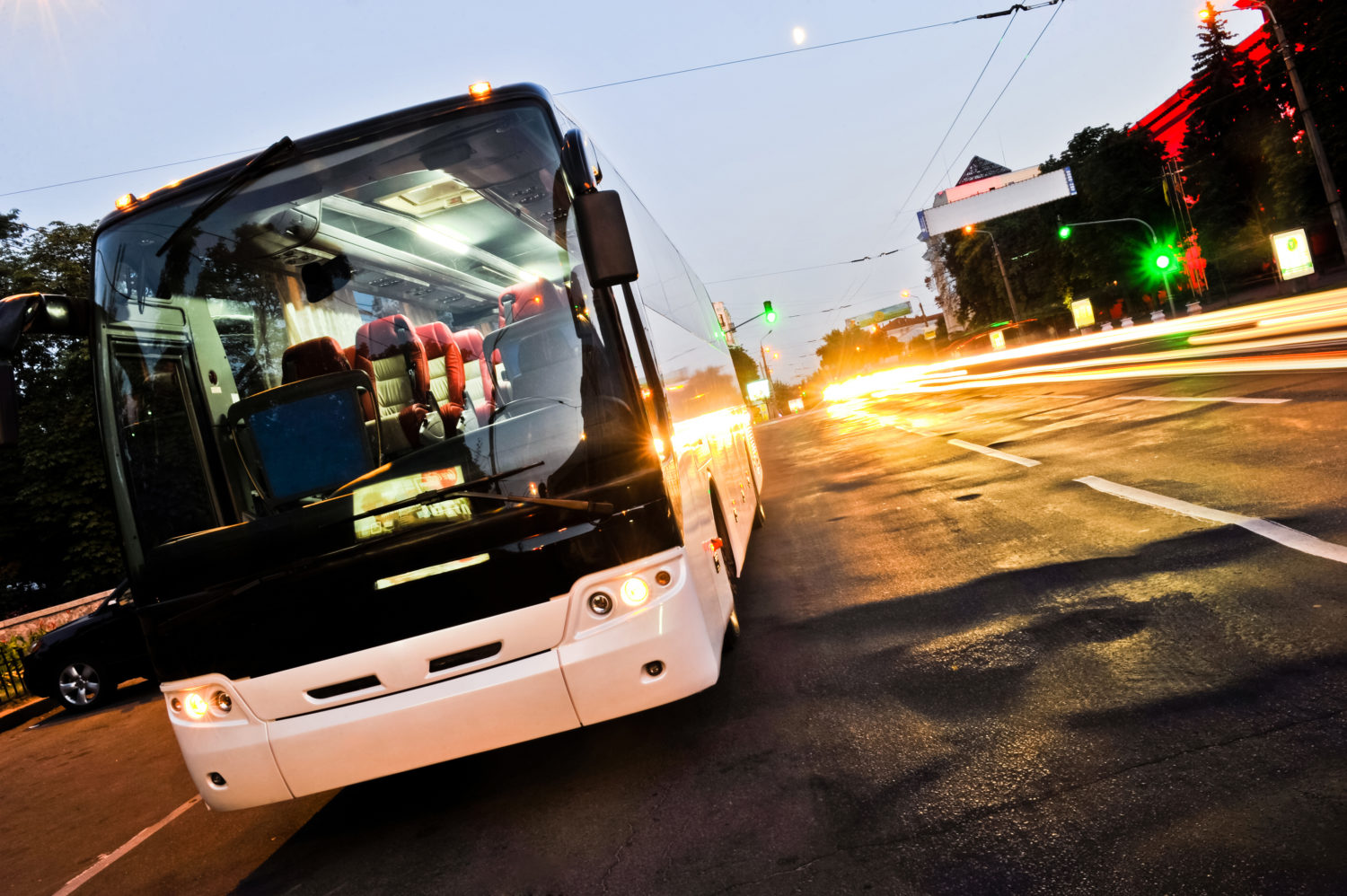 Time – 7 hours
Cost – Tickets start at 14€
Ease – 5
Fun – 3
Sightseeing – 2
There are few bus companies serving Prague to Budapest route, departing through the day so you can choose which time to leave one city and arrive to another works the best for you. Tickets start at €14/one way but remember that the earlier you book, the cheaper the ticket will be. Generally you shouldn't pay more than €25 when buying the ticket a day before the trip. You can purchase the ticket online at websites of Regio Jet or Flixbus.
The journey time depends on the company but you should expect arriving to Budapest some 7 hours after leaving Prague. In Czech capital buses depart either from Florenc bus station (located at metro yellow B and red C lines) or from the parking at the upper level of the train station (you can reach it by metro red C line). In Budapest they arrive at Kelenfold (at metro 4 line) or Nepliget bus station (at metro 3 line).
5. Prague to Budapest by car sharing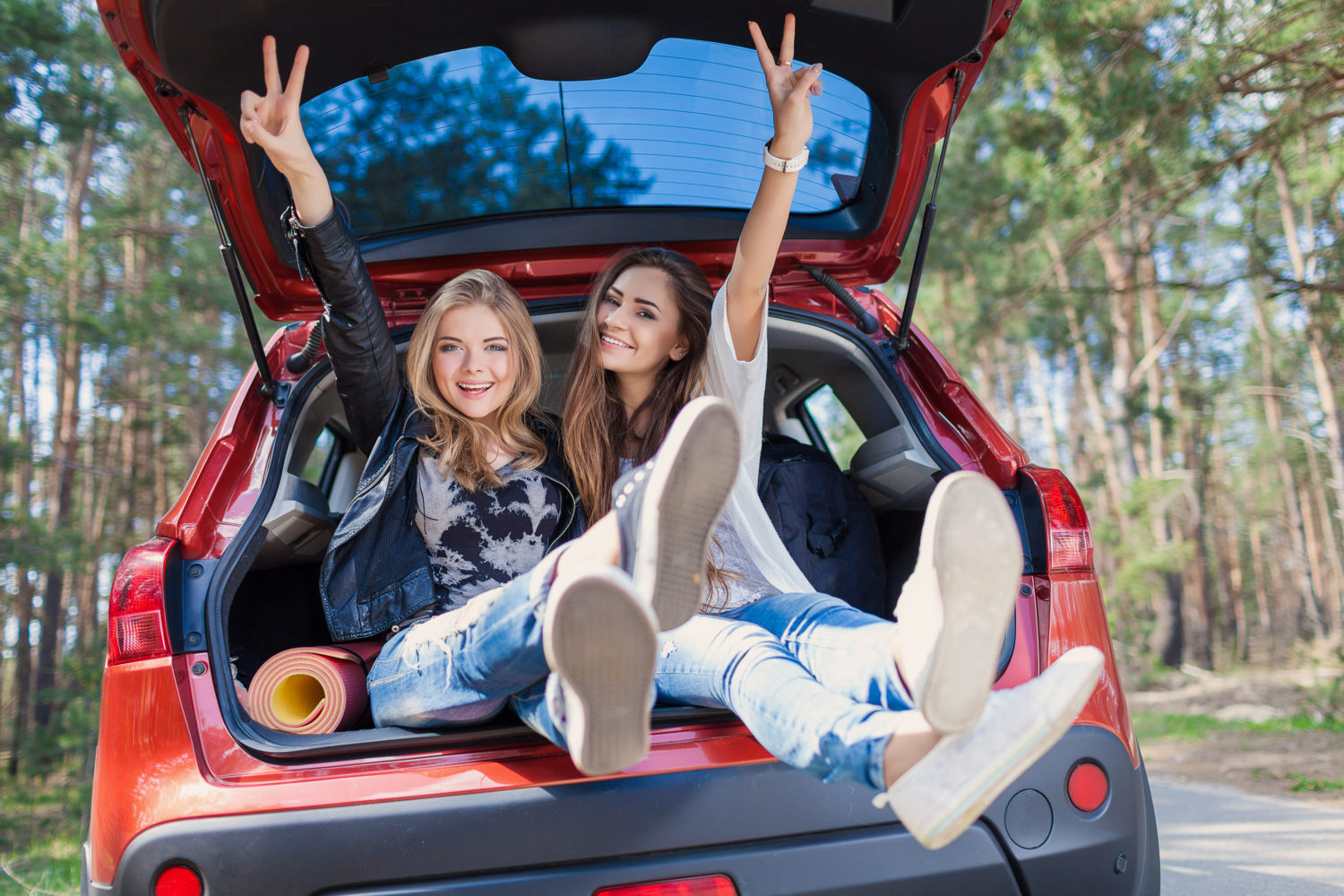 Time – 6 hours
Cost – From €10
Ease– 3
Fun – 3
Sightseeing – 3
Since car sharing is a popular way to travel in the region you shouldn't have problems with finding a ride from Prague to Budapest if you decide to go for this option. The travel time between these two cities should be around 6 hours and the prices for the journey start at 10€ (although usually drivers charge more). The best and most popular website to find the ride and arrange all the details with the driver is BlaBlaCar.
6. Prague to Budapest by private transfer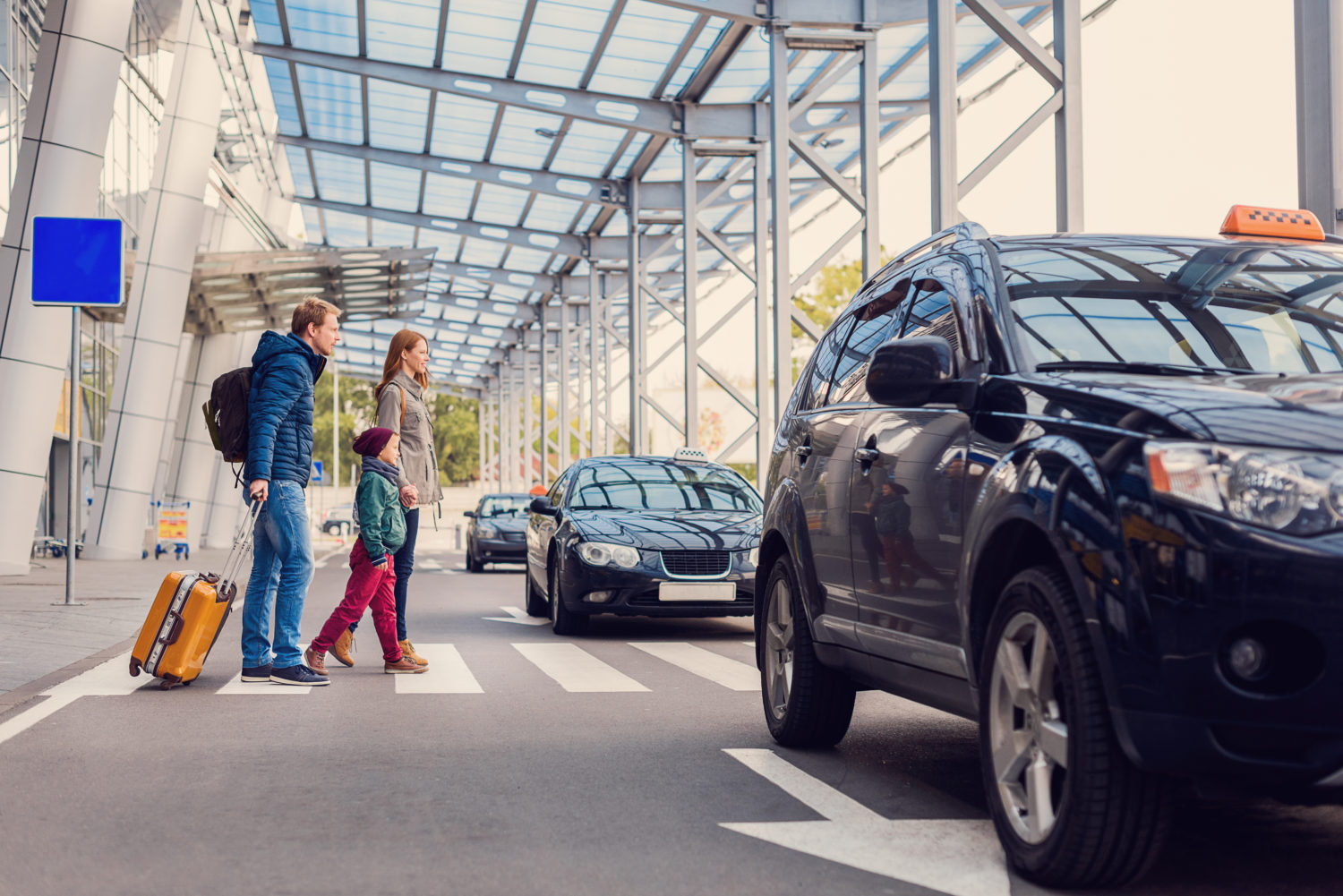 Time – 6 hours
Cost – €500 for a car with a driver
Ease– 4
Fun – 3
Sightseeing – 3
If you would like to have the flexibility of door-to-door service but don't really want to travel with other people you can use the private transfer offer from Prague to Budapest. The price for the service isn't the cheapest, you should expect to pay at least €500 for a car that can fit up to 3 passengers. For a little extra you can even stop for some sightseeing along the way and see places like Brno, Lednice or Bratislava.
7. Hitchhiking from Prague to Budapest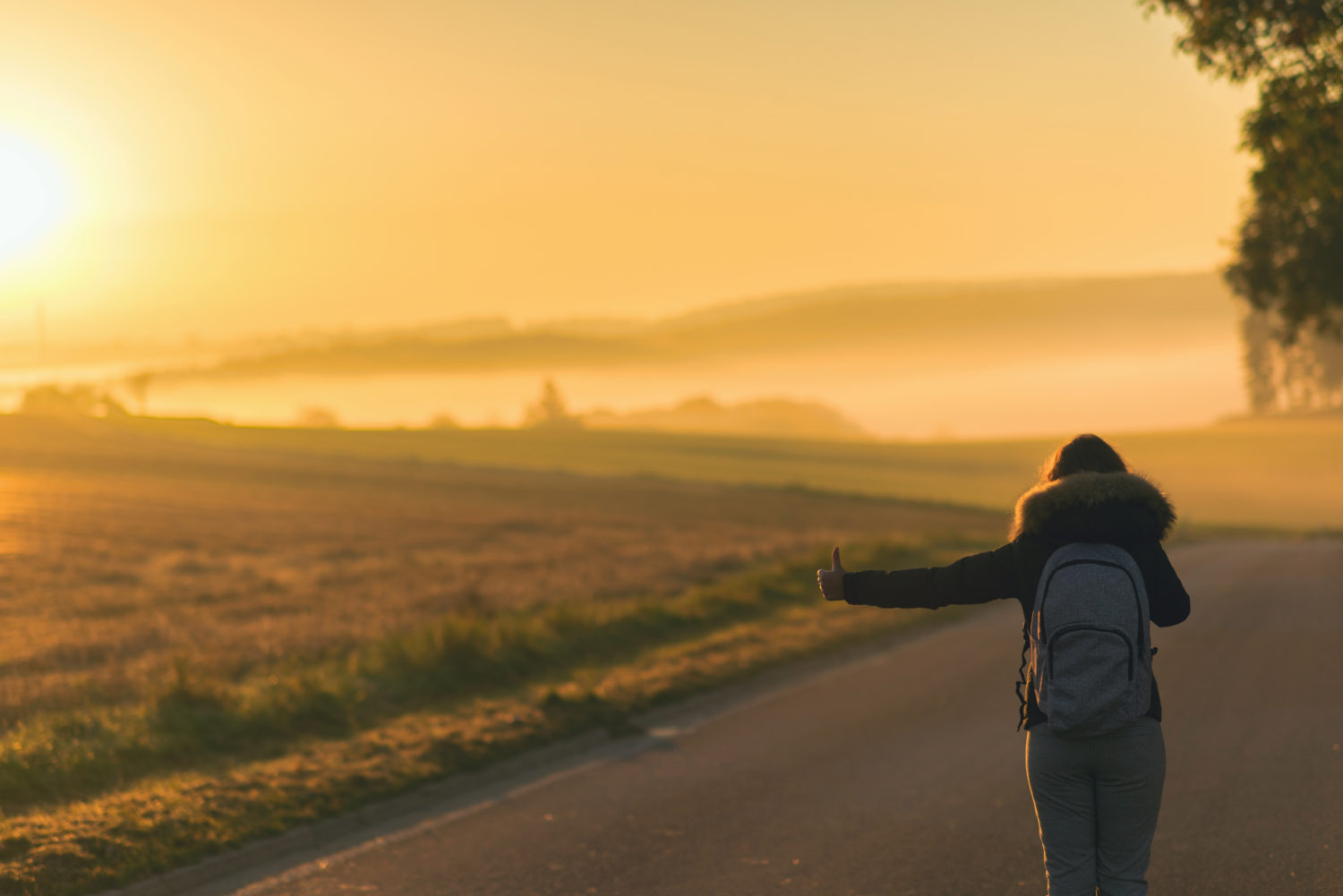 Time – depends on your luck
Cost – can be as low as 0
Ease – 2
Fun – 4
Sightseeing – 3
If you feel like having a little adventure while travelling from Prague to Budapest try hitchhiking. You should make it in one day but since it's a rather upredictable way of travelling you never know. In Prague you should head to the 1E road starting in south-east part of the city. Most likely you won't be able to catch the ride all the way to Prague so aim for cities that are closer: Brno or Bratislava.
8. Prague to Budapest by bike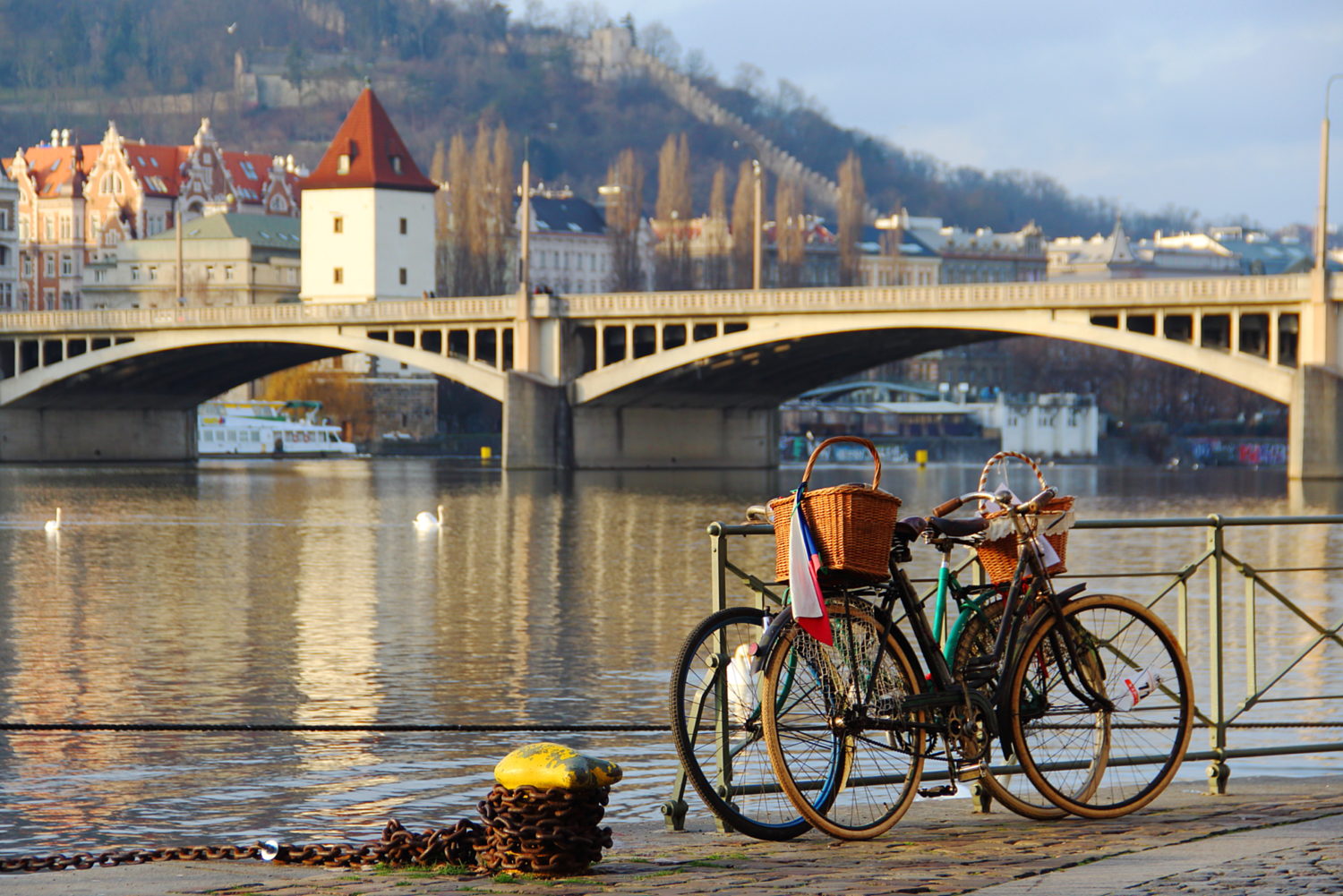 Time – at least a week
Cost – 0€
Ease – 2
Fun – 4
Sightseeing – 4
Prague and Budapest are over 500kms apart so if you decide to cycle between the capital you should allow yourself at least a week for a comfortable trip. In the meantime you can visit some interesting places along the way with Czech Republic, Slovakia and Hungary. You can even go around and stop in Austria as well! The bike route shouldn't be too exhausting. There are some hilly parts, especially in the Moravia area but altogether it's a moderate level of the bike journey.
9. Walking from Prague to Budapest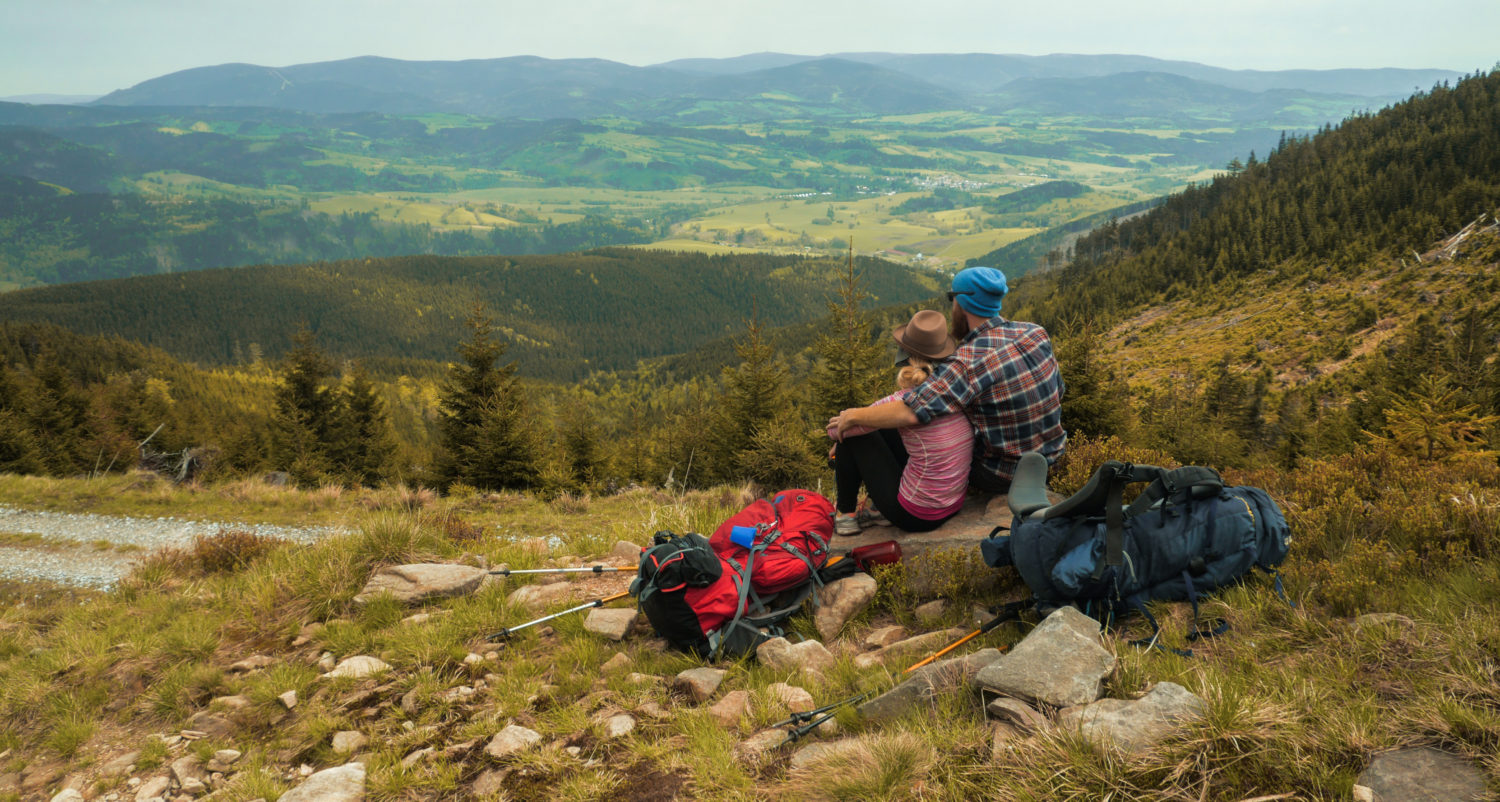 Time – around a month
Cost – 0€
Ease– 2
Fun – 4
Sightseeing – 5
If you have plenty of time and would like to really get to know Central Europe then walking might be a good option. You would need a month or so for this adventure but I bet it would be an unforgettable experience. Central Europe is so rich in history and culture and you'd be able to see it all properly.
Bonus: Road trip from Prague to Budapest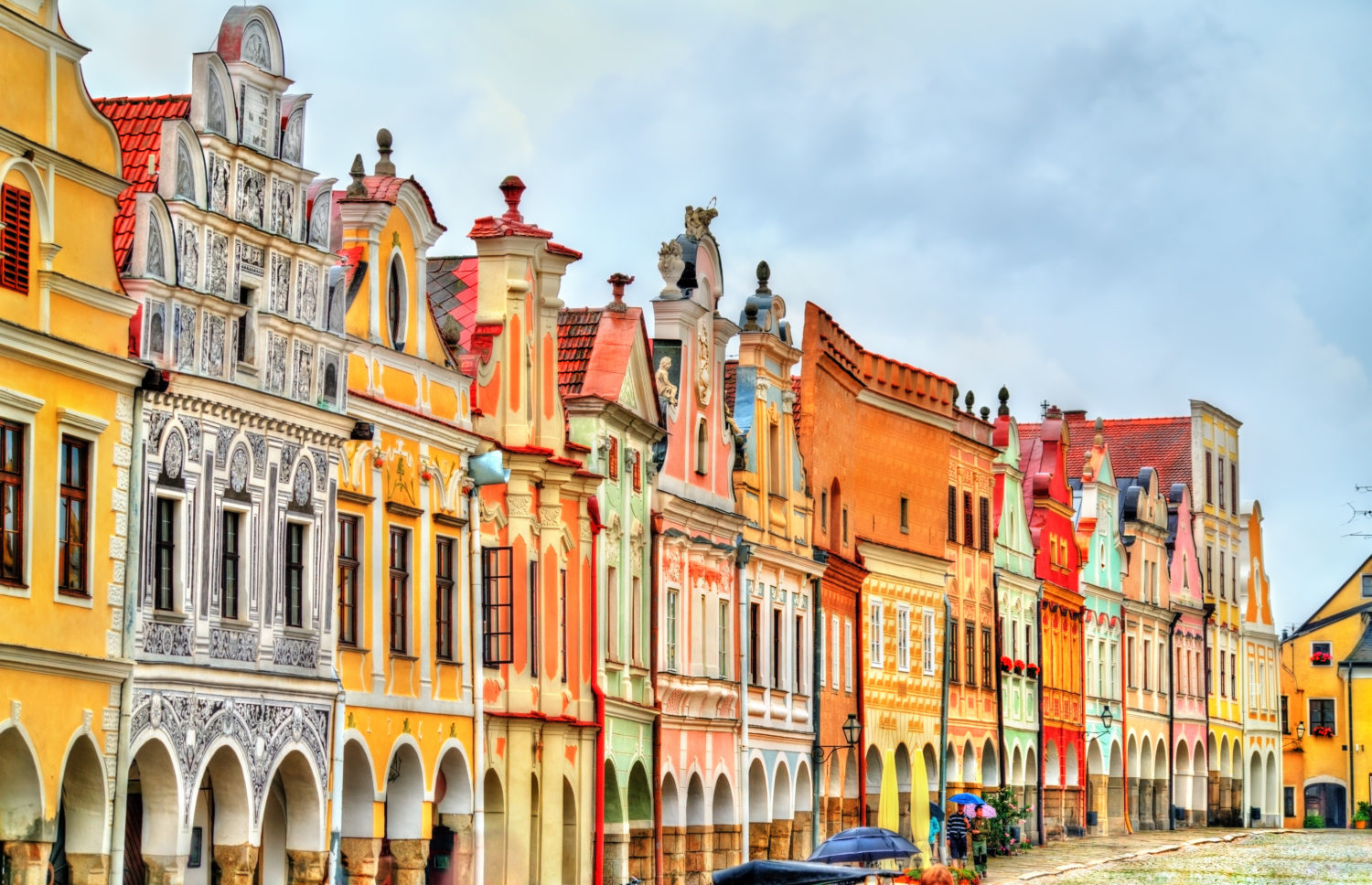 Telc, Czech Republic
Time – depends on you
Cost – €400 for car rental + all you spend on petrol
Ease – 5
Fun – 5
Sightseeing – 5
Are you travelling with your own or rented car? The journey from Prague to Budapest is a perfect road trip opportunity! There are so many interesting places you can stop at along the way: UNESCO listed towns of Telc and Trebic, beautiful Moravian towns of Mikulov or Znojmo, second biggest Czech city Brno, the Slovak capital Bratislava or the underrated Gyor in Hungary. You can even stop at the elegant capital of Austria – Vienna. Sometimes a little detour will be needed but it's definitely worth it. All the places you will see are a perfect example of Central European architecture and culture and even if they are located in different countries they are similar in a way, thanks to the Austria-Hungary legacy. And the bigger cities are full of cool places you'd definitely like to visit!
So as you can see there are numerous way to travel from Prague to Budapest. Whichever you choose – you will have a good journey for sure!
Images used under license from Shutterstock.com